Watching a chef in a restaurant in Sorrento, I was surprised to see an assistant take a large pile of coals out of a pizza oven using a steel peel, and put them into a BBQ grill, and start cooking a mixed grill of steak, chicken, pork loin, and sausages. After thinking about it for a minute, it makes perfect sense. A pizza oven is a great source of true wood coals for grilling, or a place to do the actual grilling itself!
Grilling Directly in a Brick Oven
There are two ways of grilling with a brick oven. For most owners, using a rack over coals in a brick oven makes a great grill — setting seared grill marks, and sealing in moisture for food that is crisp, and not dried out. The process is very simple.
First, bring your oven to temperature. (The dome should be white/clear.)
Rake a layer of hot coals over the cooking hearth towards the front of your oven (but behind the back edge of the vent,) and set a free-standing steel or cast iron Tuscan Grill over the coals.
Allow the grill to get nice and hot (at least 10 minutes) before placing your food on it for good sear marks. The juices from the meat will drip into the coals, protecting the oven floor, generating a bit of flavorful steam, and creating amazing smells.
Poke the coals a bit as they lose their red glow to keep them hot. Avoid blowing on them, though, as you will get cinders on your food — not good eats.
Additional Tips:
When fully fired, the dome of a brick oven is hotter than the firebrick floor. By raising the meat halfway between the dome and the deck using a Tuscan Grill, you are increasing the overall cooking temperature. With heat coming from the grill itself, the coals below, and radiating from above, expect things to cook very quickly.
Don't walk away! You'll want to stay close to flip or turn your food for an even sear/score marks. Regular, long-handled grilling tools or tongs work fine for flipping. We highly recommend wearing long gloves for safety! You can plan for about 2 minutes per side for a medium rare t-bone steak, but adjust times as needed for your oven and fire that day.
Grilling in your brick oven will produce a more pronounced char than cooking in a cast iron or terracotta pan. However, many people prefer the texture of grilled meats and the complex flavor of the char on their food.
Both marinades and dry rubs are nice additions to your grilled meats.
For veggies or items needing less heat, you can eliminate the coals underneath the grill to low the temperature.
Some chefs prefer to cook their fish in aluminum foil on the grill to seal in the juices. The cooking time will be a little longer than if it is placed directly on the grill, but it keeps the fish very moist.
Tuscan Grill: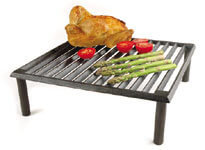 Our Tuscan Grill is made of cast iron, 14″ x 14″ x 4″. It's large enough to hold two butterflied chickens, or steaks, chops, salmon filets, etc.
You can purchase a Tuscan Grill for use with your brick oven through our online store.
Using Brick Oven Coals for an Open Grill
Your brick oven makes a great BBQ, but there are some limitations. Specifically, the size of the grill is limited to the opening of your oven — typically between 17″ and 20″. While residential brick ovens are quite deep, they generally have less grilling real estate than an open grill or an extra-large Weber.
Also, if you are cooking several things in your oven, such as pizzas, vegetables, and side dishes, there might not be time or a place for grilling. If this is the case, or if you need more space to work, you can use your brick oven to create wood coals for you. Nothing tastes better than food cooked over real wood, and your brick oven is an efficient source of coals. Simply fire your oven, and then use a metal pizza peel or a metal shovel to transfer them to an attached open grill for the best of both worlds. This is a very common practice in Italy. (An open grill can be used either with its own fire, or with coals from the brick oven.)
Sample Recipes
For great recipes using a grill, check out Chef Bart's:
The Tuscan Grill is also useful for grilling capsicum (sweet bell peppers.) Sit them on the grill over the coals until they char on the outside; the skins just slide off. They are then easily prepared to store in olive oil with a clove of garlic. Use for antipasto trays, pizza toppings, or as a garnish.
Learn More Brick Oven Cooking Techniques
Check out these related articles about Brick Oven Cooking Techniques.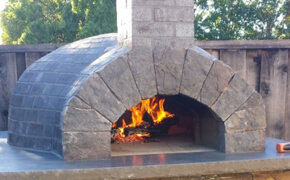 Return to Brick Oven Cooking overview page and experience the joys of wood fired cooking.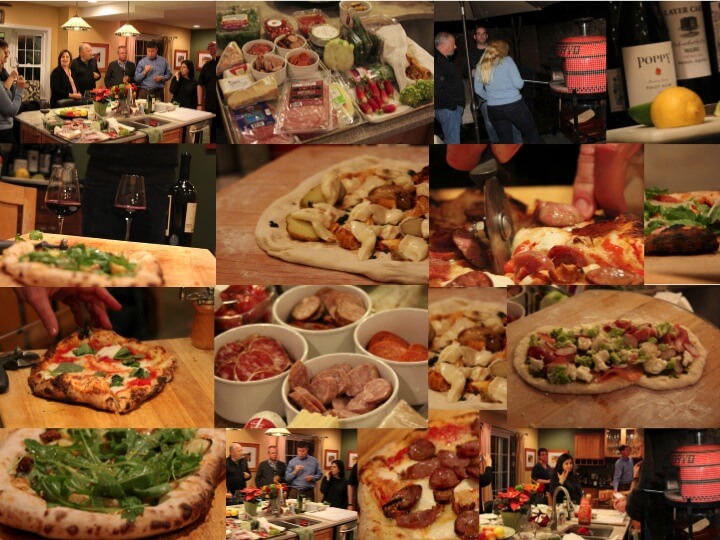 Over 200 brick oven cooking recipes including grilling from professional chefs and guests. Try both videos and printable recipes!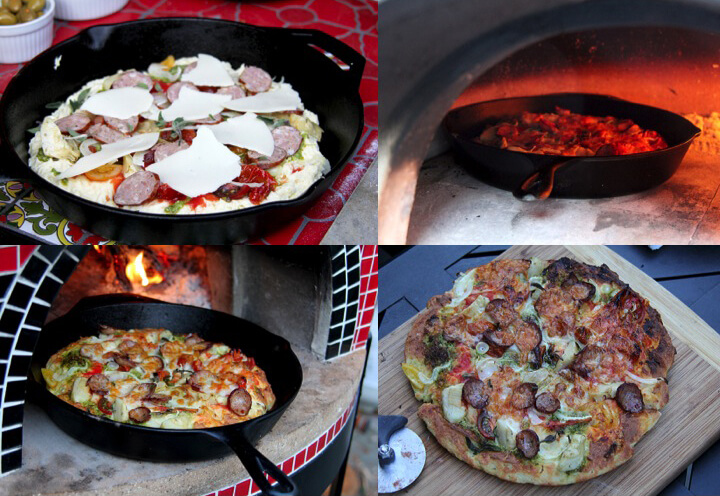 Try a new cooking style. Forno Bravo brick ovens can be used for roasting, baking bread or pizza, and grilling.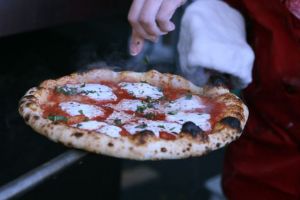 Should you use a wooden pizza peel to build your pizza on and then set it in your oven, or should you make it on a flat surface, and use a metal peel to place it in your oven?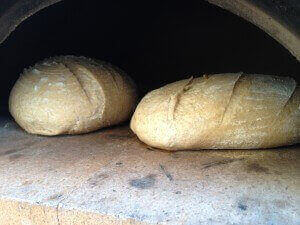 Creating steam in a regular oven or a brick oven is what separates just a boring loaf of white bread shaped into a skinny oval from a real baguette.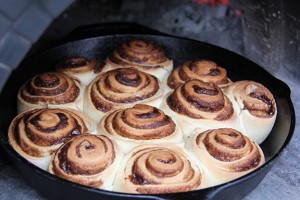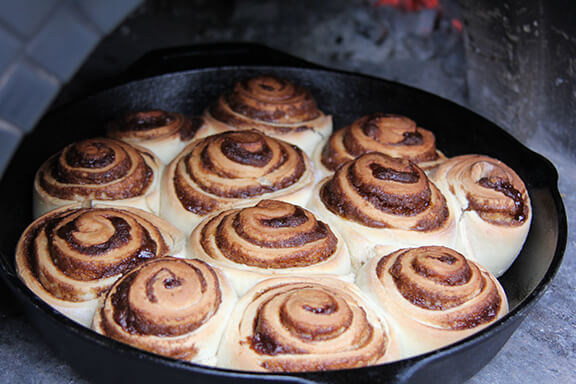 Retained heat cooking uses heat stored in your oven dome and floor to bake and roast at lower, more traditional temperatures.
Ready to get a Forno Bravo?
If you have seen enough and are ready to buy, these links will help.
The Forno Bravo Selection Wizard is designed to help you decide which pizza oven is right for your house, garden, or restaurant. The Selection Wizard will walk you through the selection process, with questions covering such topics as — who will be doing the installation, available space, the types of foods you will be cooking, how many you feed, and your budget considerations.
Whether you are looking for a do-it-yourself brick oven, or a modular pizza oven kit for your outdoor kitchen, we have a wood or gas fired pizza oven for your family. Forno Bravo offers the most diverse refractory, stainless steel, and brick oven products available in the market.
Made in the USA in our facilities in Colorado and California.
Pizza ovens can be the center of your restaurant or a supplement to your menu plans. Forno Bravo commercial pizza ovens come in a variety of sizes, assembled styles, or kits/knock-down models to accommodate your space and vision. They can be custom branded to match your company's look and have both wood or gas fired options.
UL certified in the US and Canada for indoor and outdoor installation.
With the widest selection of home and commercial pizza ovens on the market, you can purchase online or contact us directly.