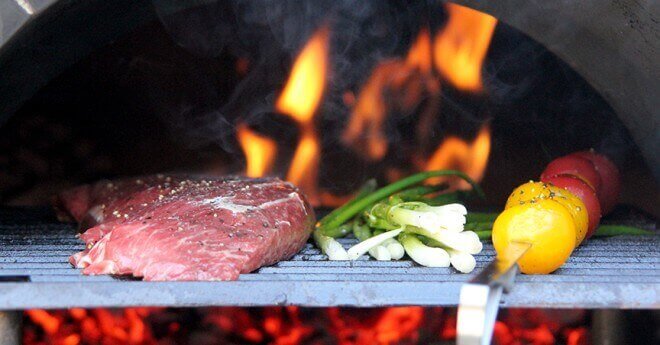 Steak And Tomatoes
Oct 31, 2014
Posted by Chef Bart
Print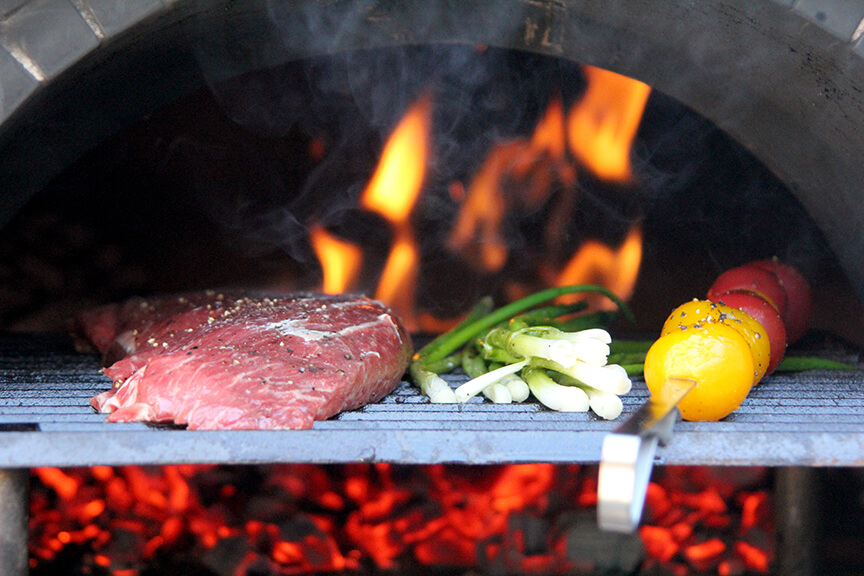 A late ode to the summer grill
Our local farmer's market had a handful of late harvest tomatoes left and I just could not resist a simple, fast and delicious ode to a summer meal off the Tuscan grill. Once your fire has burned down most of the way and your are left with a great bed coals, spread the coals evenly across the hearth and insert your Tuscan grill centered over the coals. Allow grill to preheat for a few minutes prior to adding your foods.
Chef Bart … until next week feast well.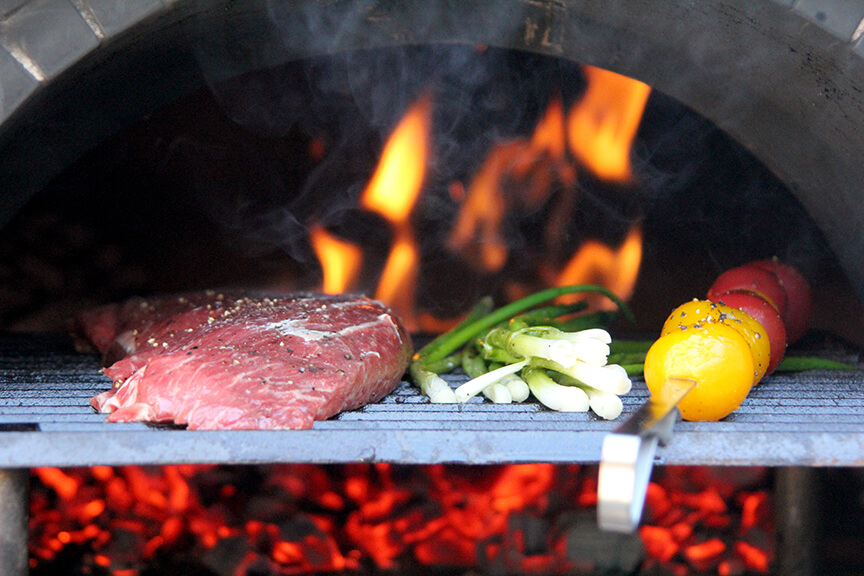 Steak And Tomatoes
Ingredients
1 each beef flank steak / flat iron or skirt steak
1 bunch green onion
8-10 tomatoes small-medium sized
olive oil
kosher salt & fresh cracked black pepper
Instructions
Add a bowl of your favorite steak topping, dip or sauce … chimichurri for me!

Remove steak from package, rinse with cold water and pat dry. Set aside on a sheet pan or plate and season liberally on both sides with kosher salt and cracked black pepper. Best to let the meat temper to room temperature approximately 15-20 minutes prior to cooking. Similarly once you have cooked the meat, let it rest for 2-3 minutes per pound to help retain juices.

Trim the roots and split the bulb end of the green onions. Place in a mixing bowl, season with salt and pepper and a touch of olive oil.

Using a larger metal skewer, or bamboo skewers that has been soaked in water (to reduce burning) align the tomatoes and season with salt, pepper and olive oil.

Once the Tuscan grill is hot, slide towards the oven opening and place the meat, onions and skewered tomatoes on the grill. Slide grill back over the coals and cook for 3-5 minutes. Using tongs, make a quarter turn of the meat and vegetables and cook an additional 3-5 minutes. Slide the grill towards the door, flip both the steak and vegetables and continue to cook until desired doneness … about another 5 minutes for medium. Remove from grill and oven, let meat rest and serve with your favorite sauce.