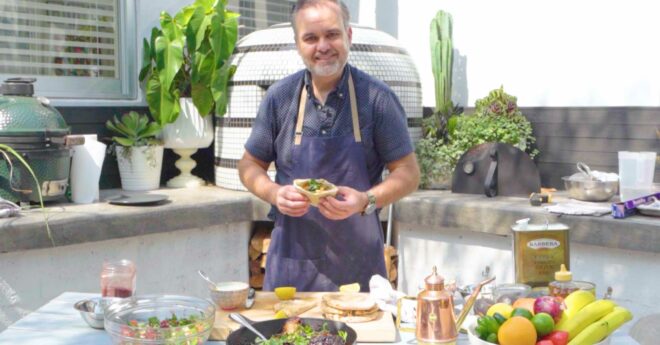 Spiced Braised Lamb Shank with Mediterranean Sides
Jul 31, 2023
Posted by --forno bravo
Print
Chef Aaron Brooks takes us on a delightful tour of Mediterranean flavors and dishes prepared in a wood fired oven. It features spiced braised lamb shank, whipped feta, pita bread, and a pomegranate salad. This combination of recipes may have a lot of elements, but the timing overlaps a bit to keep the whole meal prep manageable. So give it a spin and let us know your favorite parts!
Watch this informative demo by Chef Aaron to see how it's done:
Served on a plate or in a fresh pita, the combination of Mediterranean flavors and lamb is sure to impress! It's a perfect combination to serve when dining al fresco on a warm summer's day or evening.
Equipment
Cast Iron Pan

Rolling Pin

Chopping Knife

Wood or Gas Fired Forno Bravo Oven
Ingredients
Ingredients for Spiced Lamb Shanks
3 Australian Lamb Shanks - large
1 Tbsp La Boite Marrakech
1 Tbsp Salt
4 Tbsp Extra Virgin Olive Oil
3 Tbsp Honey
7 Cups Water
1 Onion - Sliced thinly
1/4 Cup Pomegranate Molasses
Ingredients for Whipped Feta
4 oz Soft Goat Cheese
3 oz Cream Cheese
3 oz Feta
1/3 Cup Heavy Cream
1 Tbsp Extra Virgin Olive Oil
1/2 tsp Salt `
1 Cup Greek Yogurt
Ingredients for Mediterranean Pomegranate Salad
1 Cup Cucumber - Chopped
1 Cup Tomato - Chopped
1 Cup Green Pepper - Chopped
1 Jalapeño - Seeded and chopped
1/2 Bunch Parsley - Rough chopped
1/2 Bunch Mint - Rough Chopped
1 Lemon
2 Tbsp Olive Oil
2 tsp Sea Salt
1 Tbsp Sumac
1/4 Cup Pomegranate Arils
Ingredients for Pita Bread
1 Recipe Neapolitan Pizza Dough Portioned into 150-gram dough balls
Ingredients for Final Assembly
1/2 Bunch Mint - Torn
1/2 Bunch Parsley Leaves - Torn
1/2 Bunch Cilantro Leaves - Torn
2 Lemons - Cut into wedges
Instructions
Lamb Shanks Preparation
Preheat the oven to a 500℉ floor - No flame; coals only.

Toss Lamb Shanks in oil, Marrakech spice, and salt

Place shanks in a cast iron pan with water and honey. Cover with foil.

Place pan in oven away from coals and close the door (leave open a bit for airflow.)

Check after 1 hour to see how much liquid is still in the pan. If there is at least half the amount left, close the door again, and cook for an additional hour.

Open oven and remove foil. Toss onions in a little olive oil and a pinch of salt, and place atop shanks.

Drizzle shanks with pomegranate molasses and set aside.
Instructions for Whipped Feta
Place all the ingredients in a food processor and blend until smooth.

Store refrigerated until needed.
Instructions for the Salad
Simply combine and ingredients and adjust the seasoning if needed.

Store refrigerated until needed for the Final Assembly, but no longer than 30 minutes.
Instructions for the Pita Bread
Preheat the oven to 650℉ (floor temperature) with a moderate flame.

Remove a dough ball and coat in flour.

Press it out with your fingers, and then using a rolling pin, roll it into a 1/4 inch thick disk.

Place in the oven directly on the oven floor. When the pita inflates, roll it over and cook the other side for an additional 20 seconds. The whole cooking process will be 1-2 minutes max.

Remove from the oven. Cut in half and split it open.
Instructions for Final Assembly
Preheat the oven to 600-650℉ (floor temperature) with a moderate flame.

Place the pan of lamb shanks back in the oven and cook until nicely colored, Remove them every couple of minutes, to baste the pan juice over the shanks.

Top the shanks with the herbs. Serve with the whipped feta garnish, Mediterranian salad, warm pita, and lemon wedges. (The items can be served separately on a plate, or put into the pita bread as a hand-held sandwich.) Enjoy!
Notes
Editor's Notes: 
Pomegranate Molasses is a traditional ingredient in Middle Eastern cooking and can be used in a variety of dishes. It can be found at Middle Eastern markets, or you can easily make some yourself with some pomegranate juice, sugar, and lemon, reduced on the stove to a syrup, and then chilled. 
La Boite Marrakech (or Marrakesh) is a spice mixture that you can find in Middle Eastern markets, specialty spice shops, or online. It is a musky, smoky, sour, and bitter Persian-inspired blend, with a citrus aroma that enhances soups, stews, rice, broths, and pickles. Ingredients include limon omani, cardamom, garlic, and other spices.
Pizza Dough Recipe - CLICK HERE for Chef Aaron's dough recipe and demo, or you can try alternate pizza dough recipes from Chef Leo Spizziri, or his hand-mixed dough recipe, and another from Peter Reinhart.