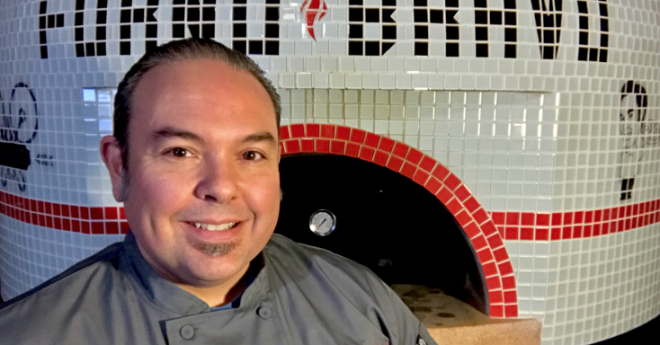 Wood Fired Pizza Dough Recipe
Jan 01, 2017
Posted by Chef Leo
Print
I developed this dough with one goal in mind, to deliver an easy and foolproof formula that will become your go-to pizza dough.
"If you follow these easy steps, you can make a great artisan pizza crust in your wood fired oven." – Leo Spizzirri
There have been many occasions where people have asked me for my dough recipe and I always respond with the same question, "What type of oven are you baking in?" The reason for this question is because each type of oven needs a dough that will bake into the type of crust for the style pizza that you desire.
Baking with Wood
It's important to understand how oven temperature effects the dough that you're baking. This dough was created to bake in a wood oven with a temperature of 650-700 degrees. The crust will be nicely browned and crispy.
A word about Neapolitan Dough
Just because you're baking pizzas in a wood fired oven does not mean that you're making Neapolitan pizza. I hate the term "Neapolitan Style"…It either is or it isn't. A true Neapolitan dough is made up of only four ingredients: Flour, Water, Yeast, and Salt. The oven temperature is crucial as well. Most Neapolitan pizza bakes at 850-900 degree with an oven made specifically for this type of pizza. The oven dome is much lower and the opening is more narrow. If these guidelines are respected, a Margherita pizza will bake in only 90 seconds. The crust is blistered with char marks and has a texture all of its own.

---
Dough Yield: About 19 dough balls @ 240 g each

---
Ingredients 
Biga
Le 5 Stagioni Flour "00" Superiore (Blue): 520 g
Water: 310 g
Red Star Fresh Yeast: 1 g
Final Dough
Le 5 Stagioni Flour "00" Superiore (Blue): 2,060 g
Water: 1,440 g
Sea Salt: 46 g
Red Star Fresh Yeast: 30-33 g
Extra Virgin Olive Oil: 130 g
Biga: 831 g
---
Instructions
Biga:
Dissolve the yeast in water. Add the flour. Mix until just smooth. The biga will be stiff and dense.
Loosely cover the bowl with plastic and let stand at ambient temperature for 12-16 hours (about 70 degrees).
Mixing:
Add all ingredients to the mixing bowl, except for biga and olive oil.
In a planetary mixer, mix on 1st speed for 3 minutes.
Add biga in chunks. Increase mixer to 2nd speed and mix for 3 minutes.
After 3 minutes of mixing, begin drizzling olive oil into bowl and mix on 2nd speed for 2-3 minutes.
The dough will be slightly under developed. Desired final dough temperature is 75 degrees Fahrenheit.
Bulk Fermentation:
After mixing, place dough in a container with a lid
Let dough rest at ambient temperature for 1 hour.
Fold dough once.
Let dough rest at ambient temperature for 1 hour.
Biga:
Divide dough into 240 g pieces.
Round lightly and place ball, seem side down, in a dough box. *You can fit 5 rows of 3 (15 dough balls) inside a standard dough box.
Mist dough balls with a little water and place cover on dough box.
Refrigerate dough for 24-48 hours.
Shaping:
Remove dough from refrigerator and allow to relax at ambient temperature for approximately 2 hours.
Stretch dough into a 10.5"-11" round.
Baking:
After topping pizzas, place into a preheated woodfired oven that's 650-700 degrees.
Depending on toppings, pizza should bake for 3-4 minutes, turning once, until desired crust color has been attained.
To learn more about Leo Spizzirri visit www.askleopizza.com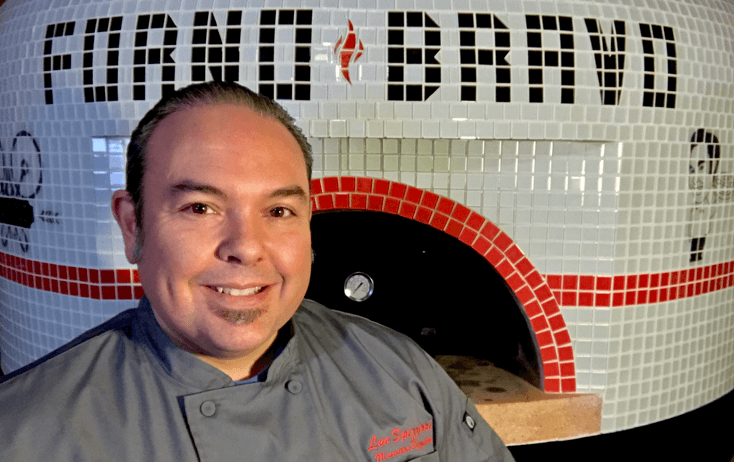 Woodfired Pizza Dough Recipe