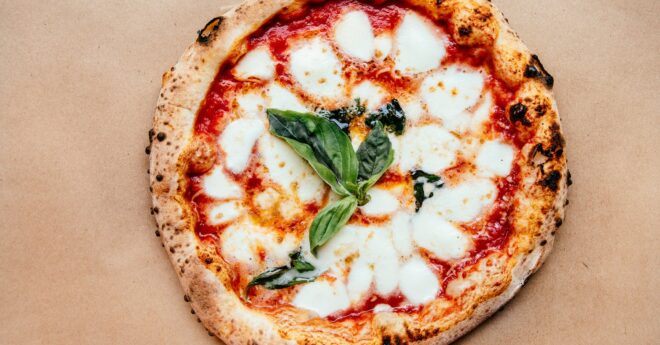 Neapolitan-Style Dough and Margherita Pizza
Jul 31, 2023
Posted by --forno bravo
Print
Chef Aaron Brooks of Australia has crafted a Neapolitan-style pizza dough for his version of the Margherita Pizza that is easy to make and sure to impress. While slightly different than a VPN dough (Vera Pizza Napoletana,) which follows very strict guidelines, this dough features the same basic 4 ingredients, 62% hydration, a 24-hour room temperature fermentation, and is marvelous for baking at 750-780°F in a home, wood or gas-fired pizza oven.
Top it with the classic Margherita pizza combination, and your dinner is complete!
Watch Chef Aaron demonstrate this recipe and baking techniques, and expand your pizza-making recipe book:
Neapolitan-Inspired Pizza Dough and Margherita Pizza
Based on the classic pizza doughs of Italy, but modified for the home chef, this recipe from Chef Aaron Brooks is fun and easy to make.
Equipment
Scale

Mixer with Dough Hook

Food Processor

Dough Box
Ingredients
Ingredients for the Dough
30 Grams Sea Salt
620 Grams Water - Filter, Room Temperature
3 Grams Active Dry Yeast
1000 Grams 00 Pizza Flour
Ingredients for the Tomato Sauce
500 Grams San Marzano Tomatoes - peeled
2 tsp Sea Salt
2 Leaves Fresh Basil
Ingredients for the Final Assembly
500 Grams Fresh Mozzarella
1 bunch Fresh Basil
1/3 Cup Grated Parmesan Cheese
1/4 Cup Extra Virgin Olive Oil
Instructions
Instructions for the Dough
Combine salt and water in the bowl of a stand mixer and stir until dissolved.

Add yeast and stir until dissolved.

Fit a dough hook to the mixer and turn on the lowest speed.

Gradually add the flour until everything is incorporated. (1/3 at a time.)

Kneed for a further ten minutes on low speed, making sure everything is incorporated into a homogenous mass.

Leave in the mixing bowl (or place in a clean bowl,) cover with saran wrap, a towel, and a plate.

Ferment at room temperature for 16 hours.

Remove dough from the bowl and turn out onto the table. (It will be sticky!)

Coat with a little olive oil, cover with plastic wrap, and rest for 10 minutes.

Coat your hands with a little olive oil and lift dough up from the top and bottom, rotating 180 degrees, then folding it over onto itself. (See the video for an example of the folding method.)

Repeat this a few times until the dough appears taught, has a nice sheen on top, and the gluten does not break.

Cover with a touch more oil, plastic wrap, and rest for 20 minutes.

Portion the dough into 6 x 275 gram balls, fold seam to the bottom of the ball, and rest for 2 hours at room temperature.

Refrigerate in a dough box or other air-tight container until needed. (up to 48 hours.)
Instructions for Tomato Sauce
Place tomatoes in a food processor with salt.

Process until tomatoes have broken down to a smooth sauce.

Add basil, and pulse once or twice.

Store refrigerated until needed.
Instructions for Pizza Assembly
Preheat wood oven to 780°F base temperature and high flame.

Place dough ball in flour and stretch to around 10-11 inches.

Top with tomato sauce, mozzarella, fresh basil, a sprinkling of parmesan, and a drizzle of olive oil.

Cook for 90-120 seconds, rotating as needed, and elevating the pizza to the top of the oven on your peel for 10-15 seconds at the end to obtain good color.

Remove from oven and enjoy immediately!