Brad's Corner: Sausage, Fontina and Pesto Pizza
Remember when mom or grandma used to make you a toasted grilled cheese sandwich when you were still an innocent child?  There was something comforting about that simplest of meals.  First of all someone made it for you and often went the extra step of presenting it cut up in bite sized pieces, or with a warm bowl of soup if you were lucky and it was raining outside.  Right?!!  Grilled cheese just brings me back to those early childhood days when you came in for a lunch break from playing outside all morning, which was your job, and arrived to this perfect lunch landing in front of you at the table.  The warmth of the toasted bread stuffed with a wonderfully warm melted oozing cheese was and is simply satisfying.
Pizza is almost always a true comfort food to me.  In a very similar way it is basically warm toasted bread with warm melted cheese and other delicious toppings.  We have all gathered around pizza from our childhood to adulthood to celebrate together.  Win a baseball championship — go to pizza place.  Lose a soccer championship — go to the pizzeria.  Finish a long rehearsal for a play you are in — go out for some pizza.  It's Friday night — Friday Night Pizza!  We went to pizza parties as children and throw them as adults.
That's all comforting, isn't it?
This sausage, fontina, and pesto pizza hits the "comfort" mark on all accounts.
Sausage, Fontina and Pesto Pizza
– Neapolitan Pizza Dough *Link
– Pesto *Link to Fresh Pesto Recipe
– Fontina Cheese
– Spicy, or regular Italian Sausage (precooked)
– Olive oil
– Chili Flakes
Putting it Together:
—-Slowly turn out your dough ball into a pizza dough.
—-Add the pesto and spread it around with a little extra olive oil (as needed).
—-Break precooked sausages up and place around the pizza
—-Tear off pieces of the fontina cheese and add to the pizza.
—-Finish with a little olive oil — if desired, add some red pepper chili flakes.  (Note: Be careful adding too much oil as there should be quite a bit that will come out of the pesto as it cooks.)
Oven time…
This pizza is gorgeous.  The bright, fresh, green pesto seems to have integrated itself within the melted cheese nestling around the slightly charred sausages.  It all sits on top of a warm slightly charred pizza crust.  I made this pizza on a pleasant weekend as the weather was warming up for summer here in Southern California.  How great would this pizza be on a cool, or cold day — maybe with some rain or dampness in the air?!  It would warm you from the inside out and that, my friends, is comforting!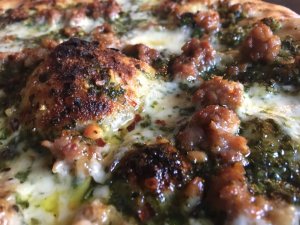 Delish!
Pizza Quest Info
Resources
Vision Statement
Pizza Quest is a site dedicated to the exploration of artisanship in all forms, wherever we find it, but especially through the literal and metaphorical image of pizza. As we share our own quest for the perfect pizza we invite all of you to join us and share your journeys too. We have discovered that you never know what engaging roads and side paths will reveal themselves on this quest, but we do know that there are many kindred spirits out there, passionate artisans, doing all sorts of amazing things. These are the stories we want to discover, and we invite you to jump on the proverbial bus and join us on this, our never ending pizza quest.
Peter's Books
...and other books by Peter Reinhart, available on Amazon.com