A Pizza Pie for Mom's Jalapeños
So, you know, when you're in the market and see that jalapeños are on sale and you think to yourself, "I haven't made Mom's Soy Pickled Jalapeños in a while."  Then you buy a couple pounds and make a batch.  Then you're sitting on an abundance of these babies.  You know that feeling? No? Well I do.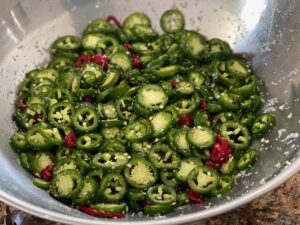 These peppers are great on so many things; they add a crispy pop of an almost a sweet-spiciness (the kick of the raw jalapeño is mellowed by the pickling), salty soy, and a nice bit of sour tanginess from the vinegar.  I use these to top-off sandwiches, eggs, noodle dishes, rice dishes, throw them in a quesadilla, and of course, as a topping on my pizza.  As I write this, flush with a few jars in my stash now, I can't believe I went this long since I last made them.  Instead of making a full 5 lbs, per the original recipe, I only made two separate batches, about a pound per, and adjusted the recipe.  (*Note: I do prefer to rinse off the salt after the overnight salting, and then press the water out.  The soy really adds all the salt you need.) *Link to original Mom's Pickled Jalapeños recipe.
I was making a pizza and taking some pictures featuring recently made pickled asparagus.  After I made the asparagus pizza, took a few pictures and ate that pizza. Then, I made another pizza just to eat.  Luckily I did take a few pictures because this one kinda blew my wife's and my socks off.
I knew my end game — top the pizza with some of Mom's Jalapeños.  I wanted everything on the pizza to sit under the jalapeños, not only in a literal sense, but so that everything on the pizza served as underlying foundation for Mom's "accent" on top.  I decided no tomato sauce for this one.  I had some pesto, fresh mozzarella, fontina, soppressata and fresh basil.  A good comparison would be how a simple version of scrambled eggs with cheese — which is smooth and salty and buttery, — is such a perfect pairing with these chopped pickled jalapeños.  I wanted the pizza ingredients and flavors to be more subtle in this same sense, so that the pickled soy jalapeños really stood out and became the the star accent.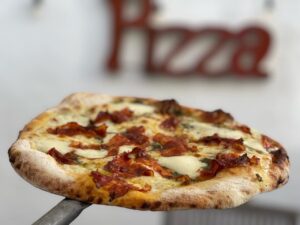 The Pizza:
Neapolitan Pizza Dough
Pesto
Fresh Mozzarella
Fontina
Thinly sliced Soppressata
Mom's Pickled Jalapeños *Link
Fresh Basil
Olive Oil
The Bake and Eat: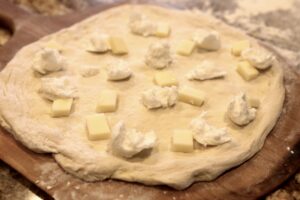 Pretty simple straightforward assembly here.  Add the mozzarella and fontina.  Add dollops of pesto around and between the cheeses.  Finish layering some very thinly sliced soppressata around the pizza and into the oven.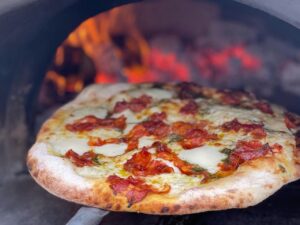 Look how good this looks coming out of the oven!  I really like how it all balances out with the different cheeses and pesto melting around each other with the crisp soppressata on top.
Finish with some fresh basil and Mom's Soy Pickled Jalapeños.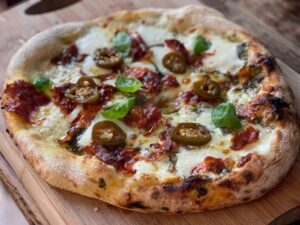 Loved this pizza!
Pizza Quest Info
Resources
Vision Statement
Pizza Quest is a site dedicated to the exploration of artisanship in all forms, wherever we find it, but especially through the literal and metaphorical image of pizza. As we share our own quest for the perfect pizza we invite all of you to join us and share your journeys too. We have discovered that you never know what engaging roads and side paths will reveal themselves on this quest, but we do know that there are many kindred spirits out there, passionate artisans, doing all sorts of amazing things. These are the stories we want to discover, and we invite you to jump on the proverbial bus and join us on this, our never ending pizza quest.
Peter's Books
...and other books by Peter Reinhart, available on Amazon.com