A Spicy Pickled Asparagus Pizza Pie
I recently saw a post about pickling asparagus and, wow, that looked good!  After a couple of weeks the idea was still buzzing in my mind, so  I found a few recipes for a spicy pickled asparagus and made a couple of jars.  Both versions came out great, but this one (linked below) was my favorite using jalapeños rather than red pepper flakes to add the spice.  Plus, you end up with pickled jalapeños, which always have a place at my table.
So I asked, "Does anyone want any pickled asparagus?  They're really good!"  My wife Shanna and son, Owen, up for the adventure, obliged and, after tasting agreed that it was great.  However, my daughter, Dara, was a straight, "No!" with the addition of rolling eyes suggesting that I ought to have known the obvious answer to that question before I asked.  She wants cheese and sauce on her pizza and will also add pepperoni or, maybe, tolerate my meatball pizzas.  Anything else and I'm ruining a perfectly good pizza in her opinion!   To each her own I guess.
Truthfully, like Dara, I am also a fan of the most basic pizzas.  In fact, I'll go further and keep it even more simple — I love a pizza marinara.  Dara thinks this too is crazy — too extreme in the other direction.  Considering Peter Reinhart's simple, yet descriptive definition of a pizza being "Dough with something on it," the marinara is as pure as it gets, right?
All that said, the decision to use pickled asparagus on a pizza came soon after my first bite of the cool crisp slightly spicy spears.  I already had some dough in the fridge.  By the time I got to pulling the dough out it was now a bit too late to fire up my wood fired oven.  It heats up pretty quickly (Primavera 60), but I was just a little too rushed and still working on some things.  My wife said, "Just do it in the kitchen oven!."  So I did — and, surprise surprise (really, no surprise at all) — it worked!
The Pizza:
Peter's Neapolitan Dough Recipe w/King Arthur All Purpose Flour *Link
Peter's basic sauce recipe w/Bianco Dinapoli Tomatoes *Link
Fresh Mozzarella (fior di latte)
Regular Mozzarella (whole milk or low fat)
Spicy Soppressata
Fresh Basil (extra for the sauce and as a topping)
Spicy Pickled Asparagus (I used jalapeños) *Link to Recipe
Use 8 or 9 oz dough balls, stretch and top with the sauce, cheeses, soppressata,and about 8 leaves of basil. Slide onto a preheated baking steel or baking stone in an oven set at 550 degrees, on convection bake.  About 7 to 8 minutes later, out comes the pizza.  I finished it with about 8 spears of the asparagus and some more fresh basil.
Being baked in the kitchen oven, this dough isn't going to perform the same as if it was in the wood fired oven.  It's baking for 7-8 minutes instead of 2-3 minutes in the wood oven.  So, it will dry out more.  It's still good, just different — you already know that going in.  So, we sliced the pizza and Shanna and I pick up our slices and notice that they are firm, thin "solid" slices…no drooping at the point.  After first bites we both looked at each other and said, "Wow!"   As we continued to eat the slices, we're continuing with the wow's and adding in some, "That's really good's!" as we go.  This was a great combination of toppings!  The sweet/slightly acidic sauce with the thin slices of savory soppressata and milky cheeses were really enhanced by the tangy "pickley" asparagus, with a little kick provided by both the asparagus spices and the soppressata.
As I was eating one of my slices, I mentioned to Shanna that the crust was really good.  She agreed.  It wasn't a soft, charred wood fired pizza crust, but was really tasty — more New York than Naples.  It was carmelized and crunchy and yet still soft in the middle.
I love a good pizza.  This one definitely got added to our memorable pizza list. But Wait — there's more…
Into the FIRE!
The next day I decided to make the same pizza, but fired up the wood fired oven to just see how good that pizza could be.  Nothing changed in the making of this pizza except the bake was about 2-3 minutes.  It came out beautiful.  Nice leoparding spots on the crust.  I spent a little more effort and care to keep turning the pizza so it wouldn't burn, and then arranging my asparagus a little more artfully.  I wanted to take the pizza we made last night and really bring it up a notch in the wood fired oven.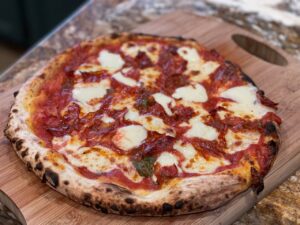 We were excited to try this one and compare it to the more improv pizza we had the previous night.  The dough was soft.  Charred.  Perfect!  The pizza itself was totally delicious!!  But here's the interesting thing: after finishing a slice we decided that there was something about last night's pizza that was just a little better.  This was a perfectly done wood fired pizza with amazing ingredients, but for some reason the experience of eating it versus the one from last night was falling just a little short.  I struggled with this more than Shanna (which probably tells you more about me than you need to know).
It could be that we hit the mark with that first pizza, with the ingredient combination exciting our taste buds and creating an experiential first-time peak.  On round two, we were expecting to be blown away and to crank it up a notch, but we had already been blown away with round one.  I think that's a big part of it.  I also think the crispier crust from the home oven was a factor, not so much in flavor but, perhaps, texture which affected the experience of eating the pizzas. Maybe if we'd started with the wood-fired pizza first and the home oven pizza second the reverse would have happened.  Who knows? But you can see the kind of things that keep me up at night.
Ultimately, if I wanted to solve this mystery, I'd have to try different doughs for each oven to try to rule out all variables to figure out why one edged the other out.  We'd invite a panel of friends over to do the tasting and evaluations to try to get to the bottom of this.  But that's not happening — I'm moving on….
In fact, today I made another pizza that blew my mind again!   Sadly, the next time I try to recreate it, I now realize I'm bound to fall short of the perfection experience I stumbled on! I'll write about that the next time. 
Regardless, whatever oven you have, I highly suggest you pickle yourself some asparagus and get to baking these pizzas!
Enjoy!
Pizza Quest Info
Resources
Vision Statement
Pizza Quest is a site dedicated to the exploration of artisanship in all forms, wherever we find it, but especially through the literal and metaphorical image of pizza. As we share our own quest for the perfect pizza we invite all of you to join us and share your journeys too. We have discovered that you never know what engaging roads and side paths will reveal themselves on this quest, but we do know that there are many kindred spirits out there, passionate artisans, doing all sorts of amazing things. These are the stories we want to discover, and we invite you to jump on the proverbial bus and join us on this, our never ending pizza quest.
Peter's Books
...and other books by Peter Reinhart, available on Amazon.com