A Turkey/Pesto Meatball Pizza — for my sanity and for my soul….
What day is it?  For that matter what time is it?
I woke up the other night after a "nap" and heard my kids downstairs talking and laughing.  I walked downstairs and my son was sitting playing a video game talking to my daughter who was at the kitchen table painting – making some art.  It was about 3 AM!  I grabbed a glass of water and chatted with them and went back to bed.  Being locked down has changed a few things hasn't it.
Early on we did some shopping in long lines to stock up on some bulk items and make sure we had food we could make and that would last and be good for left over meals. After a relatively short period I am already getting a little sick of cooking and eating — and I love to cook and eat!!
I could really go for a couple of chicken tacos, a burger, or a bowl of ramen noodles right now!  Yeah, I can order any of that and go pick it up, but that's not what I'm talking about.  What I am really craving is walking in and sitting and relaxing in any of my local restaurants and enjoying the meal and not doing any dishes!!  I'm not craving anything fancy or expensive, I just want the simplicity and relaxation of enjoying a meal out with family and friends and seeing others doing the same!  I can't wait to sign my name on a waiting list.  Oh the joy and freedom of such a thing is almost unimaginable today isn't it?!  But, you know…that's not where we're at in the world today.
Cooking.  Cleaning.  Cooking.  Cleaning.  Cooking.  Cleaning.  Each day goes by and we throw together another casserole to keep the lions at bay.  (Oh yes, the kids are lions!)
I had made some dough early on during the crisis and ended up freezing it because getting the ingredients I want and need for making a good pizza was pretty difficult for a while, with long lines at grocery stores. Chicken enchiladas. Lasagna. Casseroles this.  Casserole that.  I kept wanting a good pizza and then I ran back into some left-over turkey meatballs  in the fridge and realized it was time to seriously cook for us again instead of just preparing meals for us.
It's nothing new for me to make pizzas with ingredients I have at home, or find in a local market. Often, I will be shopping for one thing and find another ingredient that inspires a new idea that I build into an amazing pizza.  Meatballs are a family favorite pizza topping.   So I thought about some of the other ingredients I already had, and was able to pick up a couple more things at the store (a quick, furtive dash) as my dough thawed.
Folks, it was time to fire up the oven!
The Left-Over Turkey Meatball Pizza:
Neapolitan Dough *Link
Fresh Mozzarella
Provolone – Cut into 1/4″ high squares (Not a thick Cube).
Left-Over Pesto Turkey Meat Balls *See recipe below
Pesto *Here is a LINK to Peter's fresh pesto if you have the time and ingredients.  It's worth it!
Brad's Wood Fired Oven Roasted Chilis *Link
Fresh Basil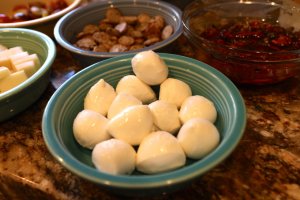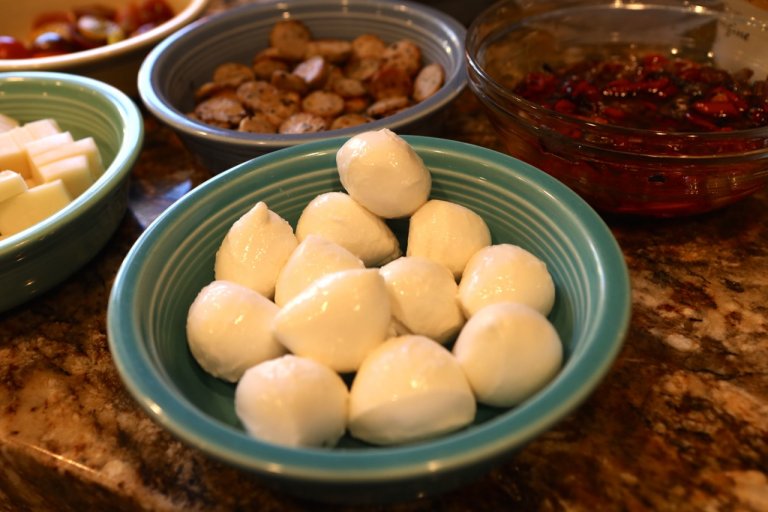 Left-Over Pesto Turkey Meatballs
These were pretty simple and sort of just thrown together for a big pasta dinner that would also provide the family a nice and easy bit of left-overs to warm up and eat for another day or two.
Add the following to ground turkey and form into meatballs:
2 lbs Ground Turkey
Chopped Onion – medium
1 Cup Bread Crumbs – maybe more if you feel it needs it.
One Egg
1/2 – 3/4 cup of Pesto *Start with a 1/2 cup.  Add more if you feel you want a little more pesto flavor.
1/3 – 1/2 cup of grated Parmesan Cheese
Salt and Pepper
1/2 Tbs of Calabrian Chilis chopped and snuck in there before your daughter realizes it.
Mix and form into meatballs, about 1.5″ – 2″ in diameter, and bake in the oven at 375 for about 20-25 minutes.  (These are also delicious on pasta with a little more pesto and some chili oil on top! )  Note: To taste test, you can make a small flat patty and quickly fry it up to make sure the seasoning is where you want it.  Add more of anything missing before forming the meatballs.
Bake on a wire rack in a baking sheet pan at 375 degrees for about 20-25 minutes or until done.  *For making pizza, I think it's best to slice the meatballs when they are cold, so this is a perfect leftover ingredient.
The Pizza:
Break up some fresh mozzarella and pieces of provolone and spread around the pizza.
Spoon dollops of pesto around the pizza, as shown, so that when the cheese and pesto melt, it will all ooze together.
Add Brad's super amazing Chilis and some of the chili oil around the pizza.
Top with basil dragged through the chili oil. (Alternatively, or in addition, wait and put fresh basil on the pizza after it comes out of the oven.)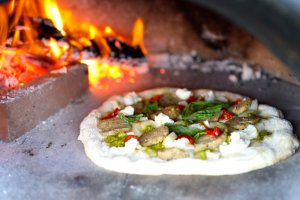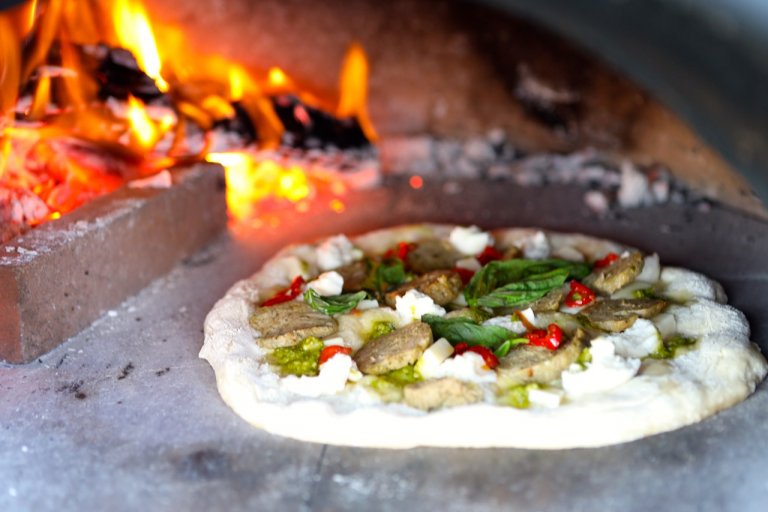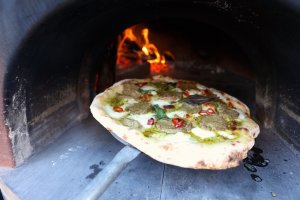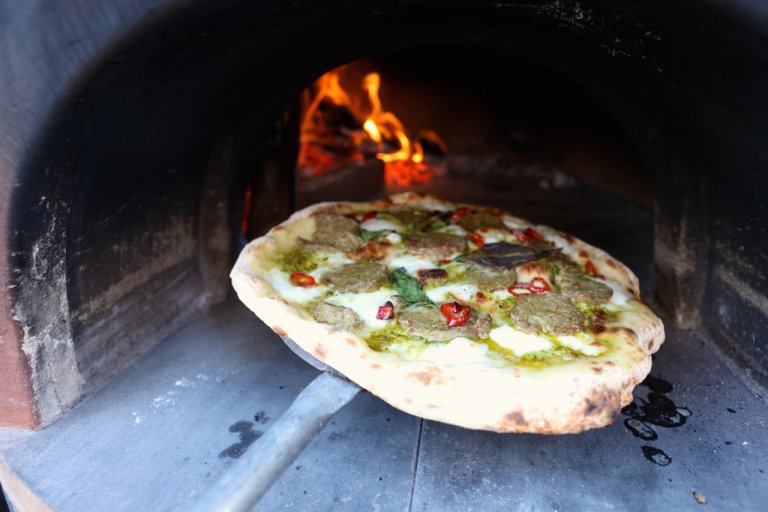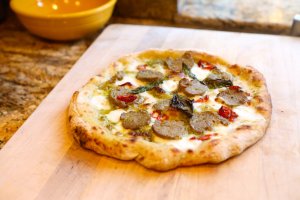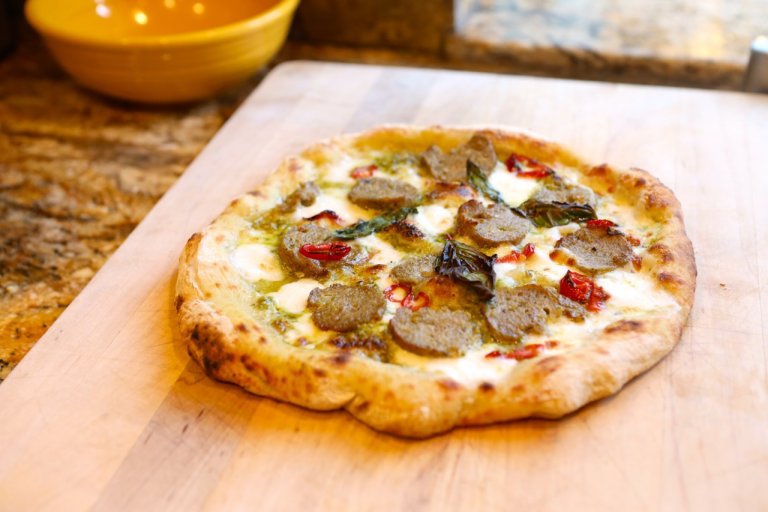 This was a beautiful pizza on so many levels. First, it was a pizza! Also, I had just pulled it out of a wood fired oven and what beats a hot pizza on your plate? Right?
But, it was more than that.
There was warmth emanating from this pizza straight from the oven. From the hot, crispy/chewy crust and the combination of the melted cheeses and pesto and meatballs with a highlight of spiciness added from the chilis, I almost want to say there is a buttery feel to this as a taste experience with a nice "ting" from the chilis and oil, which opened things up.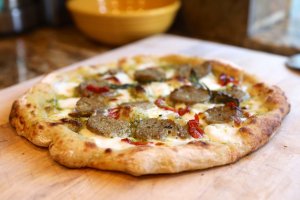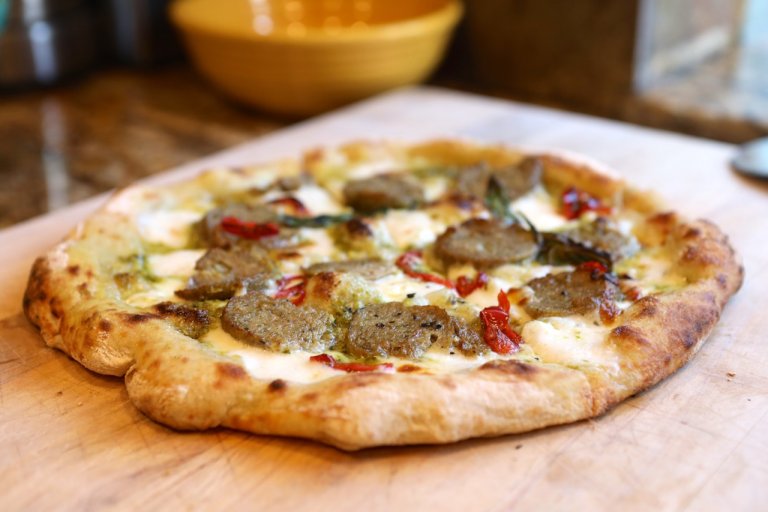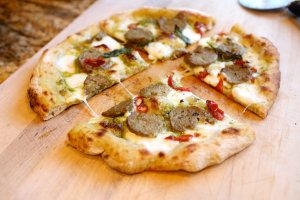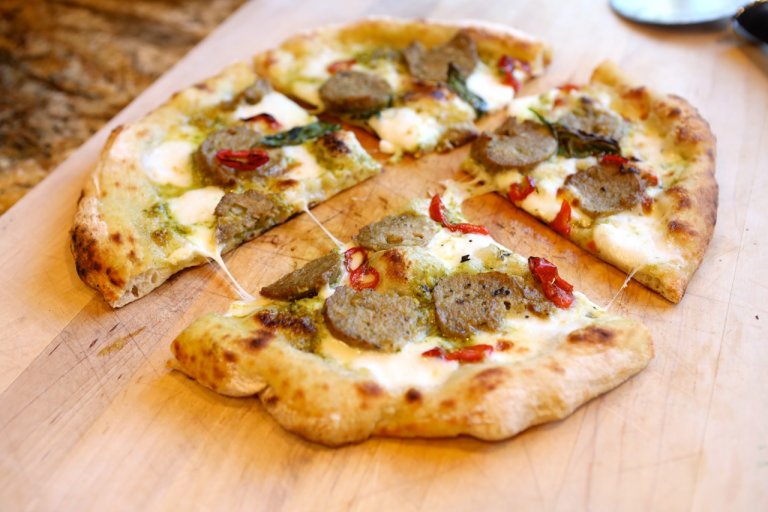 The ingredients had a perfect balance and made me realize this was the first meal we had made for our sanity rather than for our bellies since the world shut down.  My first bite included a nice thick and juicy meatball slice.  I like to cut my meatballs for pizza a little on the thick side – about a 1/4″.  They stay moist and delicious that way as they crisp up.  Yes, I said delicious. The word has a whole new meaning to me at this strange moment in time….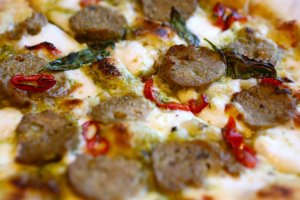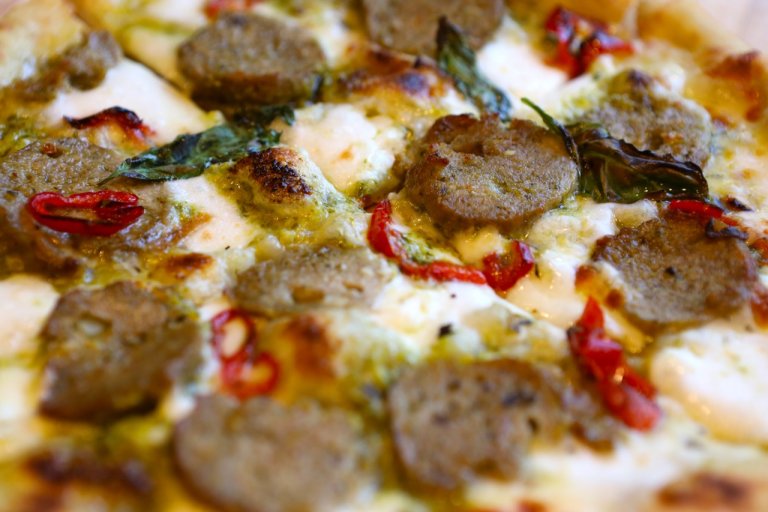 Delicious!
Delicious!!
Delicious!!!
Pizza Quest Info
Resources
Vision Statement
Pizza Quest is a site dedicated to the exploration of artisanship in all forms, wherever we find it, but especially through the literal and metaphorical image of pizza. As we share our own quest for the perfect pizza we invite all of you to join us and share your journeys too. We have discovered that you never know what engaging roads and side paths will reveal themselves on this quest, but we do know that there are many kindred spirits out there, passionate artisans, doing all sorts of amazing things. These are the stories we want to discover, and we invite you to jump on the proverbial bus and join us on this, our never ending pizza quest.
Peter's Books
...and other books by Peter Reinhart, available on Amazon.com