Brad's Corner: Fresh Pesto and Shrimp Pizza
I felt like pesto.  Good pesto.  Fresh pesto!
So, I looked around for some recipes that felt right and set about coming up with a few pizza ideas using some fresh pesto. It's really quite simple and like anything, you can add and subtract and come up with your own version quite easily, which is really what cooking and enjoying food is all about — at least for me.
I want to give credit for the pesto recipe that inspired me. The recipe can be found at 101 Cookbooks.com and is called "How to Make Pesto like an Italian Grandmother Recipe" *LINK.  I didn't measure my ingredients out; rather, I did my best to channel my inner-most Italian Nonna! (I'm actually of Irish/German stock but, hey, just having fun here….). What I liked about this recipe was it focused on chopping everything by hand.  This creates a more irregular texture than if you just tossed things in a blender and made a uniform paste.
Pesto ideas came flooding in. The first and best one was a light and summery pesto and shrimp pizza.
I think something special happened on my way to making this pizza.  As I was thinking about what to add, I thought I'd throw on some sliced cherry tomatoes for a nice sweet flavor pop.  I then said the following words to myself: "Smashed Fire Roasted Tomatoes."  There it was!  The idea was laid out in 4 simple words, but I saw in my mind's eye the whole process, from cutting the tomatoes to laying them out on the pizza.  The smashing would make the tomatoes not only a topping, but also a sauce!
And so it evolved: fresh pesto, smashed fire roasted tomatoes, shrimp, and a little fresh mozzarella, with red chili flakes and a splash of vinegar to finish it off and we have a seriously good pizza folks!
Let's go….
Ingredients:
– Pizza Dough *Link
– Cherry Tomatoes – "Smashed Fire Roasted Tomatoes" *Recipe below
– Fresh Pesto *Recipe below
– Shrimp
– Fresh Mozzarella
– Chili Flakes
– Touch of Vinegar to finish
Fresh Pesto:
– Large handful/bunch of fresh basil leaves
– Small handful of pine nuts
– 3 cloves of garlic
– Small handful of freshly grated Parmesan
– Olive oil
Follow link above for a more detailed description of the method of preparation, but here's the essence: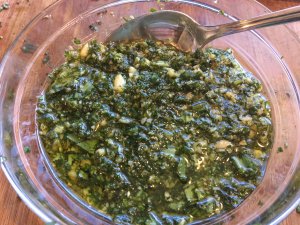 –Take a large bunch of basil leaves (a full handful) and chop half of it.
–Rough chop 3 cloves of garlic and then chop with the 1st half of your basil.
–Add more basil and some Parmesan and chop.
–Add half of the pine nuts and continue chopping.
–Add more basil, more pine nuts and if needed more Parmesan.
What you are doing here is building layers of the ingredients — some of it chopped into smoothness, and other parts added later are chopped less, and so on.  This builds a pesto with more textures, which also affects the flavor because each bite is different than the one before it.
Once done, squeeze it into a tight puck and put in a small bowl (as close in size to the puck as you have) and pour some olive oil over it — just enough to coat it.  Later, stir it up to use. So good. So fun. So easy!
*I didn't add any salt, but you could add a little if you think it needs it.
"Smashed Fire Roasted Tomatoes"
Okay, this was a flash invention. It may have existed out there, but I just re-invented this on the fly and I think you will  love it. It's a really fun way to do tomato sauce differently.
– Cherry Tomatoes
– Fresh Basil
– Olive Oil
– Salt and Pepper
– Beer
The idea is simple. Use as many tomatoes as you want to make the sauce/topping.  Slice most in half and leave some whole. You could cut them all, or leave them all whole because they will ultimately be "smashed" as the title states.
–Tomatoes into the cast iron pan.
–Tear up some basil leaves
–Add some Salt, Pepper and Olive Oil
*Hey, At this point, you could stop and have it as a salad with a little balsamic vinegar!
–Into the wood fired oven as it's heating up. Give it time to char and soften the tomatoes.
–When soft, smash them in the pan with a large spoon or tongs etc. Now it's no longer just a bunch of tomatoes — it's both a sauce and tomatoes.  *I cooked it some more after smashing to make sure it was oozy and saucy and blended.  Standing there in front of my oven I felt inspired to add some beer into the pan to more add liquid.
–Set it aside when done to use as a topping/sauce on your pizzas. *Note: Pull the skins off the tomatoes, if you like, after it cools a bit before placing on the pizza.
The Shrimp:
When I was done with the tomatoes I poured them into a bowl. I used the same pan to toss in my shrimps! I added some more olive oil, salt, pepper and lemon juice and lemon rind.
Into the oven until just barely almost done. Set aside.
THE PIZZA!!!!!!
— Spread the dough.
— Add some of the tomatoes and sauce and spread around
–Add some of the fresh pesto
— Add some fresh mozzarella (Not too much for this pizza – just enough!)
–Cut the shrimp in half lengthwise so they are not so big on the pizza and place them
on top.
— Finish with some red chili flakes and a sprinkle of vinegar
Into the oven….
This pizza was amazing! I am craving it even now as I write this post. First of all, my dough was supple, puffy, chewy, crisp, and delicious! My wife said instantly that this was the best dough I've made in a while.  Funny, I agreed right away.  It was the one I am questing for until I somehow produce the next "ONE".  How can something as simple as dough be so hard to perfect and repeat?!!!  Anyway, as it turns out I struck gold on this one.
The toppings were fresh and summery and blended together like old friends. There was a general warmth to this pizza — the kind of warmth I think we're looking for when we want comfort food. Warm bread, beautiful fresh ingredients and nourishment!  What more can you ask for?  Well, there is one more thing…the true warmth came through as I sat there with my wife and shared this pizza together.  Food can be great, but when you add the ingredient of great people that's what makes it an experience.
I set the expectation pretty high on this one. I hope you'll give this one a try and let me know about your results….
Enjoy!
Pizza Quest Info
Resources
Vision Statement
Pizza Quest is a site dedicated to the exploration of artisanship in all forms, wherever we find it, but especially through the literal and metaphorical image of pizza. As we share our own quest for the perfect pizza we invite all of you to join us and share your journeys too. We have discovered that you never know what engaging roads and side paths will reveal themselves on this quest, but we do know that there are many kindred spirits out there, passionate artisans, doing all sorts of amazing things. These are the stories we want to discover, and we invite you to jump on the proverbial bus and join us on this, our never ending pizza quest.
Peter's Books
...and other books by Peter Reinhart, available on Amazon.com