Prosciutto Cotto Pizza w/cool creamy Burrata and Fresh Arugula
This is a beautiful pizza!  I can't take credit for the recipe…only my efforts to create one here at home in my Primavera wood fired oven.  And, as you can see, I think I did well!
There is a local Italian restaurant here in LA called Eatalian Cafe.  The cafe is in an industrial district in Gardena and, when you go inside, it's like a food processing warehouse that is turned into an open concept restaurant/food market.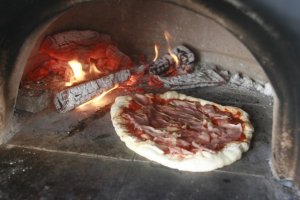 One day I ordered their Mimmo Pizza which is an original "Eatalian Pizza" selection rather than a "Traditional Pizza."  The Mimmo lists:  tomato sauce, prosciutto di parma, fresh arugula, fresh locally produced burrata cheese, and they had also added some cherry tomatoes when it arrived.
Sounds good, right?!!  It's wonderful.  But, to me, the beauty of this pizza is in the timing of the ingredients.  The Mimmo is baked with only the sauce and, then, when it comes out of the oven, is topped with the thin slices of prosciutto, fresh arugula and then the fresh cool burrata cheese is spread out over the slices as you eat it.  As you may have noticed in many of my favorite pizza recipes posted here, I love to top a hot pizza with cool ingredients – especially fresh mozzarella or burrata!   As the cool cheese begins to melt on the hot pizza there's a period of time when you will notice that when the cheese is between it's cool and fully melted state, you experience the amazing creamy and milky essence of what mozzarella is.  Delish!!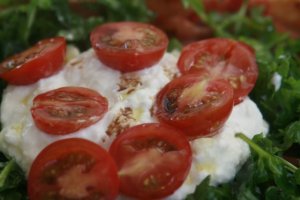 For my own version of this Mimmo Pizza, I threw the prosciutto on before it went into the oven.  Since the pizza bakes in about 90 seconds, the prosciutto got a little crispy on the edges and stays soft in the middle.
The final topping is a few chopped cherry tomatoes and I finished the pizza off with a drizzle of balsamic vinegar, or try some chili oil.  Both are wonderful accents.
The Pizza:
Peter's Napoletana pizza dough *Link
Peter's crushed tomato sauce (mine is made with Bianco DiNapoli tomatoes or you c an use your own favorite brand!) *Link
La Quercia or other high quality prosciutto cotto (cotto is partially pre-cooked, as opposed to prosciutto crudo)
Fresh baby arugula, lightly dressed
Fresh burrata
Cherry tomatoes, sliced in half
Balsamic, or Brad's Fresno or Red Jalapeno Chile Oil *Link
Stretch the dough and sauce it. Add a layer of Prosciutto Cotto on top and into the super hot oven it goes. (If using a home oven, crank it as high as it will go and maybe even hit it with the broiler at the end for a few seconds to get it slightly charred.)
When it comes out of the oven, immediately add a nice bed of the fresh baby arugula that has been lightly dressed with a little olive oil and lemon, or a favorite dressing.
Cut the pizza into 4 or 6 slices and then add the ball of fresh burrata cheese onto the middle of the pizza.  Take a fork and knife (or 2 forks, or 2 spoons, or a spoon and a knife, or 2 chopsticks — who cares!) and pull the cheese apart and guide it onto the slices where it will warm and soften into lusciousness.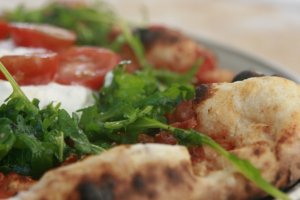 Top the cheese with the sliced cherry tomatoes and drizzle with balsamic or chili oil.
Into the belly: Pick up your slice, and use a fork to further arrange the cheese onto it.  You don't need to cover every inch with the cheese.  This is a pizza you could even decide to eat with a knife and fork on your plate until you get to the crust and then you'll be picking that up and using it to scoop up some of the leftover burrata, tomatoes, balsamic and sauce etc.
Enjoy!
Pizza Quest Info
Resources
Vision Statement
Pizza Quest is a site dedicated to the exploration of artisanship in all forms, wherever we find it, but especially through the literal and metaphorical image of pizza. As we share our own quest for the perfect pizza we invite all of you to join us and share your journeys too. We have discovered that you never know what engaging roads and side paths will reveal themselves on this quest, but we do know that there are many kindred spirits out there, passionate artisans, doing all sorts of amazing things. These are the stories we want to discover, and we invite you to jump on the proverbial bus and join us on this, our never ending pizza quest.
Peter's Books
...and other books by Peter Reinhart, available on Amazon.com