Margherita Pizza Showdown: Wood Fire vs. Home Oven
My name is Brad English and I make pizzas.
I have been told by my youngest that I am "ruining pizza" for my family. Now, to be fair to myself, she's a fickle eater! She loves my pizza when I make it her way, which is with pepperoni or salami and "regular" mozzarella, just like she can get at any of our local pizzerias. I say to her, you have no idea what you are complaining about! These are some of the best pizzas in LA coming out of our wood fired oven! Well, maybe the best in the South Bay? Or, Redondo Beach?!! Well, they are some darn good wood fired pizzas anyway.
In my quest to make pizzas and "ruin" my daughter's love of pizza altogether I continually do some experimenting.
I made some authentic Vera Pizza Napoletana dough with some Caputo 00 flour. It was a beautiful day. As I prepared the dough and was stretching and folding it, I was amazed at how smooth it became. As the dough balls sat on the counter near the window to proof, I again marveled at how pretty they were – so pure and simple. I laid a damp towel over them and laughed at the image in my head as I pictured myself tucking the dough balls into bed and covering them with their comforter!
My wheels started spinning and an idea popped into my head.
Pizza Margherita: I want to taste this dough on a simple, balanced — "perfect" pizza. My idea didn't stop there this time. I almost always make one Margherita when I make pizzas, but I also began to think about what the difference would be if I made a couple of Margherita Pizzas, using this same dough, with the same ingredients, at the same time — but in two different ovens. My Forno Bravo wood fired Primavera 60 is almost as easy to pre-heat as my home oven with my baking steel and other pizza stones inside. In about the same time, the Primavera can get to a roaring 900 degrees while my home oven tops out at 550 degrees.
The Primavera will take my raw pizza and be ready to return it, transformed into a bubbling hot pizza, in about 90 seconds. The home oven, turned to convection, drops the temperature to 525 degrees, but keeps the heat circulating in the oven and is done with it's pizzas at around the 6 minute mark when using my Baking Steel, or at about 8 minutes when using my Forno Bravo thick pizza stone.
What better pizza to do this experiment than with than the Margherita. It's a perfect example of balance in a pizza. Each of the ingredients/elements of this pizza holds it's own and shares the stage with one another.
The simple beautiful crust isn't overpowered by aggressive ingredients. The tomatoes should be warm and sweet with a little tartness. The mozzarella should balance the tomatoes with a creamy goodness and the herbal notes from the basil is a beautiful accent that you smell and feel slide from the roof of your mouth down as you enjoy each bite.
Let's see what happens. My ovens are pretty close together. My WFO is right out the back door off the kitchen and my prep area is almost smack in-between the two. I'm always really happy when I make pizzas in my kitchen oven, but how will it stack up against "the real deal"???
The Pizza Margherita:
– Vera Pizza Napoletana Dough Recipe *Link
– Quality canned tomatoes like Bianco DiNapoli or San Marzano variety from Italy
– Fresh Mozzarella *I found a nice Buffalo Mozzarella for this one (mozzarella di bufala)
– Fresh Basil Leaves
– Extra Virgin Olive Oil
To do:
For these pizzas, I made the sauce as raw as possible – just the canned tomatoes. I hand crushed the tomatoes and added a "bit-of-a-pinch" of sea salt.  Spread the sauce on the dough.  Add mozzarella and a few basil leaves and drizzle with a good olive oil.
They are ready for their journey to be transformed in the fire and heat into finished pizzas.
So, what happened?
The Wood Fired Margherita:
I would think that a wood fired pizza should always win this head to head comparison, but I've had some amazing pizzas from pizzerias without them. Pizzeria Delfina in San Francisco was a great example of this for me.  I am always blown away by what they are doing there and they use conventional pizza ovens.  With the wood fired oven, I'm looking for a fast bake that gives my pizza some good charred areas of the crust and maybe some of the ingredients.  It bakes fast, in about 90 seconds, so you have to keep moving the pizza within the oven to make sure to get a somewhat even bake all around the pizza. The speed of the bake is what gives you the nice contrast between a caramelized and charred crust with a moist interior. The pizza is baked and melted together with all sorts of textural elements that make it taste and even feel good to eat.
This baby came out nice! What you see is exactly what I got. This is no operation where I'm doing test pizzas and getting them right for the photographer (me). I'm making the pizza, taking the photos and eating it up! This was as good of a Margarita as I have ever pulled from my oven. Fun stuff!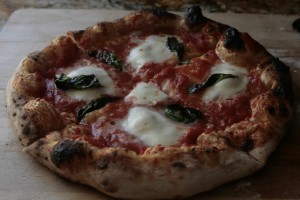 It has just enough char — that is one of the benefits of baking in a wood fired oven, which gives an added flavor to the big picture that is harder to achieve in a lower temperature oven. This pizza was nice and balanced. It had a nice crispy charred crust that was warm and soft on the inside and the sauce and mozzarella was melted and blended beautifully. Even the basil has some char to it, but sank into the sauce blending it's aromas throughout the pizza.
Very happy!
To the kitchen…
The Kitchen oven Margherita:
What about the kitchen oven Pizza Margherita? This one has a tough task ahead of it. Everything about it is the same except for the heat source and time. Adding time to the bake changes things for sure. Baking a pizza is a balance between time, temperature and the ingredients. A longer baking time in the wood fired oven at pizza temps would result in delivering a charcoal disc rather than a beautiful pizza. A longer time at lower temperature is going to affect how all of the ingredients bake and perform in my kitchen oven. The dough/crust is probably the big difference that I am expecting. I have my home oven set up churning out pizzas at about the 6 minute mark off of my Baking Steel. This seems to be a sweet spot for me, allowing the pizza to rise to life, caramelize, and begin to even char a little.
What else is different?
The dough came out with a crust that was a little tougher – maybe a little thicker outer layer. The inside of the dough is still moist and airy and puffy. It's well caramelized and even began to char in a few places.
You'll also see that the cheese has begun to caramelize more than the wood fired version. This gives it a hint of difference in the flavor – almost giving it a skin (which isn't necessarily a negative). It's just different. I could have domed my wood fired version and the same thing might have happened in that pizza.
The pizza is equally beautiful and though different – a truly a nice example of a Margherita.
What is the difference?
The balance of time is a little different here. The balance of flavors is similar but a little different. The balance of textures is a little different.
The winner?
I am a lunatic who loves the process as much as the end result. I am always going to prefer something over a fire. How can pushing a few buttons "Bake" – "5" – "5" – "0" compare to stacking wood, starting a fire, adding wood, moving the coals around, timing the bake and standing working the wood fired oven? It can't.
For me the edge has to go to the fire. But, in the end, it's just applying heat to the pizza until it's done and managing the time/balance. I think the winner on this one was my wife and I. We got to enjoy two delicious Margheritas with amazing ingredients that I made with my own hands from scratch. Win-win.
Enjoy!
Comments
Pizza Quest Info
Resources
Vision Statement
Pizza Quest is a site dedicated to the exploration of artisanship in all forms, wherever we find it, but especially through the literal and metaphorical image of pizza. As we share our own quest for the perfect pizza we invite all of you to join us and share your journeys too. We have discovered that you never know what engaging roads and side paths will reveal themselves on this quest, but we do know that there are many kindred spirits out there, passionate artisans, doing all sorts of amazing things. These are the stories we want to discover, and we invite you to jump on the proverbial bus and join us on this, our never ending pizza quest.
Peter's Books
...and other books by Peter Reinhart, available on Amazon.com