Down-side is Sunny-side
Egg on a pizza!!!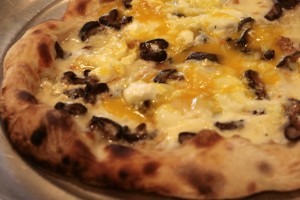 To me, egg is one of those unique ingredients on a pizza that, when done right, can elevate the experience of enjoying a pizza from good to great — from a meal to an indelible moment in time! There is something special about getting the egg just right – sunny side-up, with a runny beautiful yolk that you can spread across the cooked pizza, essentially, creating a rich sauce after it comes out of the oven.
Eggs are delicate. They rest in their own protective shell that we have to take additional care not to break by placing them in an especially designed carton. When cooking an egg, depending on the end result you are looking for, there are many techniques to coax it into a finished product that can be light and fluffy, solid, soft, thick or thin. It takes care and imagination to bring an egg in any dish to it's fullest potential.
(Forgive my Forrest Gump moment but): Eggs are good for breakfast, lunch and dinner and even a little snack. Eggs can be served as a meal by themselves and also a as a base for a dish to deliver a combination of ingredients that become something amazing together – as something more than the sum of its parts.
What is better than a breakfast with some runny eggs, bacon and toast? Eggs and bacon are good, but add a great piece of toasted bread and now you are talking about the whole enchilada! What is a pizza? It's a killer, fresh baked bread, right out of the oven and, when you add runny eggs, cheese, maybe some salted pork, or other ingredients all coming right out of the oven we're talking about something transcendental.
Here's a fun pizza I did recently that I'll call the Sunny-side Up – Upside Down Pizza. The down side is up because this one ends with the sauce and starts with the toppings. I was in the mood to chew my way into a nice warm crust topped with a runny, saucy, yolky pizza topping and, while thinking of what else to use with this one, I wanted to focus on the eggs and thought that a simple egg pizza with some fresh mozz and some sautéed mushrooms would hit the spot.
I picked up some baby shiitakes and tossed them with a little olive oil, salt, pepper and some garlic cloves. These came out beautifully in my Primavera oven as it warmed up to pizza temp – nice and brown and earthy, with just enough salt to harmonize with the eggs.
I wanted a nice creamy melting cheese. How can you go wrong with a fresh mozzarella? I added little pinches of Fontina to give a deeper, cheesier flavor it's a cheese that goes really well with eggs and equally as well with mushrooms. Yum Yum!  It all came together quite nicely, as you can see.
That's it — beautiful! This one feels like home. It feels like a weekend breakfast at home with your family where everyone is sitting around enjoying the morning. It's raining outside and you are warm and dry and the sound of the rain is soft and soothing outside. The family is talking without a worry about where the day is going, and they are all truly enjoying the food and forgetting about the circus of life for a while – together.
This tends to happen when we break bread together doesn't it?!  Sharing…
The Sunny-side Up — Upside Down Pizza:
– Classic Neapolitan Dough *Link
– Fresh Mozzarella
– Fontina Cheese
– Baby Shiitake Mushrooms
– Garlic
– 2 Eggs
– Extra Virgin Olive Oil
– Salt n Peppa
*Possible additions to this pizza to give it some pizzaz:
– Pickled Charred Chili Peppers *Link
– Sausage
– Prosciutto
– La Quercia Nduja Americana *Link
– *Any salted pork product!
Note from Peter: Thanks Brad — this looks amazing!! I would add only embellishment: drizzle some white truffle oill over the top when it comes out of the oven — just a  little.   Both eggs and 'shrooms are enhanced when served with truffles and, since whole truffles are a little out of all of our budgets, truffle oil is like the poor man's way to tap into the intoxicating truffle universe, and this is the perfect pizza to use it on.
Pizza Quest Info
Resources
Vision Statement
Pizza Quest is a site dedicated to the exploration of artisanship in all forms, wherever we find it, but especially through the literal and metaphorical image of pizza. As we share our own quest for the perfect pizza we invite all of you to join us and share your journeys too. We have discovered that you never know what engaging roads and side paths will reveal themselves on this quest, but we do know that there are many kindred spirits out there, passionate artisans, doing all sorts of amazing things. These are the stories we want to discover, and we invite you to jump on the proverbial bus and join us on this, our never ending pizza quest.
Peter's Books
...and other books by Peter Reinhart, available on Amazon.com