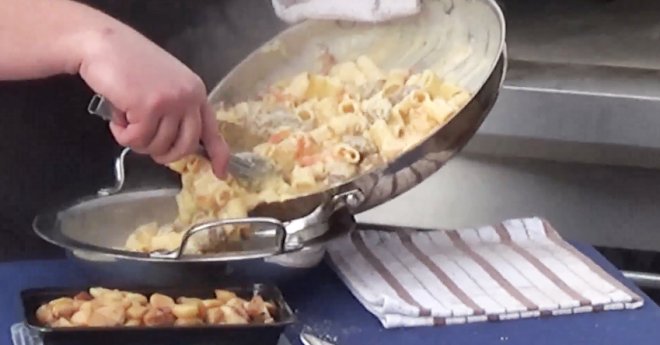 Wood Fired Spicy Italian Sausage Pasta with Chef Marshall
Apr 12, 2017
Posted by Chef Marshall
Print
In our third episode, we treat ourselves to Marshall's delicious spicy Italian sausage pasta cooked in a Bella wood fired oven!
Learn More About Our Bella Wood Fired Ovens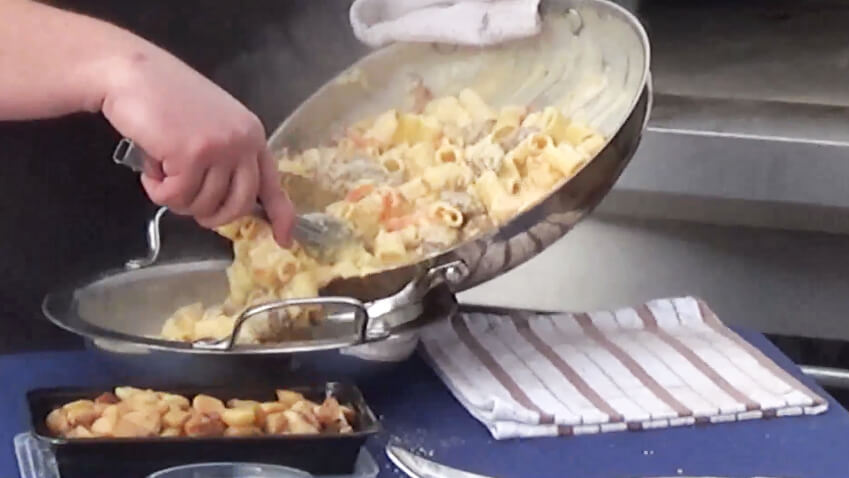 Wood Fired Spicy Italian Sausage Pasta with Chef Marshall
This recipe brings together smooth, spicy, salty, and cheesy flavors in an easy one-pot dish for a quick afternoon meal. As a home-style dish, all quantities are approximate and can be adapted to your food and spiciness preferences.
Ingredients
4 Cups Cooked Pasta - Tubes or other shape cooked to al dente (medium)
2-3 Tbsp Roasted Garlic Infused Olive Oil - See link below for instructions
1 Tbsp Rosemary Infused Olive Oil - See link below for instructions
1/2 Cup bacon - Chopped
3 Large Links Spicy Italian Sausage - Casing on or off (your preference)
1 red pepper - Sliced into strips
2-4 Cloves roasted garlic - See link below for instructions
2 Cups heavy cream
1 Cup Grated Parmesan cheese
Pinch black pepper
Pinch Pink Sea Salt
crushed red pepper flakes - From a pinch to a tsp+ depending on preferred level of heat
3 Large Leaves fresh basil - Julienne sliced for final garish
Instructions
Prepare the pasta of your choice to al dente. Drain and set aside for later use in the recipe. (It can be made ahead and cool, because it will reheat in the oven. Do not overcook it, as the pasta will continue to cook in the sauce as it reheats & no one likes mushy pasta.)

Add a swirl of rosemary-infused olive oil and 2-3 swirls of roasted garlic-infused olive oil to an oven-safe skillet or cast iron pan. It is ok to go heavy on the garlic oil, as this will add flavor to the dish. Place the pan in the wood fired oven preheated to apx. 400 - 600°F.

While the oil is heating, chop your bacon, and slice your sausage into 1/2" pieces. You can remove the sausage casing before slicing or leave it on - whichever you prefer. Set aside.

Test the oil temperature by putting 1 piece of bacon in the pan. If it immediately starts to sizzle, you are ready. If it doesn't, remove the bacon, and put the pan back in the oven for a few more minutes, closer to the fire, to get it nice and hot.

When the oil and pan are hot, add the bacon to the pan. Return pan to the oven. Cook until the bacon is about halfway done. Stir. Add the sausage and put the pan back in the oven.

When the bacon is cooked and the sausage is about halfway done, remove the pan from the heat and add the sliced red peppers, roasted garlic cloves, seasoning, and a 1-2 Tbsp of grated parmesan cheese. (Be aware- more red pepper flakes will equal more heat!) Return the pan to the oven for just a short time (30 seconds - 1 minute) to warm the new ingredients.

While they are warming, slice your basil and set aside.

Remove the pan again and add the heavy cream and pasta. Stir with your tongs. Add more parmesan cheese (apx. 1/2 - 1/3 cup.) The cheese will help thicken the sauce. Toss again. Return pan to the oven for about 10 min for the sauce to thicken and the pasta to warm.

Remove the pan from oven a final time and give the ingredients and sauce a good toss/stir. Add a few more Tbsp of Parmesan cheese if you would like. Transfer everything to a cool serving dish. Garnish with the basil and serve.
Notes
Chef's Notes:
Always use towels and tongs when working with a hot pan coming out of the oven. Safety is key! The pan will be EXTREMELY hot.
You can go heavy on the roasted garlic cloves because the wood-fired roasting process gives them a very mellow, rich flavor.
Click here for the recipe and videos showing how to make infused oils and roasted garlic.