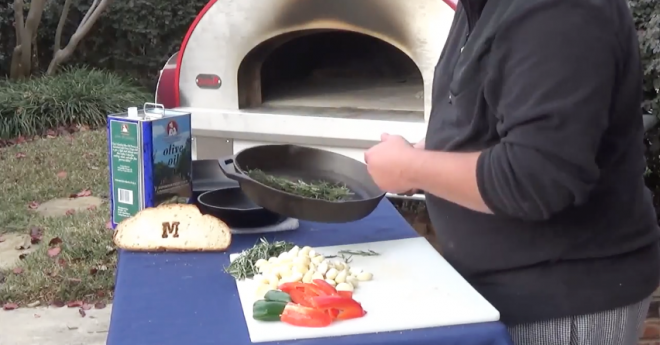 Infused Olive Oils
Dec 17, 2019
Posted by Chef Marshall
Print
Olive oil, one of our most versatile ingredients, comes from the most cultivated tree in the world. It can be used in many different ways and can be transformed into something that will complement a dish, and add more depth of flavor.
As you see in this video, I will be demonstrating the basics of infusing extra virgin Olive Oil with other flavors. Once you have mastered the basics, you can start to experiment with more challenging recipes using Olive Oil. We will be making three different types of infused Olive Oils today; rosemary, slow-fired roasted garlic, and a spicy, robust Olive Oil.
After you make your oils, try them out with Chef Marshall's amazing Wood-Fired Sandwiches. (They make a delicious twist on classic condiments.)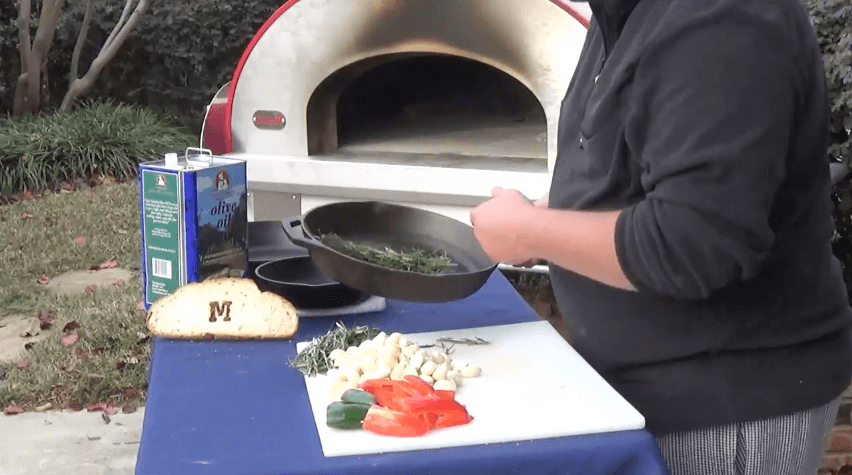 Infused Olive Oils
Infused Olive Oils - 3 Ways
Ingredients
6 cups olive oil Extra Virgin (Goal is a neutral, buttery flavor profile that is often found in oils blended from more than one origin/source)
2-3 bunches rosemary Wash well, leave on stalk
5 handfuls garlic cloves Peeled (apx. 6-10 cloves per handful, depending on size)
2-3 jalapeno peppers Sliced lengthwise with seeds left in
1 red pepper Seeded and sliced lengthwise into large sections
Instructions
General Instructions
Heat your wood fired oven to 300 - 400 deg F maximum. There should be only coals remaining (no active fire.) These temperatures and conditions will help reduce the risk of grease fires. Do have a fire extinguisher close by for safety just in case!

Place cast iron pans (3) in the oven to pre-heat. You are want to warm them enough to take the chill off, not get them sizzling hot. When warm, remove your pans with an oven mitt and place them on a heat-safe surface. While they are warming, prepare your ingredients.
Rosemary Infused Oil
Place 1-2 bunches of rosemary in the first pan and fill with olive oil until the herbs are just covered. Amount of oil needed will depend on the size of the pan. (Apx. 2 cups.) Do not overfill your pans! (Reduce the risks of slopping the oil while moving the pans, and the chance of grease fires.)

Carefully place the pan in the back of the oven to heat to a low, slow boil.
Garlic Infused Oil
Place 2-3 handfuls of peeled garlic cloves in the next pan and fill with olive oil until they are just covered. Again, the amount of oil needed will depend on the size of the pan. If you are using a smaller pan, 1-2 handfuls of garlic will be sufficient.

Add pan to oven. The garlic will roast and turn light brown.
Spicy Pepper Infused Oil
In the final pan (smallest), placed your jalapenos and red pepper slices. Add a handful of peeled garlic and a sprig or two of rosemary. (It is ok to break the stem or bend the rosemary to get it to fit in the pan.) Cover the seasonings with olive oil and return the pan to the oven.
Finishing Your Oils
Bring all of the oils to a low boil/simmer (light, lazy bubbles - not a fast boil, which will fry the ingredients.) This should take 15 - 20 minutes.

Carefully remove the pans from the oven and let them sit for 10 minutes so that the flavors will continue to infuse into the olive oil, as the oil cools.

Pour the oil through a fine mesh sieve to remove the flavoring items before funneling it into a small oil dispenser or air tight container. They are ready for use. Unless you are washing our strainer between oils, we recommend straining the rosemary first, then the garlic oil, then finally the spicy oil to keep the flavors independent of each other. (Not everyone likes heat in their food!)

The flavored oil should be stored in an airtight container and refrigerated. It can last for up to 1 month, but should really be used within a few days for best results and food safety. Note, most olive oils will solidify slightly in the refrigerator. Bring the infused oil to room temperature before drizzling it onto your food.
Notes
As with all homemade preserved food, it is a good idea to first sterilize your storage containers by boiling them. Items must be boiled for 10 minutes in order to kill botulism spores. Using dried herbs can help reduce the risk of contamination if the oil will be stored for longer than a week. You can also freeze infused oils and safely store them for several months. The measurements above are suggestions and can be easily adjusted to your taste and preferred pallet. Feel free to explore various combinations of herbs and flavors. *Recipe originally recorded by Chef Marshall February, 2017.