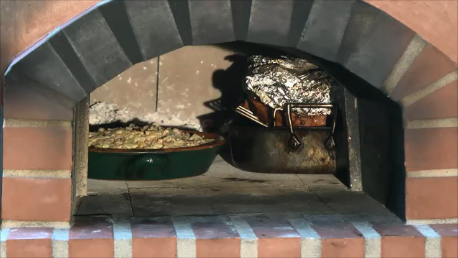 Turkey Dressing in a Wood Fired Oven
Nov 16, 2015
Posted by Chef Lea
Print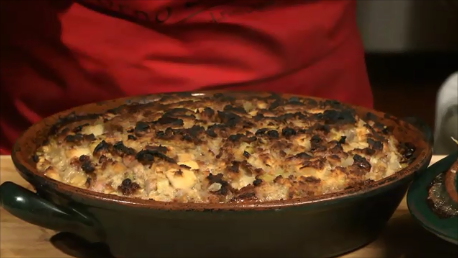 Fiery cooks! Now that you've decided to roast the bird in the oven, it's time to start using it for everything else. Start collecting your aging bread for the dressing and make sure it's nice and dry. In addition to the turkey and dressing, I blanch my Brussels sprouts, season them and then roast 'em in our Toscana wfo, too.  The recipe for cooking a turkey in a wood fired oven is in the Forno Bravo Community Cookbook here.  You can watch the first part of this two-part video demonstration, "Cooking a Turkey in a Wood Fired Oven", on the Forno Bravo Community Cookbook YouTube channel.
Buon appetite e ci sentiamo presto!
Chef Lea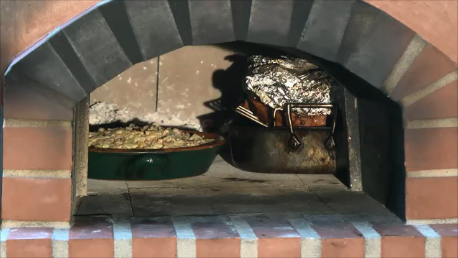 Turkey Dressing in a Wood Fired Oven
Ingredients
1 1/2 loaves bread, dried and cut into small squares
1 1/2 tbsp olive oil or butter
2 cups chopped onions
2 cups chopped celery
1 lb. chicken & apple sausage cooked and drained
2 cups chicken broth
1/2 cup Cream
1 1/2 cups Apple Cider
2-3 apples, chopped
1/2 cup chopped walnuts
Instructions
Heat olive oil and cook onions, celery until translucent. Add browned sausage. In a large bowl, mix the onion/celery/sausage mixture to the dried bread. Add apple cider and apples. Add chicken broth and mix thoroughly. Add cream and walnuts. Pour into oven-safe dish and place in oven. Cook for 20 minutes until bubbling.
Notes
If you like this recipe, click on a link below to share it on social media!