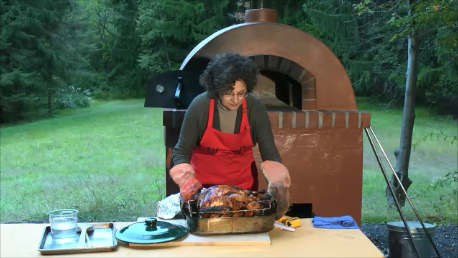 Thanksgiving Turkey in a Wood Fired Oven
Nov 16, 2015
Posted by Chef Lea
Print
Do not be afraid! If you've already been making pizza or roasting chickens in the wood fired oven, roasting a turkey is as easy as (pumpkin) pie. Be patient about getting the oven down to roasting temperature of about 500°F – 600°F. Because if you're rushed and you throw Henny Penny in when the oven's too hot, you'll lose the crispy crust. And DO remember to make a strong foil to protect it. Remember that the turkey breast is much closer to the dome of the oven where all that heat is collecting.
Don't miss the recipe for my delicious apple-sausage dressing in a wood fired oven in the Forno Bravo Community Cookbook here.  You can watch the second part of this two-part video demonstration, "Turkey Dressing in a Wood Fired Oven", on the Forno Bravo Community Cookbook YouTube channel.
Buona festa e ci sentiamo presto!
Chef Lea
https://www.youtube.com/watch?v=p9T-VQ69x-g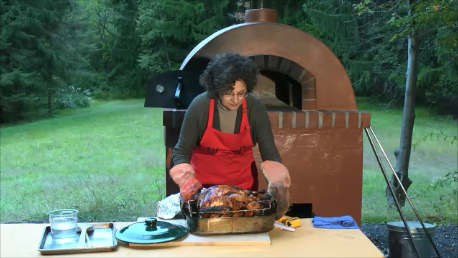 Thanksgiving Turkey in a Wood Fired Oven
A tasty way to prepare a moist, roasted turkey with delightful flavors from citrus, apples, herbs, and a wood fire.
Ingredients
Turkey
1 13 lb. turkey
1 Lemon quartered
1 Granny Smith apple quartered
1/2 bunch Sage
1/2 bunch thyme
1/2 bunch Italian Parsley
kosher salt and black pepper
1/4 cup water
Compound Butter
4 oz. softened butter
1 tbsp maple syrup
1 tsp lemon zest
1 tsp orange zest
salt to taste
Instructions
Make the compound butter and rub under the skin of the turkey. Any leftover butter can be rubbed on the outside of the turkey. Salt and pepper the outside of the turkey.

Place the lemon, apple, sage, thyme, Italian parsley in the cavity. Place remaining herbs in the pan along with enough water to cover the bottom of the pan.

Regulate your wood oven temperature to between 500 - 600 degrees. (You do not need to maintain an active flame. Just spread the remaining coals around the edge of the oven. The temperatures will drop slightly as the bird cooks.)

Brown the turkey for 15 minutes uncovered, then tent with aluminum foil. Cook approximately four hours (depending on the size of the bird) until it is cooked to the recommended temperature. Use a probe in the thickest part of the bird to determine the temperature. (If you have an electronic probe with a remote reader, this works the best because you do not have to open and close the oven door to check it.)

Let the turkey rest for 15-20 minutes before carving.