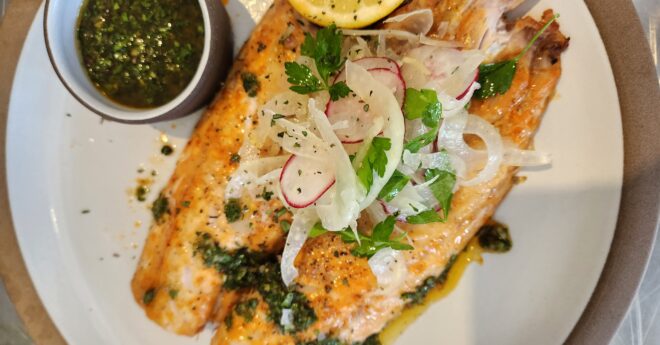 Spanish-Style Chilipepper Rockfish with Adobo Marinade, Fennel Salad, and Chimichurri Sauce
Jun 28, 2023
Posted by Forno Bravo
Print
The neutral character of the Chilipepper Rockfish (named for its external color, not its taste) makes it the perfect vehicle to carry the bold, but nuanced flavors and spices of Chef Jose Fernandez's youth in Barcelona, Spain. Paired with a fantastic chimichurri sauce and a fun fennel salad garnish, this dish will have everyone asking for seconds!
Fun Fish Facts: Chilipepper Rockfish has a light, flaky, sweet, white flesh that strikes just the right texture between delicate and firm. The versatility of this fish is a prize, as even "nonfish eaters" will find a rockfish dish delicious. The meat of a Chilipepper Rockfish is actually categorized as "red-fleshed," which is preferred by most chefs or restaurants for its longer shelf life and lesser oil content compared to other rockfishes.
Commonly found along the Pacific Coast from Baja, California to the Vancouver Islands, Canada, the Chilipepper Rockfish is a sustainable, non-migratory fish that is long-lived and reproduces quickly and abundantly. It is commercially fished and available year-round. They are locally available off the coast near 1440 Multiversity's campus in Northern California.
Click below to see this recipe demonstrated by Executive Chef Jose in the Roma wood fired oven at the 1440 Multiversity campus and retreat center.
Whole Chilipepper Rockfish with Adobo Marinade, Fennel Salad, and Chimichurri Sauce
Equipment
1 Forno Bravo oven of your choice

1 Oven tray or Cast Iron Skillet

1 Pastry Brush

2 Wire Racks
Ingredients
FISH COMPONENT
1 Ea Local Whole Chilipepper Rockfish - Around 3 to 4 pounds
1/2 Cup Adobo Marinate - See below
1 Tbsp Extra Virgin Olive Oil
Salt - To taste
Pepper - To taste
1 Serving Chimichurri Sauce - See below
1/2 Ea Fresh Lemon
ADOBO MARINADE
1/2 Ea Guajillo Chili
1 Ea Yellow Onion
5 Ea Garlic Cloves
4 Ea Large Tomatoes
2 Tbsp Chipotle Paste
1 tsp Salt
Pepper - To taste
1/2 Cup Extra Virgin Olive Oil
CHIMICHURRI SAUCE
1 Tbsp Parsley - Chopped
1 Tbsp Cilantro - Chopped
1 tsp Oregano - Chopped
1/4 Ea Fresh Jalapeno - no seeds - Chopped
1/4 Ea Shallot - Finely chopped
2 Ea Garlic Cloves - Chopped
1 tsp Chili Flakes
1 Tbsp Red Wine Vinegar
1/2 Cup Extra Virgin Olive Oil
FENNEL SALAD
1 Ea Fresh Fennel - Thinly sliced (white bulb)
6 Ea Fresh Parsley Leaves - Removed from the stalk
1 Ea Radish - Thinly sliced
Salt - To taste
Pepper - Freshly ground
Extra Virgin Olive Oil - Drizzle
Instructions
FISH COMPONENT
Fish needs to be cleaned and bones out, leaving only the tail to hold the two sides (filets) together. Set aside.

Cover the fish with fresh adobo marinade on both sides.

Place the fish between the two wire racks. Add the half lemon to cook as well.

Cook at around 450 F for 4 minutes on each side or until golden brown.

After the fish is fully cooked, place the cooked fish on a serving platter of your choice. Finish with the fennel salad, lemon, and chimichurri sauce on the side.
ADOBO MARINADE
In a pot, combine guajillo chilis, onion, garlic, and tomatoes. Add only enough water to barely submerge the ingredients. Bring it to a boil until all items are softened.

Transfer to a blender, including the reserve water and chipotle paste.

Blend until smooth. Add salt and pepper, and emulsify with the oil until smooth. Taste and adjust seasoning. Set aside to use on the fish.
CHIMICHURRI SAUCE
Gather (pre-measure) all the ingredients in separate containers.

In a large enough container, add all the ingredients and mix with a hand blender until smooth.

Add salt and pepper to taste. Set aside to serve in a small container on the plate as a garnish, or for adding to the cooked fish during presentation.
FENNEL SALAD
Slice thin the fennel and radish. Strip parsley leaves off of the stalks.

Season with salt, pepper, and olive oil. Set aside.

Add a portion of the salad to the top or side of the cooked fish as a garnish when serving. (See video for an example of this.)