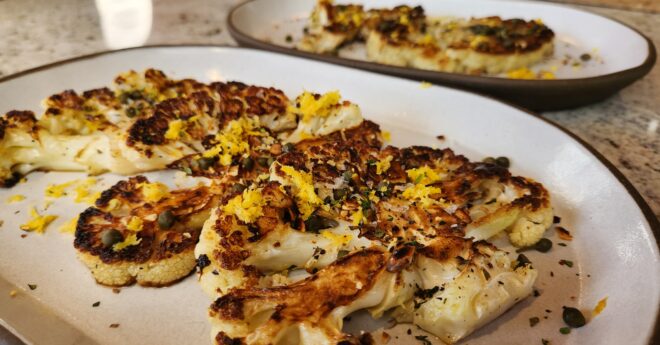 Roasted Cauliflower Steak with Capers and Pepitas
Jun 13, 2023
Posted by cecebeauchamp
Print
This recipe is ideal for vegetarians, or anyone who loves making a healthy, full-flavored vegetable main or side dish in their wood fired oven. Follow along below with Chef Jose Fernandez of 1440 Multiversity as he cooks Cauliflower Steak to perfection in the video below!
1440 is a unique, nonprofit, immersive and online learning destination nestled in the heart of the California Redwoods. You can learn more about their educational offerings, Roma wood fired oven, and culinary philosophy by CLICKING HERE.
Roasted Cauliflower Steak with Capers and Pepitas
Hearty Vegetarian Delight!
Equipment
1 Forno Bravo oven of your choice

1 Oven tray or Cast Iron Skillet

1 Zester
Ingredients
1 Head Fresh Cauliflower
1 Tbsp Capers
1 Tbsp Toasted Pepitas Seeds (*shell-less/hulless pumpkin seeds) - Slightly Chopped
3 Sprigs Parsley - Chopped
1 Sprig Fresh Thyme - Chopped
1 Sprig Rosemary - Chopped
1 Tbsp Extra Virgin Olive Oil
1 tsp Salt
1 Pinch Pepper
1 Cup Water
1 Ea Whole Lemon - Freshly Zested
Instructions
Preheat oven to 400 degrees F

Wash the head of cauliflower and make 1-inch cuts from the top to the stem. You will get 4 to 6 pieces approximately, depending on the size of the cauliflower.

Drizzle the oven tray or cast iron skillet with the olive oil, add the cauliflower steaks, and season with salt and pepper.

Place the pan in the oven and cook each side for about 4 minutes on each side or until golden brown.

Add a little water and the capers (optional) and cook for another 1 minute or so.

Chop the fresh herbs (parsley, thyme, and rosemary), and mix with the already chopped pepitas. Set aside.

Place the cauliflower steaks on a serving plate, then add the lemon zest directly from the lemon.

Sprinkle with the capers (if not added earlier,) the mix of pepitas and fresh herbs, plus, a small drizzle of olive oil. Serve.
Notes
Ingredient Note: Pepitas and pumpkin seeds are closely related, however, pumpkin seeds are whole seeds with their shells still on, whereas pepitas are found in shell-less, or hulless pumpkin varieties. They have anti-inflammatory properties, and take on a nutty flavor when toasted.