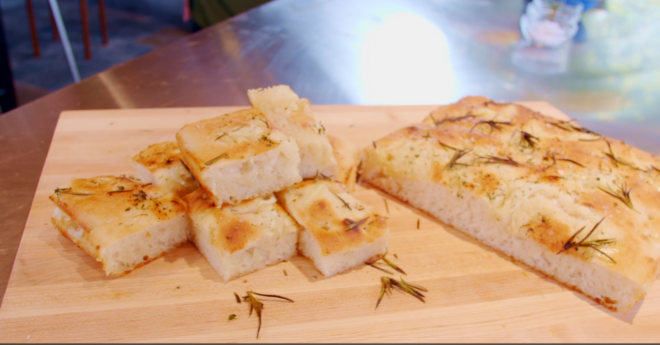 1440's Gluten-Free Focaccia
Jun 13, 2023
Posted by Forno Bravo
Print
Focaccia is one of the simplest wood-fired breads to make. This gluten-free version is quick, easy, flavor-forward, and designed to be enjoyed by any guest.
Topped with rich olive oil, shaved fennel for a hint of onion, fresh herbs for savory notes, and a sprinkle of Maldon sea salt to finish, it is a favorite treat for visitors at the 1440 Multiversity campus and retreat center. The other key ingredient in this recipe is Caputo Fioreglut Flour (gluten-free flour.) It is made in Italy and is favored by many bakers and chefs because its baking properties and taste mimic traditional bread flours very closely.
Watch pastry chef Mandy Wetzel prepare this delicious bread in 1440's Roma wood-fired oven in the video demonstration below.
1440's Gluten-Free Focaccia
A delicious wood-fired bread that tastes amazing and is suitable for all of your guests.
Equipment
Forno Bravo oven of your choice

Half Sheet Pan
Ingredients
FOCACCIA BREAD
8 Cups Caputo Fiore Glut Flour
4 Cups Water - Cold
4 1/2 tsp Yeast
4 Tbsp Extra Virgin Olive oil
2 1/2 Tbsp Salt
2 Tbsp Barley Malt Syrup
SUGGESTED TOPPINGS
1-2 Tbsp Fennel - Shaved
1-2 Sprigs Rosemary - In small sections
1 tsp Fresh Thyme - Finely chopped
Sprinkle Maldon Sea Salt
Instructions
Mix all ingredients until cohesive.

Place on parchment lined half sheet pan coated in olive oil.

Flatten out to the shape of the half sheet pan.

Proof for 30-60 minutes, until doubled in size.

Drizzle olive oil across the top to coat, dimple the top slightly with your fingers, being careful not to deflate the dough, and add the toppings of your choice.

Bake at 400 - 450 degF in Pizza Oven for about 10 - 15 minutes, until the top is golden brown.
Notes
Ingredient Note (1): The herbs used in this recipe were all grown in 1440's on-site gardens. They are easy to grow in a window garden or a traditional home garden, or can be purchased at most markets and grocery stores.  The quantities listed are approximate. Feel free to experiment with different combinations and amounts, based on your taste and what is in season. To complement the rich flavor of the olive oil, it is a good idea to stick to a bit of savory and a bit of salt, but many herbs and hard cheeses meet this profile and can be used to accent your focaccia bread. Ingredient Note (2): Maldon Sea Salt Flakes have been harvested in the UK town of Maldon since 1882. Their crystals are pyramid-shaped and much larger than kosher salt granules. This texture sets it apart from other salts, and results in a saltier taste that also doesn't dissolve as easily. For these reasons, Maldon should be your go-to for finishing a dish, rather than for general seasoning.