(Makes 9-10 medium-sized rolls)*
So-called 'Kaiser Rolls' are everywhere these days, from supermarket bins to small bakeries. Unfortunately, most are made with generic recipes and bleached flour, and too many are extruded by machine before being baked on gas decks. The look might be right, but the actual bread is flavorless. They bear little resemblance to the chewy delights of childhood memory. The rolls from this formula bring back that memory, because they have added flavor and complexity of a pâte fermentée preferment. They hold their shape, even when loaded with burgers and tons of toppings. They do not turn to mush, and they're easy to make.
Like the Parisian Baguette recipe given earlier, this is a two-day process, but preparation on the first day is very quick.
Day One, Pâte Fermentée (16 oz.)
5 oz. unbleached all-purpose flour
5 oz. unbleached bread flour
¾ tsp. sea salt
½ tsp. instant yeast (IDY)
7 oz. filtered, bottled (no salt added) or spring water at room temperature
Stir the flours and the yeast together in a medium-sized bowl. Add the water and stir with a large metal spoon until a ball just begins to form. Add the salt and continue to stir until the flour is completely hydrated. Turn the dough out onto a lightly floured counter and knead vigorously by hand, pushing the dough away from you with both hands, then taking it up to shoulder height and slamming it down on the counter. Knead in this fashion for six minutes. Sprinkle on flour, as required, until you have a smooth dough ball that is tacky, but not sticky. The internal temperature of the dough should read between 77º to 81ºF.
Mist a bowl with spray oil, and roll the dough ball in it to coat with oil. Cover the bowl tightly with plastic wrap. Ferment until the dough rises to about 1 ½ its original volume (about 1 hour). Transfer the dough to the counter, and degas it by kneading lightly. Return it to the bowl, recover with plastic wrap and put it in the fridge overnight.
The finished Kaiser dough requires just 8 ounces of pâte fermentée, so you can divide it in half once it has rested in the refrigerator overnight. Freeze the extra 8 ounces for your next batch in an oiled freezer bag, or simply double the formula below.
Day Two, Dough
Take the pâte fermentée out of the fridge and cut 8 ounces of it into ten or so small pieces with your pastry cutter. Cover with plastic wrap and let rest for one hour to warm up before making your dough.
8 oz. pâte fermentée
10 oz. unbleached bread flour
¾ tsp. salt
1 tsp. diastatic barley malt powder (See Books and Resources)
1 tsp. instant yeast (IDY)
1 large egg (slightly beaten)
1 ½ Tbsp. olive oil
6 oz. filtered, bottled (no salt added) or spring water at 90 to 100ºF
Stir together the flour, yeast and malt powder in a bowl. Add the water, pâte fermentée, egg and olive oil to the bowl of your mixer. Mix these wet ingredients briefly with the paddle attachment. Add the dry ingredients and mix with the dough hook for one minute or until a dough ball forms. Add the salt, and then knead for four to six minutes, adding flour or water to make a dough that is soft and tacky, but not sticky. Take the dough's temperature to ensure you are in the 77º — 81ºF range. Continue to knead if you are on the low side. Otherwise, turn the dough out onto a lightly floured surface and knead by hand as shown in the Hand Kneading Demonstration Video. Once the dough is at the proper, fully kneaded temperature, passes the windowpane test and has been formed into a ball, turn it into an oiled bowl, rolling it to coat with oil.
Cover the bowl tightly with plastic wrap and ferment for about 2 hours, or until the dough has doubled (watch the dough; it may double much sooner, depending on the strength of your yeast and the warmth of your kitchen.)
Dividing
Turn the dough out onto a lightly floured counter. Use your dough knife to divide the dough into 9 equal pieces at about 2 ½ ounces each. If you prefer larger rolls, divide into 6 equal pieces at about 4 ounces each.
Forming
To see the technique for making Kaiser rolls, you can watch the Kaiser Roll Shaping Video. Again, surface tension is the key to a strong rise. It is traditional, but not necessary, to use a Kaiser Roll cutter (see Books and Resources) as shown there. If you don't, you will not have to flip the rolls between the first and second rise. Instead, simply let them rise for about 75 minutes in total, or until double their original size.
If you are using a cutter, flour it each time you use it to prevent sticking. Press the cutter almost, but not completely to the bottom of each ball. Turn them, cut side down, onto a sheet pan that has been lined with parchment paper and misted with spray oil. Cover loosely but completely with plastic wrap. Let rise for 45 minutes. Flip the rolls over so the cut side is up and proof for an additional half hour or 45 minutes, or until they are double their original size.
Baking
Your oven floor should be at about 500ºF (550ºF is okay, too, but be careful with baking times.) Steam the oven ten minutes before baking. Mist the tops of the rolls with water and sprinkle on poppy seeds if you wish. Load the pan(s), parchment paper and all, into your oven. Steam again. Bake for approximately 10 minutes, cracking the door after 8 minutes to let the steam escape. At the 10 minute mark, take the temperature of one roll. They're done when the thermometer registers 200ºF.
Cool for at least half an hour on wire racks. These rolls freeze very well in tightly sealed freezer bags.
Next, we will bake a the simple, but tasty No Knead Bread.
*This recipe has been adapted for wood fired baking from the recipe given in Peter Reinhart's The Bread Baker's Apprentice.
Back
Forward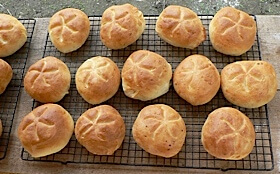 Barbecued hamburgers, ham and cheese, or corned beef with Russian dressing will be unforgettable on these chewy, tasty Kaisers. Wood fired baking gives them the volume and texture to stand up to the sloppiest concoction.
Watch the Video Instructions