Top 10 Reasons for Choosing Forno Bravo
We know that you have a choice when selecting a pizza oven and that it can be confusing sorting out different claims. To keep things simple, here are ten good reasons why Forno Bravo sells the World's Finest Pizza Ovens.
1. High-Tech Refractory Materials Deliver Great Pizza Oven Performance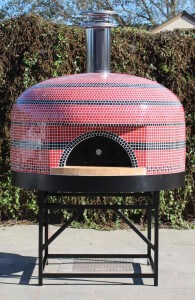 Unlike some other producers, who use inexpensive, lower-grade materials for their residential ovens, and high-end material for their commercial pizza ovens, every Forno Bravo refractory oven uses commercial-grade materials. With a proprietory blend of ingrediants and polymers, our refractory material and production methods are best in class. This is very important to your oven performance. But, what does "oven performance" mean?
2. The World's Fastest Heat-up Time
Our ovens are ready to cook in as little as 20 minutes — the time it takes to light charcoal. We have cooked in pizza ovens made in Europe that over an hour and a half to heat up. We think that a quick heat-up time can be the difference between using your oven on a beautiful weekday evening — and simply not having enough time to fire your oven. We want our ovens to get used!
3. Great Heat Retention
Our commercial pizza ovens hold their temperature at a remarkable 500°F overnight. Remember, our residential ovens use the same material, which means they are great at both cooking pizza at night, and then baking and roasting into the next day. You don't need to burn a lot of wood to fire your oven either — it only takes 7-8 pieces of wood to bring your oven to temperature and bake a whole oven full of bread! In fact, our ovens are 30% more wood fuel efficient than traditional brick ovens.
4. A Full Line of Pizza Oven Types and Sizes
Commercially, our ovens' cooking surfaces range from 44″ to 56″ x 76″. With wood fired and gas options, countertop or stand varieties, our Professionale and Modena series cores outperform our competition, are feature rich, and are available at very reasonable prices. The exteriors are highly customizable too, to match your brand or aesthetic.
In our residential line, our Casa2G series is the ultimate wood fire oven engine, offering easy customization; our Premio line offers high-end features for hard-core home-chefs; our Giardino series is budget and space friendly, and for the purist, our authentic, Artigiano true-brick ovens are imported from Italy.  With sizes ranging from 24″ to over 72″ (that's six feet,) we have the oven you need. We even offer the Stainless Steel Bella ovens for a different style of truly mobile, quick-firing option. (Our Selection Wizard can help walk you through all of your many choices.)
5. A Complete Modular Pizza Oven Kit
Our modular pizza oven kits include everything you need to assemble your oven, including a Forno Bravo oven dome, the high-tech insulation for the dome and floor, the high-heat mortar, and a quality chimney; that means no more searching for hard-to-find refractory components and no last minute cost surprises. It's all there. You get the fun of customizing the oven's finish, but have the guaranteed performance and time savings of working from a kit.
6. Breakthrough Price/Performance
There is no reason for anyone to pay the crazy prices some importers charge for a pizza oven. Our ovens cost much less than the traditional alternatives — almost half in some cases — despite the fact that our ovens are the premium brand. By manufacturing in the U.S.A., we control our materials, production efficiency, lead times, and shipping costs. We pass those savings on to you, our customers!
Why do we offer such low prices? Our goal is to make the pizza oven as popular in the U.S. and around the world as it is in Italy, and we are achieving that goal by making it easy for you to purchase and install the World's Finest Pizza Oven at your restaurant or house.
7. A Real Refractory Vent
Some refractory ovens come with either no vent assembly or a lower quality steel vent. Why? Because they are less expensive to make. Our commercial and residential refractory ovens come with a sturdy, real Refractory Vent landing for long, worry-free use. All of our ovens also come with a terracotta or stainless steel chimney. standard. We then work closely with our customers to help them identify the right chimney/venting configurations for their installation for safe and convenient wood and gas fired cooking.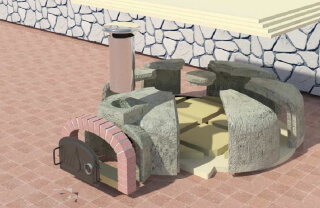 8. Fully-Assembled Pizza Ovens, Ready to Go or Custom Options
We provide the most diverse family of fully-assembled, wood and gas fired ovens, ranging in design from stucco and tile, to steel decorative facades.  We even offer pre-curing services to get you cooking that much faster! Any of our modular oven kits can become a headache-free, fully-assembled oven, ready to place on your patio.
Want it personalized? Forno Bravo can help bring your vision to life. Favorite color or pattern?  Family crest or business logo tiled on the front?  Our team of highly skilled craftsmen love a challenge! (Check out our Photo Gallery for tons of examples!)
9. Forno Bravo Community
Our website is hands-down the best Brick Oven Cooking Community site in the world. Learning new skills is an adventure and at Forno Bravo, we want to be your guide to success. For example, we have built a highly-engaging Community Cookbook that features 200+ recipes from great chefs, bakers, food writers, and fellow home chefs who share our passion for brick oven cooking and brick oven pizza. We publish our monthly Wood-Fired Newsletter with articles and new recipes, along with regular social media and blog posts to keep you informed and inspired. Also, we continue to host "Pizza Quest with Peter Reinhart" as a free resource for anyone seeking to join us on our quest for the perfect pizza.
10. The Forno Bravo eBook Series
We have published several comprehensive eBooks on Wood Fired Cooking, Wood Fired Pizza, and Wood Fired Hearth Bread. All of our classic eBooks can be downloaded for free! Recently, we commissioned famous author and chef, Brigit Binns to create another fantastic wood fired cookbook for us. The result was Kissed By Fire: Wood Oven Recipes From Wine Country. This recipe ebook is available for a small fee; it will help take your wood fired cooking and entertaining to a whole new level.
11. The Forno Bravo Forum
OK, our Top 10 list goes to 11! The Forno Bravo Forum is the world's largest English-language online community dedicated to wood fired ovens and wood fired cooking. With 28,000+ members, over 25,000 pages of content, and hundreds of thousands of postings, the FB Forum is a great way to learn about wood fired ovens—and meet some interesting and incredibly helpful people who are willing to share their experience and passion for this topic with you.