The Wood-Fired Meatball Pizza
The English Family pizza – the one we can always agree on when we're out together, has always been basically a meat lovers pizza — and, for us it starts with meatballs.  This is a far under appreciated or used pizza topping.  We finish our family pizza with Canadian bacon, salami and/or sausage.  I fight for some green peppers once in a while, and get that through if the kids are off their game, but I'm a-ok going with "meatball and friends" any day of the week.
Here's a favorite when I'm in NYC: Motorino Pizza in the East Village makes a Soppressata Piccante pie with tomato sauce, fior di latte, soppressata, EVOO, chili flakes, sea salt, oregano and some pecorino Romano. Great pizza! However, the next time you are there, add meatballs — WOA! First of all, they make a great pizza there. I love this small pizzeria. There are so many in NY that are amazing, but I have to say, this is one of my go to stops while in NYC.  OK, back to the pizza: the soppressatta crisps up with great edges and I love it when it's oils have spread across the pie. It's spicy, but balanced with salt and the creamy milkiness of the cheese and the sauce is just warm goodness and the crust is the bomb.
Adding the sliced meatballs puts this one over the top for me. Meatballs are cut much thicker and are quite moist. They are not spicy, just meaty and juicy, adding a wonderful new texture and depth to the taste and experience of eating this pizza. The meatballs blend into that comfort part of the pizza – they are saucy and heartwarming. The soppressata then becomes the spark of flavor and contrast that then stands out even more. Overall, it's balanced and meatier and lovelier!
At home I have figured out a quick meatball process which is perfect for making pizzas in my Primavera Wood-Fired Oven. I always use the fire while I'm heating up the oven. Why let all that heat go to waste?!! Also, it gets the toppings ready for the coming pizzas, which only take about a minute and a half to cook. You have to prepare things backwards making pizza. Toppings are prepared first and then you finish them in the oven on top of your dough.
I went with straight meatballs for this pizza. I spiced it up with some Calabrian Chilis and oil afterwards. No crispy soppressata, but delicious nonetheless.
The Meatballs:
Any meatball recipe will work. Meat, seasoning, breadcrumbs, egg, some diced onions? Maybe some diced Fresno chilies? This is quite simple. Make the meatballs, place them in your pot — cast iron for the wood burning oven — and drizzle some olive oil in the pan and roll the meatballs in the oil. Slide it into the wood-fired oven. Keep an eye on this. This is an active meatball situation. Turn the meatballs as they brown and begin to char on all sides. In the wood-fired oven, they are browning on the bottom and top and sides all at once, so this doesn't take too long. (Of course, you can also do this in a home oven by cranking it up all the way.)
After they are browned – ok, charred — I then pour in my pizza sauce. In this case it's Peter's Hand Crushed Tomato Sauce (see below) using some Bianco DiNapoli tomatoes. The next part is a bit of a guessing game. Using my big Lodge Cast Iron pan with a lid (aka, a Dutch oven), I let this cook in the fire for about 3-5 minutes and then pull it out and sit it on my stove top. It will continue to cook the insides of the meatballs in the pot as it sits.
The Pizza:
– Any dough/recipe will work, but this baby was done with some Caputo 00 for true Neopolitan Dough. *Recipe Link
– Peter's Hand Crushed Tomato Sauce *Recipe Link
– Fresh Mozzarella
– Meatballs sliced – thick, or broken onto pizza
– Extra Virgin Olive Oil
– American Grana, or Pecorino, Parmesan, etc.
– Parsley
– Calabrian Chilis/oil
The meatballs are done. Take them out and slice them into 1/8″- 1/4" slices. Or, alternatively, break them into thick pieces. Spread the dough. Add some sauce from the meatball pot. Break the fresh mozzarella ball up into pieces around the pie. Add the slices, or chunks of meatballs and into the fire we go!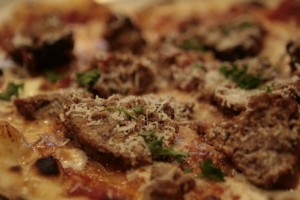 Finish this with finely grated American Grana which I love to use as an alternative to Parmesan, or any salty cheese, and toss on some chopped parsley and drizzle some of the Calabrian chilis and their oil on top.
One thing my son and I also love to do after the pizza comes out of the oven is to add some cool fresh mozzarella to the top of a hot pizza. It slowly melts into the pizza, but provides a really "cool" sensation when you are biting into the warm/hot crust, warm sauce and toppings and at the roof of your mouth you feel this cool creamy mozzarella blend into the whole experience.
OK, our secret is out…when will wood-fired pizzerias start offering a side of fresh mozzarella to add to your pizza?! Try asking for it and help me start the trend.
Don't forget to add your favorite salty/spicy pork items to this wonderful pizza too — from soppressata to salami, bacon, or prociutto — it's all good!
Enjoy!
Comments
Pizza Quest Info
Resources
Vision Statement
Pizza Quest is a site dedicated to the exploration of artisanship in all forms, wherever we find it, but especially through the literal and metaphorical image of pizza. As we share our own quest for the perfect pizza we invite all of you to join us and share your journeys too. We have discovered that you never know what engaging roads and side paths will reveal themselves on this quest, but we do know that there are many kindred spirits out there, passionate artisans, doing all sorts of amazing things. These are the stories we want to discover, and we invite you to jump on the proverbial bus and join us on this, our never ending pizza quest.
Peter's Books
...and other books by Peter Reinhart, available on Amazon.com