Brad's Corner: Queso Fundido Pizza!
Queso Fundido!
When life gives you lemons the old adage suggests you make lemonade.  I love good lemonade.  It's sweet, but it has to be tart!  When it's perfect it balances on the edge between the two taste sensations.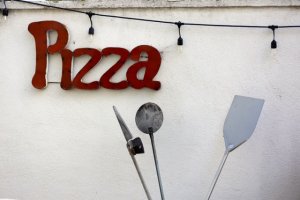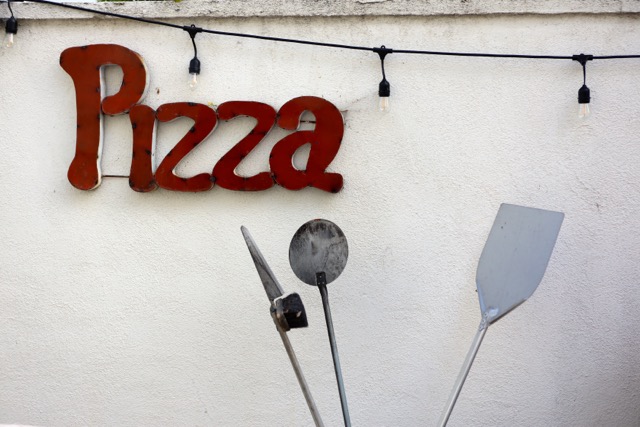 Well, today I asked for some lamb merguez sausage at the market and was instead given some pork chorizo sausage. What to do? What to do?!!
One thing was for sure, I wasn't going to make a lamb merguez sausage pizza.  Life gave me chorizo instead.   One of the first things that comes to mind when I think of chorizo is eggs and breakfast burritos.  A pizza with runny eggs, cheese and some oily chorizo is simply delish!  But, that's not what I was feeling.
Queso Fundido!!!    Now, I am feeling that!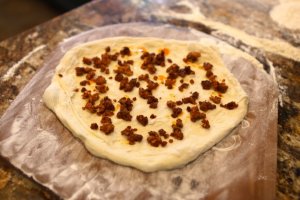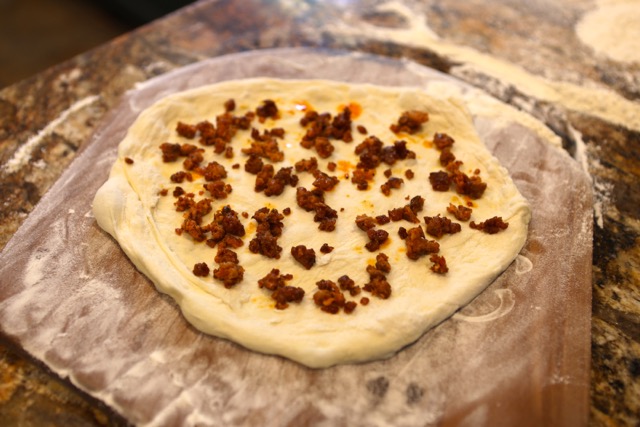 I still remember the first time I had this incredible side dish of burbling cheese with oozy chorizo oil and chorizo sausage. It was served in a little black cast iron pan hot out of the oven and it blew me away.
There's a little Mexican joint in Santa Barbara called La Super-Rica that became known not only for it's great street food, but also because Julia Child ate there often and sung it's praises.  There is always a line out the door and down the street.  When you enter the building, you order right there in front of the small open busy kitchen, which is not much bigger than if it was in a food truck.
Their menu consists of small plates which lend themselves to group order and share.  No matter what we get, we order their version of queso fundido, which we enjoy in its cheesy goodness and slather on everyting.  "Fried" cheese with pork sausage is hard to beat as a combo, and just makes everything better.
So, there's my inspiration! Let's see what evolves when I take a happy accident and put together a pizza that celebrates this classic!  Queso Fundido is typically eaten as an appetizer on chips or, if you are lucky, with some fresh corn tortillas.  Why not on a wood fired pizza dough?
Queso Fundido Pizza – Numero Uno
Pork Chorizo Sausage
Grated Mozzarella
Grated Havarti
Carmelized Red Onions
Chopped Heirloom Tomatoes
Cilantro
Numero Uno:
I placed the chorizo on the dough and covered it with the cheese mixture and slid this one into the oven.  When it came out, I finished it with cool fresh chopped heirloom tomatoes and cilantro.  The hot burbling "queso fundido" was topped with the cool tomatoes and cilantro which gave it a wonderful freshness when you bit into it.  It was almost like topping it with a fresh salsa or pico de gallo!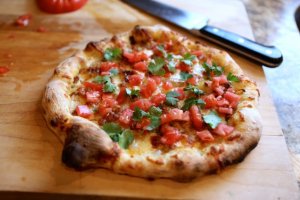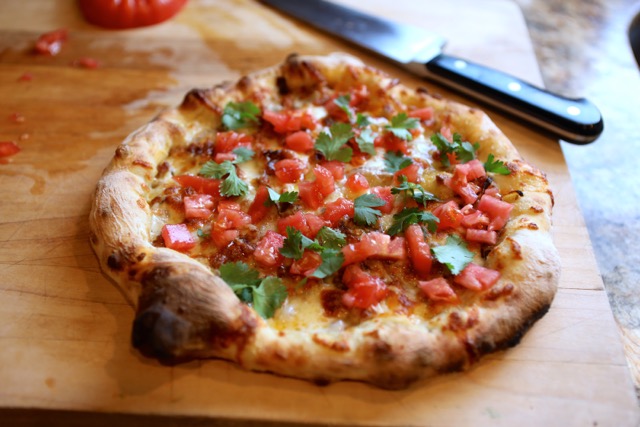 Queso Fundido Pizza – Numero Dos
Pork Chorizo Sausage
Burrata
Havarti
Carmelized Red Onions
Chopped Heirloom Tomatoes
Cilantro
A little chili oil
I didn't have the traditional cheese typically used in making Queso Fundido, but then again, I was making a pizza. The Havarti added a nice buttery flavor that worked well with the spicy chorizo and milkiness of the mozzarella.  I think a nice fontina, or gouda would have worked as well.
 For the 2nd version, I used some of the burrata I had on hand to give this an even creamier texture.  For this one, everything went on the dough before going in the oven:  chorizo, burrata, havarti, and the chopped tomatoes.  After the bake, I added some more cool burrata cheese on top and the chopped cilantro and then drizzled some of my favorite chili oil (only because I didn't have any more of the cooked chorizo juices).  OMG!  Talk about taking it up a notch!   This was amazing!  Not only was the cheese base creamier with the burrata, but the added burrata on top gave it another one of my favorite layers of flavor, cooler temperature, and texture.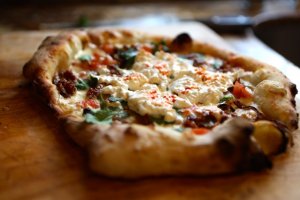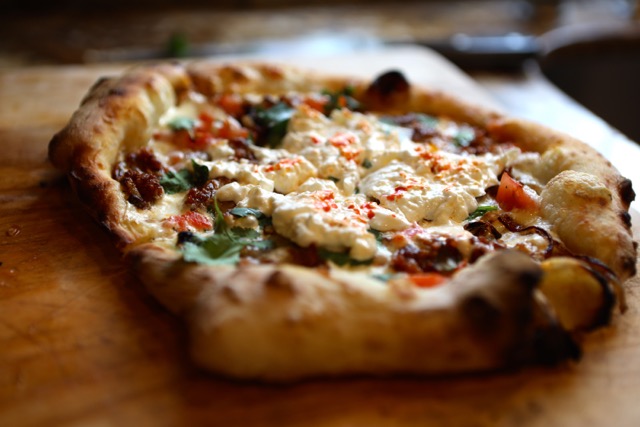 Life gave me chorizo.  I think I gave myself some pretty nice lemonade!
Enjoy!
Pizza Quest Info
Resources
Vision Statement
Pizza Quest is a site dedicated to the exploration of artisanship in all forms, wherever we find it, but especially through the literal and metaphorical image of pizza. As we share our own quest for the perfect pizza we invite all of you to join us and share your journeys too. We have discovered that you never know what engaging roads and side paths will reveal themselves on this quest, but we do know that there are many kindred spirits out there, passionate artisans, doing all sorts of amazing things. These are the stories we want to discover, and we invite you to jump on the proverbial bus and join us on this, our never ending pizza quest.
Peter's Books
...and other books by Peter Reinhart, available on Amazon.com