Peter's Herb Oil on Brad's Cheese Pizza
I've been playing with Peter's Herb Oil recipe for a while – ever since I first read his book American Pie "My Search for the Perfect Pizza".  I have only focused on using it with Pizza, but he has some very interesting suggestions and ideas I'd like to try some time.
I woke up early the other morning, about 5:00 AM, and realized that I while I wanted to sleep, what I really wanted to do was to take some photos to go with the Peter's Herb Oil recipe.  So I came downstairs and pulled a couple of frozen pizza doughs out of the freezer to use with my new batch of Herb Oil and went back to bed.  Later, after getting the kids off to school, I made the Herb Oil and took photos while the dough came up to temperature.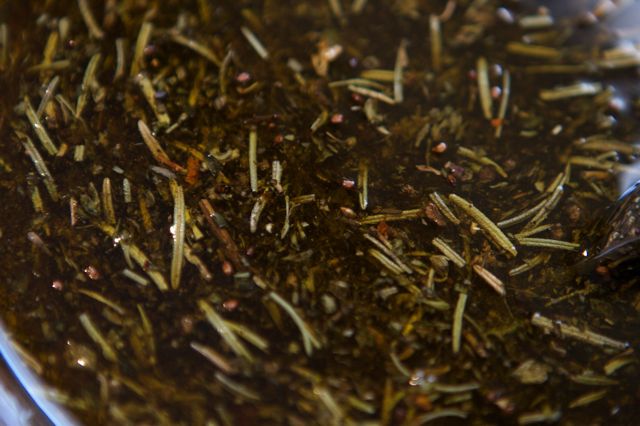 Then, I made one of my favorite pizzas. It's the one I almost always do as the first pizza when we have pizza parties; a great appetizer or starter pizza.  It's simply Herb Oil and some cheese – usually mozzarella and parmesan — but I often add whatever cheeses I have laying around.  Cheese, herbs, and good bread.  How do you beat that?
It's simple, but also the essence of what pizza is – bread (dough) with something on it (quite often cheese).  Did I say, I love cheese?  This herb oil is such a perfect sauce, that melds with the cheese, which melds with the dough to become one thing.  This is different than a conventional pizza in a way – it's more like a cheese flatbread. I made one here pizza using Peter's Country Dough.
After taking too many photos of the second pizza I was making, I finally pulled the pizza out of the oven.  Okay, it baked a little longer than usual but, being someone who loves to go a little well done on many things, that wasn't a problem – especially with cheese (I love it when it gets all crispy and caramelized)!  Not to change the subject, but I have to say the Country Dough really keeps amazing me – it adds a whole other element to every pizza I've made with it.  It does not take over, but adds another layer of flavor – a slight nuttiness which went well with the cheese and herbs.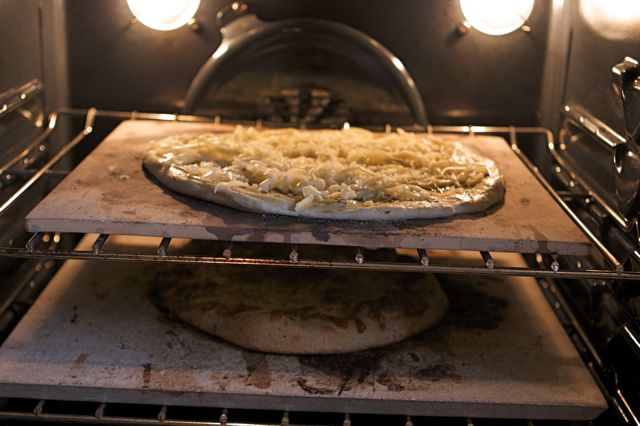 I made a second pizza with Peter's Neo-Neopolitan Dough recipe.  Again, the taste difference between the two pies is what struck me besides the great cheesey-herbiness!  I used the same ingredients in both pizzas and the two crusts made each pie uniquely different.
The recipe:
Dough
Herb Oil
Cheese
Heat
Eat!
NOTE: Here's a teaser for a posting I'm working on in the near future…a fun topping that added an amazing LAYER of flavor!!!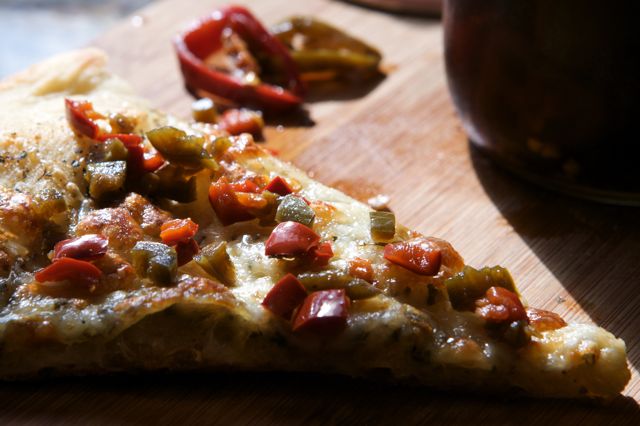 Comments
Pizza Quest Info
Resources
Vision Statement
Pizza Quest is a site dedicated to the exploration of artisanship in all forms, wherever we find it, but especially through the literal and metaphorical image of pizza. As we share our own quest for the perfect pizza we invite all of you to join us and share your journeys too. We have discovered that you never know what engaging roads and side paths will reveal themselves on this quest, but we do know that there are many kindred spirits out there, passionate artisans, doing all sorts of amazing things. These are the stories we want to discover, and we invite you to jump on the proverbial bus and join us on this, our never ending pizza quest.
Peter's Books
...and other books by Peter Reinhart, available on Amazon.com