Mom's Pickled Jalapenos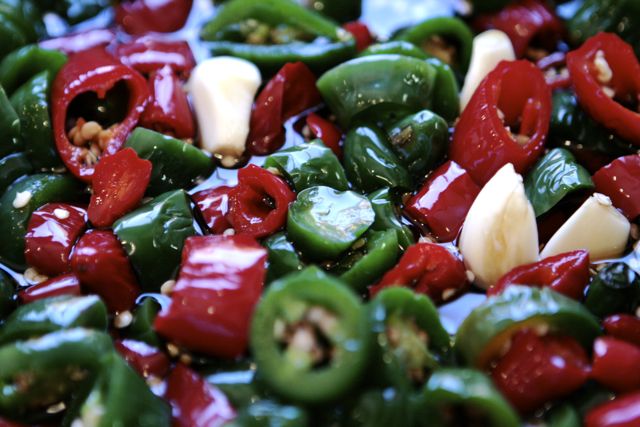 I was making some cheese pizzas for the site to showcase Peter's Herb Oil Recipe a few weeks ago.  When I was finished a light bulb went off. I had a special condiment that would go great with those herby-cheesey pizzas!  Mom's Soy Pickled Jalapenos.
About a year ago we were at our friend Kurt and Kim's house.  They pulled out an old pickle jar with these jalapenos in a soy sauce based brine, to use as a condiment.  I love spicy foods and definitely love savory foods.  These were amazing!  They added 3 important things to the dish:  spice, salt, even a little crunch (like a pickle). They are not too spicy.  I assume the soy or vinegar must mellow the jalapeno's punch just enough.
I simply had to get the recipe.  You have to understand that we all get together to cook and eat on a regular basis.  We first met Kurt and Kim when their house was flooded and our kids were in the same pre-school a number of years ago.  We ended up helping out a bit juggling the kids, the flood, the move and soon became fast friends.  While we were getting to know them they invited us over because they knew we loved food as much as they do, and Kim's mom was coming down from Oregon for a visit and was cooking one of their favorite dishes:  Bun Thit Noung Cha Gio with Egg Rolls. I haven't missed one of "Mom's" visits since!
Mom is how she is known to most of Kim's friends – her whole life.  Her given name is Tao Nguyen and she's a vibrant 82 year old these days!  Tao emigrated here from Vietnam a week before the fall of Saigon and has lived in Coos Bay, Oregon ever since. *Note:  Now that you have read her recipe, below, you will want to (and be expected to) stop by for a visit if you are within 500 miles.  Trust me!  Swing by in August and you may catch a fresh tuna canning session in progress.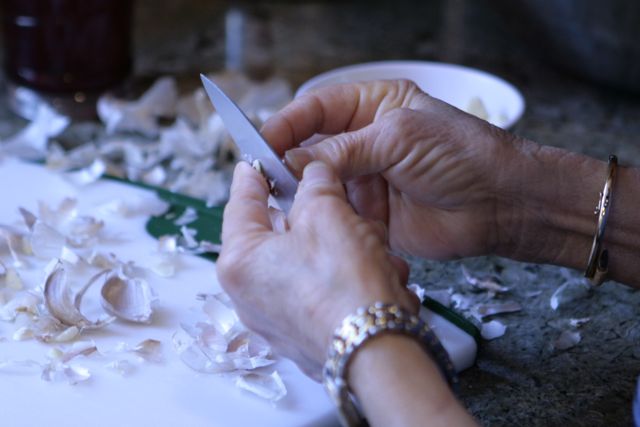 Mom came up with this recipe about 6 years ago.  She worked it over a few times and finally got it to where she liked it.  The only reason she wrote it down was to pass it on to Kim.
Since then I've made several batches and given them as gifts, but always keep a jar, or two in my refrigerator.  They are the perfect sandwich accessory.  I also use them on eggs,and other dishes that go well with the soy-salty taste – which is pretty much everything.  The strange thing is that I hadn't tried them on pizza until that day.  But, maybe because these were herby-cheese pizzas, I thought the flavors would go so well together.  And, I was right.  Perfect!
Mom's Soy Pickled Jalapenos!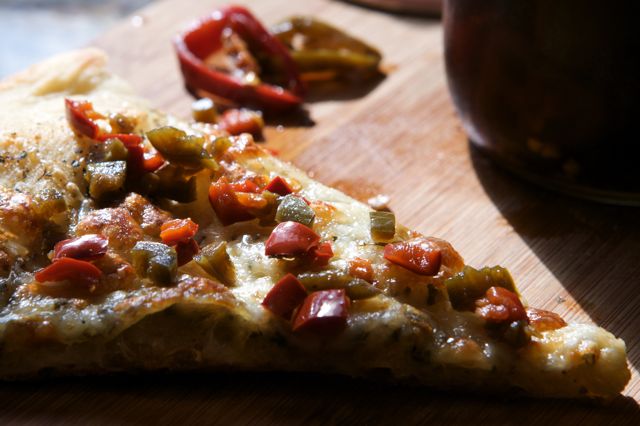 Ingredients:
5 lbs of jalapeno peppers*
*I use both green and red jalapenos, whatever I can get.  I've also used Fresno chili peppers in a pinch.
1/2 cup salt
3 heads* of garlic  – cloves peeled and left whole *More or less to your taste.
3 1/2 cups of soy sauce
3 1/2 cups of white vinegar
*This 5 lb batch will fill 3 quart sized jars, plus a smaller 8 oz. jar.
Day #1:
Wash the jalapenos and chop them into slices – about 1/4″ thick, and place them in in a bowl.
*Note:  I think you can play with this depending on where you want
to use them.  Thinner slices go well on a sandwich.  Or, you can
chop the thicker ones up to make a relish-like spread.  The thicker pieces are
a little crunchier.
Peel the cloves of the garlic and add them whole to the sliced jalapenos.
In my last batch I added them just before adding the sauce, but Mom said to put the garlic in with the jalapenos the night before.
Add 1/2 cup of salt and mix the ingredients. Put a weighted plate or object on top of the mixture and leave it on the counter overnight.  This will draw out the water.  Drain the water from the bowl the next day.
Day #2:
For the sauce combine the 3 1/2 cups of soy sauce and vinegar in a saucepan and bring it to a boil.
Once boiled let it cool to lukewarm. Add this sauce to the jalapeno and garlic mixture and mix it up to blend.
Spoon the mixture into the jars and make sure to top it off with enough sauce to cover.  Seal and refrigerate.  Let it marinate in the refrigerator for at least two to three weeks.  These should be good in your refrigerator for many months.
*Note:  I have also done a few variations of this when Mom wasn't looking! The bottom line is, as with everything you cook, you can play with ingredients to your liking as you refine any dish.
– I've rinsed the salt off the drained, salted jalapenos – figuring there would be enough salt with the soy.
– I've cut slits into whole jalapenos and stuffed the jars with them instead of slicing them–like whole pickled peppers. Equally awesome!!!
Enjoy the gallery…
Comments
Pizza Quest Info
Resources
Vision Statement
Pizza Quest is a site dedicated to the exploration of artisanship in all forms, wherever we find it, but especially through the literal and metaphorical image of pizza. As we share our own quest for the perfect pizza we invite all of you to join us and share your journeys too. We have discovered that you never know what engaging roads and side paths will reveal themselves on this quest, but we do know that there are many kindred spirits out there, passionate artisans, doing all sorts of amazing things. These are the stories we want to discover, and we invite you to jump on the proverbial bus and join us on this, our never ending pizza quest.
Peter's Books
...and other books by Peter Reinhart, available on Amazon.com