Guest Column, Scott Wiener, How to Plan a Pizza Crawl, Part One
I can't visit a new city without conducting a complete survey of the local pizza scene. Call it a professional obligation or call it a sickness, you'll be right either way. But it's not just about the food; I find deep satisfaction in planning and executing the perfect route. It's like a big jigsaw puzzle, with pieces that are constantly changing. Ever since my first multi-stop pizza feasts over a dozen years ago, I've honed in on the elements that make for a successful and efficient excursion. Here's a step-by-step plan for plotting your own pizza crawl, based on years of delicious research and terrible time-wasting blunders:
Step 1: Create a Pizzeria Hit List
I always start by crowd sourcing. Usually, I'll post on Twitter and Facebook, with greater success from the latter. Just something quick like, "I'm heading to Chicago. Where should I eat pizza?" Be sure to tag people in the post who are from the destination city or have some deeper input because they'll provide the most dependable guidance. Facebook even has a feature that knows you're looking for recommendations and automatically plots commenters' suggestions on a map. Even if I'm heading to a major pizza destination like Chicago, I still look for suggestions because there could easily be a hidden gem I've never heard about. People will support a good suggestion and they'll debate one they don't like. This all helps prioritize your hit list.
Setup 2: Check Pizzeria Details
Check the hours of every pizzeria before you go anywhere! I once took a train 30 minutes each way to check out a pizzeria in Washington D.C. only to find that the pizza makers head home thirty minutes before the restaurant closes every night. In Naples (Italy), some pizzerias are closed on Mondays – so DO NOT plan a Naples trip on a Monday! Also be careful with Yelp and Google listings because sometimes they're incomplete. Go right to the pizzeria's website and double check hours and closed days. You should even give them a call just to confirm. Some pizzerias in NYC (and Italy) close for vacation in August but don't list that detail on their websites. Showing up to a pizzeria when they're closed is a sucker punch to your pizza crawl (and your gut).
Step 3: Create a Route
It's essential to map out your stops. I use Google Maps because it gives me mileage and timing calculations. It's also shareable, so you can collaborate with your pizza buddies. Once I've placed my pizzerias on the map, I can slide them around and visualize the most seamless course of action. I like to organize my stops in either straight runs (for longer distances) or loops (for more concentrated stops). It's super important to cross-reference this map with every pizzeria's hours. If one pizzeria is only open for dinner, plan it as a later stop. You should also plot your hotel and other important locations on the map so you can factor them into your plan.
Step 4: Create a Schedule
I do this right in my calendar app (synced between my phone and my laptop). Each stop is scheduled for a specific time with the address, hours, and any other important information in the details section (like which specific pizza my Facebook responders recommended). Be sure to factor in travel time between pizzerias but always overestimate just in case there's traffic. It's better to over prepare and have room for a bonus stop than it is to underestimate timing and miss your marks. Speaking of bonus stops, have a couple plotted on your map/schedule so you can make a game time decision if you find yourself ahead of schedule. For added efficiency, research the bake time for pizza at each pizzeria. I once hit 19 pizzerias in less than three days in Chicago because I called 45 minutes in advance for all the deep-dish stops. Why absorb that 45-minute bake time into your visit when you could fold it into your travel time? Just don't fly too close to the sun on this one because you don't want that pizza going into a box. Let yourself get there 10 minutes before the pie is scheduled to emerge from the oven.
Step 5: Invite Your Pizza Buddies
Pizza is best when shared, so invite people to join you along the way. Start with those Facebook and Twitter responders. You already have a schedule, so tell them where you'll be and at what time so they can RSVP. I like to create a Google sheet with a schedule and have people sign up for convenient stops. Ask them to include their email addresses so you can send updates if needed. Also include full information at the top of the page explaining how the crawl will work (how the check will be split, how timing works, how you'll order, etc). I did this on a trip to Portland, OR and had a total of over 20 people join the crawl at one point or another. It was epic. You might want to put a cap on headcounts for stops that are particularly small or difficult. Don't have 40 people show up at Di Fara in Brooklyn when you only budgeted 45 minutes there (the five pies you'll need will take an eternity). Knowledge is power and preparation is efficiency.
Step 5: Execute
Now that you've organized and planned the perfect pizza crawl, it's time to enjoy the fruits of your labor! The size of the group will dictate how you roll. For a large group, you'll have to take charge and make decisions. It's very difficult to poll everybody at every stop to figure out which pizzas you should order. If you have a small group, group debate is much simpler. You're going to be hungry at your first stop, but don't order everything on the menu. This is a marathon, not a sprint. Try to stick to one slice per person; you can always amp it up at a later stop. I like to stick with the simplest pizza on the menu for consistency, but places that are known for specialty pizzas should be treated accordingly.
Pizza crawling can be a lot of work but it's absolutely worth the organizational effort. Be prepared to improvise if something doesn't go according to plan. Some of my favorite crawls have gone off the rails but turned out to be incredibly fun because I was prepared for the hiccups. Remember that this is pizza and, above all else, it should be fun!
Scott Wiener has built a career out of an obsession with pizza. Since launching in 2008, Scott's Pizza Tours has lead over 37,000 pizza-loving guests to the most significant pizzerias in New York City. The tour boasts five stars on both Yelp and Trip Advisor and has been featured on the Food Network, NBC's The Chew, Dr Oz, and CBS Sunday Morning. In 2013, Scott published Viva La Pizza! The Art of the Pizza Box, a book that chronicles the sights and stories behind his Guinness World Record collection of unique pizza boxes from around the world.  You can read about his tours at: www.scottspizzatours.com/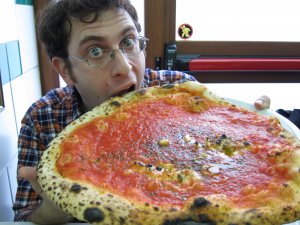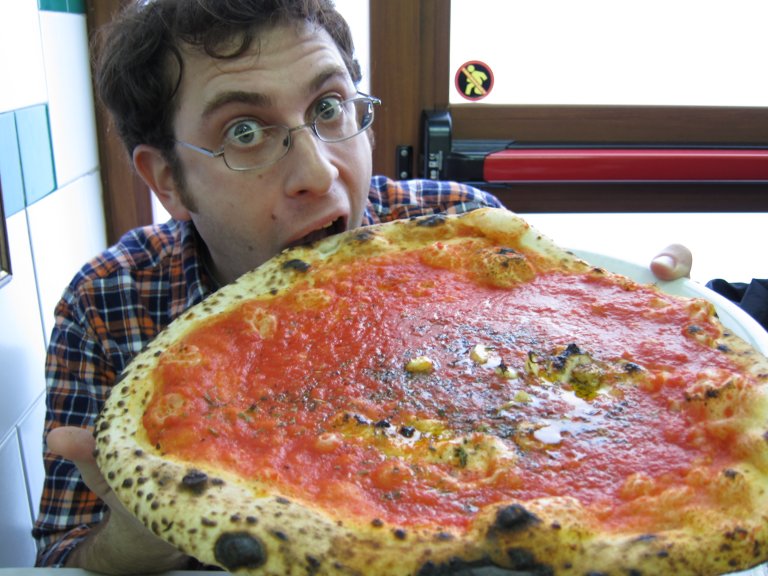 Pizza Quest Info
Resources
Vision Statement
Pizza Quest is a site dedicated to the exploration of artisanship in all forms, wherever we find it, but especially through the literal and metaphorical image of pizza. As we share our own quest for the perfect pizza we invite all of you to join us and share your journeys too. We have discovered that you never know what engaging roads and side paths will reveal themselves on this quest, but we do know that there are many kindred spirits out there, passionate artisans, doing all sorts of amazing things. These are the stories we want to discover, and we invite you to jump on the proverbial bus and join us on this, our never ending pizza quest.
Peter's Books
...and other books by Peter Reinhart, available on Amazon.com