Fresh Mozzarella
Fresh Mozzarella from Curd
While we filmed recently in Boulder, Colorado, one of the pizzaiolos who attended the pizza making conference did a recipe demo using Mozzarella Curd provided by Bel Gioioso.  It is one of the pizzas he makes and people seem to really like it.  The pizza was amazing.  (Note: You'll see more about that when we post the video in a few weeks.)
I couldn't get this pizza out of my mind.  I kept thinking about the curd that he salted the night before and left in the refrigerator for use the next day.  It seemed just a little more fresh, or real, at least in the sense that one of the main ingredients he was using was that much closer to it's original form.
We also got an email from a viewer asking us if there was a typed recipe for the Bel Gioioso Mozzarella Curd video on our site.  That got me thinking.  First,  I emailed Bel Gioioso and got the written recipe.  Then, I found a local dealer and picked up a block of Bel Gioioso's Mozzarella Curd and decided to watch the video on our site and make some Fresh Mozzarella Cheese!
My son and I watched the video twice and jumped in.  Success!  It was not only easy, but it was delicious.  To stand there at the counter and taste the supple, slightly warm in the middle piece of cheese that Owen and I just stretched and made ourselves was simply one of the best cooking experiences I've had in a long time.  Let's just say that the first ball of cheese was pulled apart one tear at a time and it was gone in short order.  I can't wait to try this the next time we have friends over for dinner.  What a great way to hang out before the meal, getting everyone involved and then tasting the cheese that we all just made together.  I think this is an important aspect of what we're trying to do here while we search
for the artisans who bring us together.  We are all striving for the same thing – a better quality of life through time honored traditions of gathering, eating, and sharing.
Following is a written recipe based on the written text and the video from Bel Gioioso's Fresh Mozzarella Curd Molding Instructions with some of my added photos.
Fresh Mozzarella:
-The curd should be stored refrigerated at 35 degrees Fahrenheit, and has a shelf life of 30 days from the date of production.
-Before starting the cheese molding process, the curd needs to be taken out of refrigeration about 3 hours before use and brought to room temperature.  (Due to my enthusiasm, I made my cheese with much less time out of the refrigerator, but I can see how leaving it out would make it much easier to work with – basically getting it to the right temperature quicker.)
-To begin, cut the curd into small 1/2″ pieces using a knife or a wire cutter and place the pieces into a large bowl.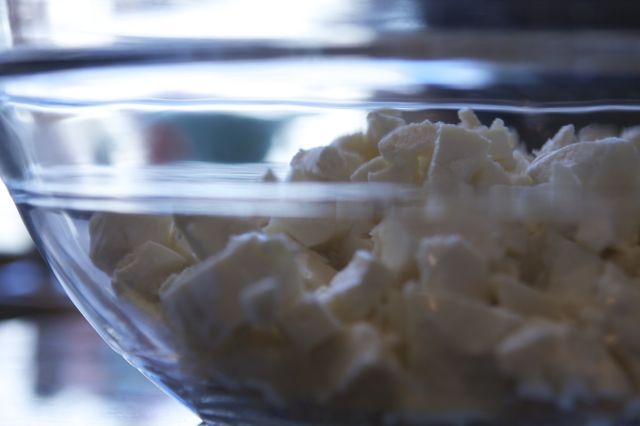 -Weigh the curd to know how much salt to add to the water.  You will use 1 tablespoon of salt to 1 pound of curd.
-Place curd in a bowl.  Add hot water (approx. 165 – 175 degrees), but not the salt–that comes later.  Pour water down the edges of the bowl – not over the curd directly.  Let the curd sit in the hot water for about 2 minutes until it softens up.  Pour most of the water out – leaving the curd in the bowl.  This is called the first cooking.
-Add the salt (1 tablespoon to 1 pound of curd).  Mix it in with the curd and remaining water.
-Add more hot water to cover the curd.  Again, pour water down the sides of bowl.
-Let the cheese sit a moment and begin stretching and turning the cheese.  I used two large metal spoons to stretch and pull the cheese until it was cool enough to touch.  The idea is to lift the cheese up and let it stretch down back into the bowl.  Stretch until it is all even and mixed to a smooth consistency.  This should take about 5 minutes.
-Mold curd into forms such as balls, logs, or braids.  During this molding process, it is important to fold the curd into itself to seal it.
-Cool formed shapes by placing them into cool water.  Let them cool for 10 to 15 minutes…if you can wait that long!
-After the cheese is cooled, it can be eaten or stored in a salted brine solution and should be used within a few days.

Comments
Pizza Quest Info
Resources
Vision Statement
Pizza Quest is a site dedicated to the exploration of artisanship in all forms, wherever we find it, but especially through the literal and metaphorical image of pizza. As we share our own quest for the perfect pizza we invite all of you to join us and share your journeys too. We have discovered that you never know what engaging roads and side paths will reveal themselves on this quest, but we do know that there are many kindred spirits out there, passionate artisans, doing all sorts of amazing things. These are the stories we want to discover, and we invite you to jump on the proverbial bus and join us on this, our never ending pizza quest.
Peter's Books
...and other books by Peter Reinhart, available on Amazon.com