Brad's Corner: Fire Roasted Eggplant Tomato and Sausage Pizza
There's this New York style pizza place nearby, in Hermosa Beach, CA, called Paisano's Pizza that has been a go-to slice and pie place for me for years.  When I first started going in I felt at home.  This was the real deal.  It was an East Coast pizzeria sitting right there, steps from the Pacific Ocean.  There was just enough chaos in the normal operation of the place to let you know this wasn't a West Coast pizzeria trying to sell NY Pizza.
I was honored by the "Hey Paisano!" I'd receive when greeted at the counter while placing my order.  My favorite running joke with my wife or kids, when we'd be sitting down eating, was when they would call out to someone else, "Hey Paisano!" I would say, "Hey, I thought I was Paisano?!!"  I still laugh at that, but it grew old with my wife and not long after with my kids.  It's been a while, maybe I should try it again?
My hands down favorite pizza at Paisano's was a slice of cheese with their breaded eggplant topping added.  They just did it right.  The eggplant was crispy on the outside and soft and juicy on the inside, and oozed enough liquid and oil from being fried to make it almost buttery at the same time.  Many a night we'd wait in line, after being ushered out of one of the local watering holes, for our slices or pies to go.  I can say with certainty that I have never run across anyone who did eggplant on a pizza better.
So, I was in an eggplant mood the other day and, so,  I decided to use some eggplant to create the actual pizza sauce and then build from there.  Of course, I thought immediately of babaganoush which is a Mediterranean dish of roasted eggplant with various seasonings served as a dip or spread.  Why not create a more Italian, or pizza oriented spread?  The ingredients that came to mind to season the eggplant seemed obvious:  roasted garlic and tomatoes, with some salt and pepper, and a little red wine vinegar.  My wheels were turning.  I found this amazing recipe post for a Turkish version of Fire Roasted Eggplant:  *Link at The Spruce.com.   What a beautiful post!  I wanted to take my pizza oven and mount it on my boat in the Mediterranean Sea, but being that would take thousands of dollars and years to plan (and a boat!), I opted to roll with this in my backyard.
I ended up deciding to pair my eggplant sauce with a nice spicy Italian sausage for this pizza.  I thought the contrast of the spicy pork would go well with the sweet and savory fire roasted eggplant and tomato sauce I was going to create.  Guess what? I was right!
Fire Roasted Eggplant Tomato and Sausage Pizza
Peter's recipe for Neapolitan Pizza Dough *Link
4 Italian, or small-medium sized Eggplants
12-16 Cherry Tomatoes
4-6 cloves Garlic
Cilantro for final dressing
Olive Oil
Red Wine Vinegar
Lemon or Lime Juice
Salt & Pepper
Let's wood fire roast some eggplants!
I placed the 4 eggplants onto the heart of my wood fired oven as it was heating up.  You can do these on the grill on high temperature.  Heat the eggplants until the skin is burnt and cracking and the eggplant is soft on the inside.  This took about 15 minutes in my wood fired oven.  I had to keep rotating them and put them in a pan because they began to open up under the intense fire.  After they are ready, set them aside to cool.  When cool, you will cut them in half lengthwise and scoop the insides out.  It should be soft and mushy.  Place roasted eggplant in a bowl and discard the burnt skins, except for a few bits for their smoky flavor.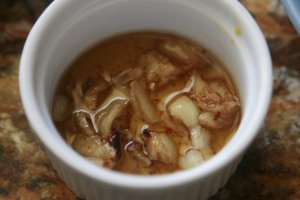 Fire Roasting the Tomatoes and Garlic:
I tossed some whole cherry tomatoes and cloves of garlic into my cast iron pan and drizzled olive oil over them and slid the pan into the oven.  The tomatoes were done before the garlic, so I pulled the tomatoes out and let the garlic go a little longer — adding some more olive oil to the pan to allow the garlic to season the oil.  When the garlic is soft and somewhat caraelized, put the tomatoes into a bowl and smash them up and do the same in another bowl with the garlic and left over oil.
To turn these wood fired delights into our sauce, add the smashed roasted tomatoes into the eggplant.  Add as much of the garlic and oil as you want and stir vigorously with a spoon to blend the ingredients.  At this point, add a little more olive oil and about a teaspoon, or splash, of Red Wine Vinegar.  Continue to stir until everything has become more like a loose spread, or sauce.  Take a taste and add salt and pepper to taste.  Drizzle a little lemon or lime juice on the top, cover with plastic wrap right on the surface, and set the bowl in the fridge until ready to use.  This helps the eggplant to not oxidize and turn brown.  I also like the added citrus flavor this brings to the sauce.
Don't forget the Sausage!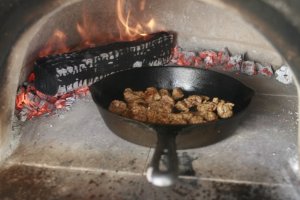 In the same cast iron pan used to make the tomatoes and garlic, add your sausage and slide it into the fire!  I pull my sausage from the casing and pinch to desired thickness, so that it will cook and maybe char a little on the outside, but I want it to barely be cooked on the inside.  So, pinch the pieces of sausage to a uniform thickness.  You will be pre-roasting it and, later, it will go on the pizza and back into the oven.  We want to leave a little life in the sausage for it's second trip into the oven!
To make the pizza:
Spread the dough and add the eggplant "sauce".   You can apply this thick or thin to your liking.  I wanted to really taste the eggplant and make it a bold part of this pizza.  You could also use a thinner layer.
Add cooked sausage and fresh mozzarella.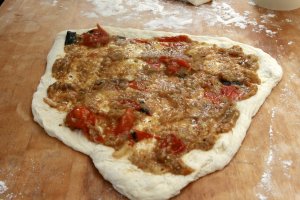 That's it.  Into the oven.
When it comes out, add some chopped, or torn cilantro to give it a little color and some wonderful fresh herb flavors.  If you don't like cilantro (something I just don't understand), then use something else like basil which will be equally delicious!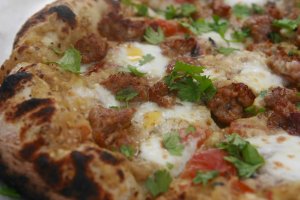 This is a beautiful pizza.  This is not a round pizza!  This dough just didn't want to go that way and I listen to my dough!  Rustique it is!  The eggplant "sauce" was warm and delicious and, as I said above, it was sweet and savory and had a hint of tartness with the added vinegar and lime juice.  This contrasted well with the spicier Italian sausage and married nicely with the creamy mozzarella in-between.  And, as it's supposed to, the garnish of cilantro was a perfect note to finish things.
*There will be plenty of eggplant sauce left over to use as a cool appetizer or dip!  For one pizza, you could cut back to one or two eggplants.
Enjoy!
Pizza Quest Info
Resources
Vision Statement
Pizza Quest is a site dedicated to the exploration of artisanship in all forms, wherever we find it, but especially through the literal and metaphorical image of pizza. As we share our own quest for the perfect pizza we invite all of you to join us and share your journeys too. We have discovered that you never know what engaging roads and side paths will reveal themselves on this quest, but we do know that there are many kindred spirits out there, passionate artisans, doing all sorts of amazing things. These are the stories we want to discover, and we invite you to jump on the proverbial bus and join us on this, our never ending pizza quest.
Peter's Books
...and other books by Peter Reinhart, available on Amazon.com