Bacon Cheeseburger Pizza? Why not!
This pizza has been formulating in my mind for some time. It finally had it's chance to become a reality this past weekend.
It was raining. It was raining as long and consistently as I can remember here in Los Angeles.  We knew the rain was coming and looked forward to a day off to just hang out, watch some football and make something to eat that served the purpose of the day.
I had some pizza dough in the fridge that I made the previous day so I thought why not make some pizza.  I started to debate going out to the store to shop for a few ingredients for various pizza ideas I had been thinking about.  The longer I sat next to the fire that morning, the more I just wanted to make do with whatever ingredients I had at home. When I rummaged through our "assets" I came right to it!  I had the makings for my own "gourmet" or artisan Bacon Cheeseburger Pizza:  ground beef, a spicy Italian sausage, smoked gouda, mozzarella, a red onion, DiNapoli Fire Roasted Tomatoes, La Quercia prosciutto (the bacon!), and a single left over jalapeño!  Sometimes you just see the finished product when you are looking at the pieces. When this happens it's usually a good sign.
With a good idea in place I pulled the dough out of the fridge to warm up and sat back down in front of the fire.
Then my phone dinged. It didn't ring — this is 2017. Our friends Kurt and Kim, of "Mom's Soy Pickled Jalapeños" fame sent us a text about coming over to guess what — huddle around some homemade chili and watch football next to their fire. They sold the idea with a cherry on top saying "…and, please come in your PJ's!"  I told them about my pizza plans and they urged me to bring those plans with us.  Homemade Chili and some Bacon Cheeseburger pizza sounded like a good combination for the day.
I've previously made gourmet burgers with pizza ingredients, which turned out amazing. *Link  What we were doing here is making a pizza with gourmet ingredients that sort of pays homage to the simple goodness of the basic beautiful cheeseburger…with bacon, of course.  Check this one out if you haven't seen it.  It's crazy good and you'll have a lot of fun playing with the concept! Hey, you can even do it in your PJ's!
Ingredients:
– Pizza Dough
– DiNapoli Fire Roasted Tomatoes
(*Great product! The fire roasted flavor added to these amazing tomatoes was a perfect match this recipe.)
– Ground Beef *About a pound maker 4 pizzas
– Spicy Italian Sausage – 1 large sausage removed from casing.
– Chopped Red Onions
– Smoked Gouda – grated
– Mozzarella – grated
– Prosciutto (*Lucky I had some La Quercia Prosciutto on hand)
– Thinly Sliced Jalapeños
– Olive Oil
The Burger:
Cook up the ground beef and sausage in a pan with the chopped onions. Cook until just barely done, leaving a little cooking time on it because you are going finish cooking it in the oven on the pizza. I seasoned this with garlic salt and pepper. I had one spicy Italian sausage left in my fridge and decided to add this to the beef which turned out to be a really nice addition. It brings some great flavor, but also bring something interesting to the concept of bringing two "unrelated" food concepts (cheeseburger and pizza) together like this.
Drain the fat and set ground beef mixture aside.
The Sauce:
The sauce is the "Catsup," right?! For this I had a can of DiNapoli Fire Roasted tomatoes. These are really delicious on their own, but I added a few things:  a good pinch of oregano and basil, some garlic powder, pepper, and finally just a little tiny bit – almost a waved hand with some Kosher salt pinched between your thumb and index finger over the sauce. My father used to do with his Vermouth when making a Martini. He would unscrew the cap and float it over the glass and I swear never a drop of Vermouth ever hit his Martini glass.  But, he always swore it did.
I swear, it works.
The Build: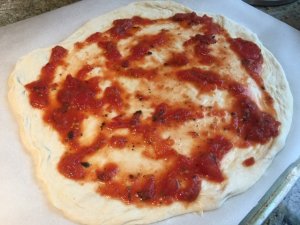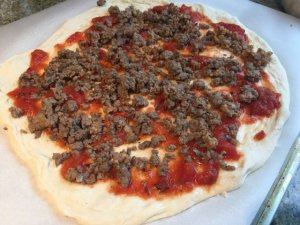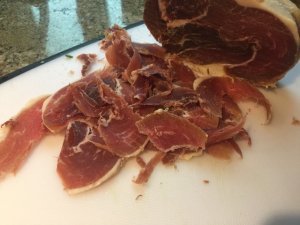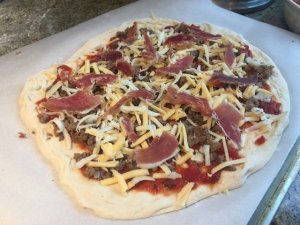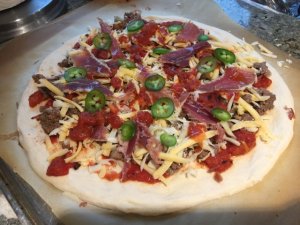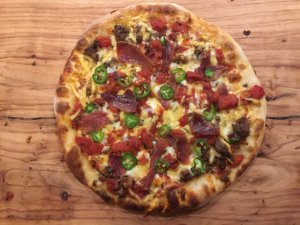 Building the Burger-Pizza:
– Spread the dough
– Add the sauce to your desired thickness
– Add a nice layer of the ground beef/sausage mixture – THIS IS A CHEESEBURGER pizza — don't be shy!
– Add some of the grated gouda and mozzarella (*Maybe 40% Gouda to 60% Mozz — to your taste)
– Top it with torn pieces of thinly sliced prosciutto
(*Make them smallish because the salt concentrates as the prosciutto cooks up. Now you know why I
was waving salt around the kitchen and not putting much in the sauce.)
– Finish with thin slices of jalapeño
– Drizzle with Olive Oil
The Pizza: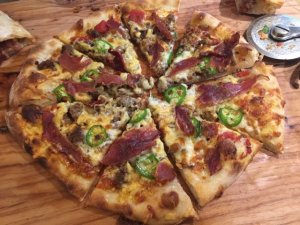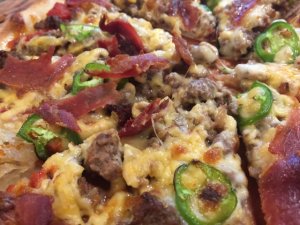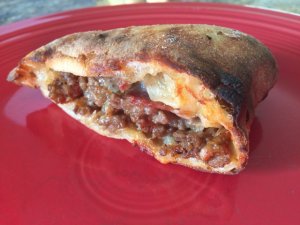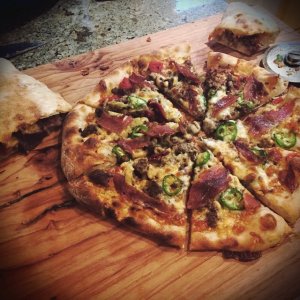 I ended up making 4 of versions of this pizza – playing with the balance of the ingredients a bit each time.  I found that we all preferred the pizza with a little more sauce.  This recipe wants to be a little saucy.  It just helps make things all a little juicier which is more true to the experience of eating a nice burger I think.  I also made one version into a calzone which rocked!
I don't think you'll find this type of pizza in many artisan pizzerias, but I gotta say, it tastes great and has another special aspect to it…it is interesting.  A Bacon Cheeseburger Pizza is definitely interesting, no matter how you slice it!
Enjoy!
Pizza Quest Info
Resources
Vision Statement
Pizza Quest is a site dedicated to the exploration of artisanship in all forms, wherever we find it, but especially through the literal and metaphorical image of pizza. As we share our own quest for the perfect pizza we invite all of you to join us and share your journeys too. We have discovered that you never know what engaging roads and side paths will reveal themselves on this quest, but we do know that there are many kindred spirits out there, passionate artisans, doing all sorts of amazing things. These are the stories we want to discover, and we invite you to jump on the proverbial bus and join us on this, our never ending pizza quest.
Peter's Books
...and other books by Peter Reinhart, available on Amazon.com