Avocado Toast 'd Pizza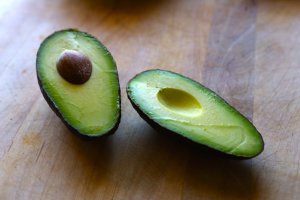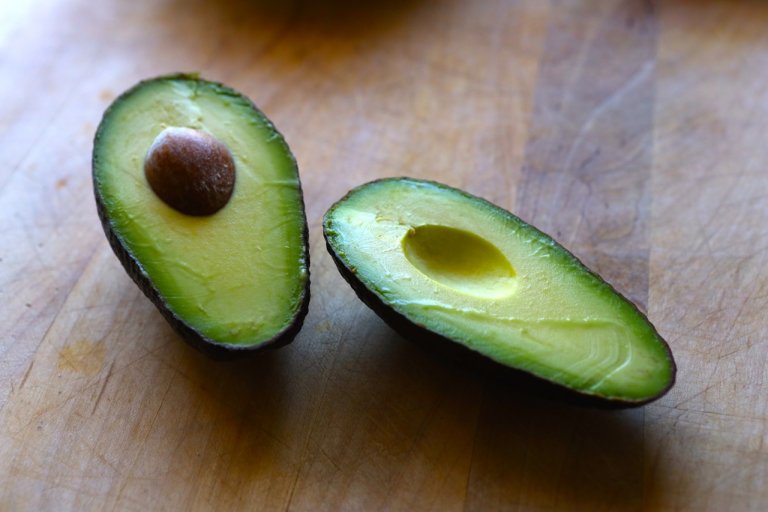 There is nothing quite like a good Avocado Toast. Am I right?  These days, it's all the rage and it seems like there is no end to what can be done to gourmet it up!  My favorite is with a runny egg and some red pepper flakes and, of course with a good sprinkling of flaky sea salt and pepper.
At home I'll add whatever I might have around:  chopped tomatoes, cilantro, fresh mozzarella, or bacon etc.
What is that other ingredient that elevates a "good" avocado toast into the "GREAT" category?  It's the bread.  The toast!  For me, the best avocado toast has to be set up on a beautiful piece of bread with a firm and crispy crunchy crust.  A beautiful country dough or sourdough loaf make the best, in my opinion.
So, I've been thinking about Avocado Toast lately and I came around to realizing that what's good on toast is gonna be as good, or maybe even better, on a pizza – especially out of my wood fired oven!
The Pizza:
Sliced/cubed Avocado
Sliced/chopped cherry tomatoes
Calabrese Salami *Super-extra thin slices from the deli!
Olive Oil
Sea Salt/Pepper
Chili Oil, Red Pepper Flakes, or fresh chopped Chilies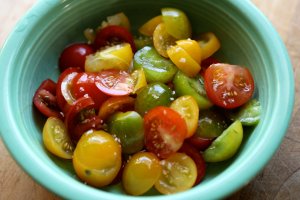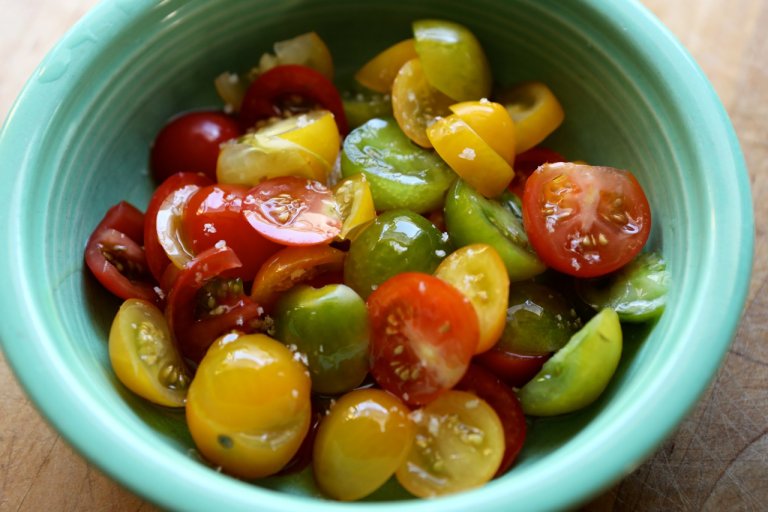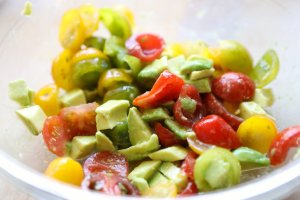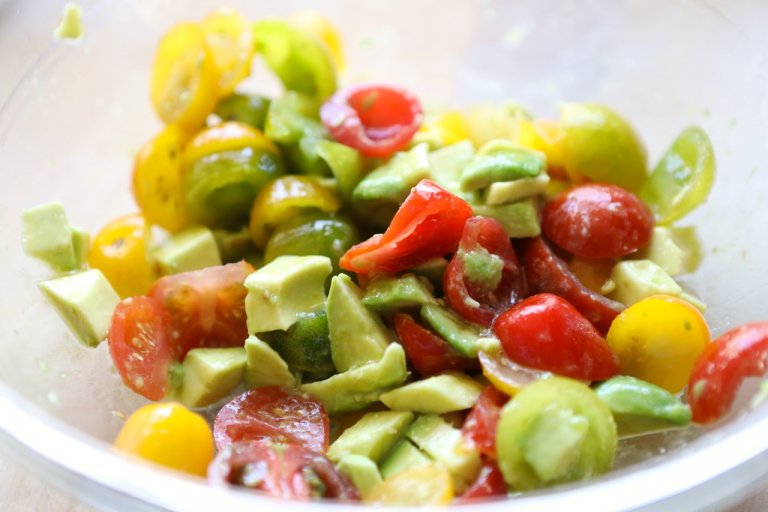 *Looks like the start of a killer guacamole! But wait, there's more….

I considered tossing the pizza dough into the oven with just olive oil on top and then topping the whole thing when it came out of the oven. This is still a great idea and is basically the process of making an Avocado Toast on a pizza dough.  This would add some nice texture, mimicking the warm crunchy bread, with the cool fresh avocado and other toppings finishing it off.  A true Avocado Toast 'd Pizza.
But, I had a different idea that that I ran with on this one. I had made some avocado toasts recently and, after slicing the avocado, I added sliced cherry tomatoes – it started to look like a guacamole, but without the onions and spices. I decided that the combination of avocados, tomatoes and a drenching of olive oil with a sprinkling of sea salt and pepper would make a nice base layer which would be both a sauce and a topping.
To add a little sumthin-sumthin extra, how about some type of spicy salted pork? In this instance, I tore up super-extra thin pieces of a Calabrese-salami to add a little pop of salt and spice.
Into the oven it went.
This really came out nice!  What a beautiful pizza!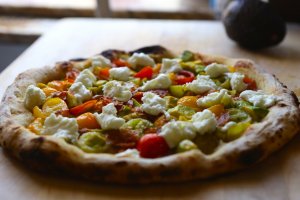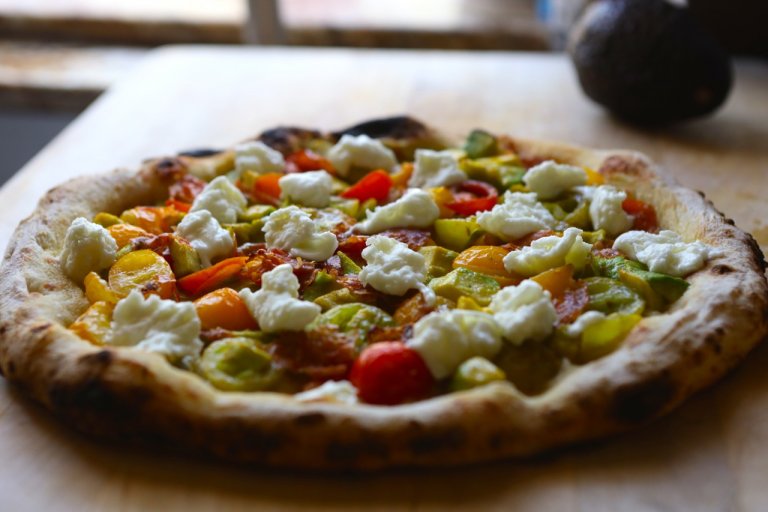 To finish it off, I added cool buffalo mozzarella, torn into pieces and spread across the pizza.
Note: I decided to place the mozzarella onto the pizza after it came out of the oven. I love adding cool ingredients to top a hot pizza. At home, my family almost always adds some cool mozzarella strips on top of a hot pizza, even if it's just a cheese pizza! The cool mozzarella slowly starts to melt, remaining cool and firm at the top while warming and melting at the bottom.
Adding cool, chopped or sliced cherry tomatoes after the bake is also a way to bring the hot and cool elements together, the contrast enhancing the overall experience.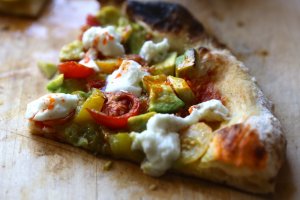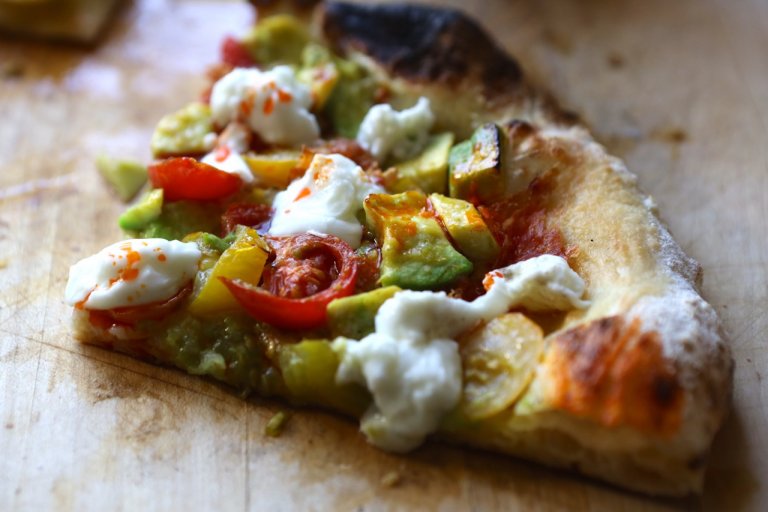 Drizzle the finished pizza with some chili oil, red pepper flakes, or maybe add some diced chilis.
Suggestion:  I used a basic Neapolitan dough for this pizza, but a sourdough or even Peter's Country Pizza Dough may be a nice way to pay even more of an homage to the original inspiration: Avocado Toast!
Enjoy!
Pizza Quest Info
Resources
Vision Statement
Pizza Quest is a site dedicated to the exploration of artisanship in all forms, wherever we find it, but especially through the literal and metaphorical image of pizza. As we share our own quest for the perfect pizza we invite all of you to join us and share your journeys too. We have discovered that you never know what engaging roads and side paths will reveal themselves on this quest, but we do know that there are many kindred spirits out there, passionate artisans, doing all sorts of amazing things. These are the stories we want to discover, and we invite you to jump on the proverbial bus and join us on this, our never ending pizza quest.
Peter's Books
...and other books by Peter Reinhart, available on Amazon.com