A pizza for a rainy day…
It was one of those days. It had rained recently and although the sky was blue there were some clouds that lingered. You could still feel the presence of the rain in the cool fall air. I was off from work and was looking forward to picking the kids up from school and surprising them with some piping hot pizzas out of the oven.
We had a great little family dinner a few days earlier – while it was raining. It was spaghetti and meatballs night. There are certain meals that just make you feel at home and all warm inside. Spaghetti and meatballs is one of those meals. Another favorite — always a hit especially on a rainy day -= Irish Stew. The kids will always stop what they are doing and gather around the table with us and something strange happens: they talk! They forget about their busy lives outside the house for a while and we get to hang out together. Fun stuff. Important stuff!
Do you see a common denominator in my favorite meals here? Rain! That's interesting. It really speaks to how we experience good food. There's nothing like a great meal – it's a primal, right, but it's not just the food, it's the experience we have around the food. It's about the gathering with family and friends that marks the moment in time and we experience something "great" together. Think about your favorite meals, the ones that an aroma will bring rushing back to your memory. Chances are you are not alone in those memories.
Rainy days often force us to slow down, to hunker inside to stay dry and warm and, by doing so, we spend more time together.
Remember that the next time it's raining; every time it's raining. Take advantage of the weather report and plan a family meal or get together. I don't know about you, but just writing about this makes me want it to rain again. Now, I live in Southern California, so I REALLY want it to rain! Rainy days are a big deal here!
So, back to the story about the meatball pizzas: I had some left over sauce and only 2 meatballs. So, I made up some more meatballs that morning and pulled the dough from my fridge. I had a little fresh mozzarella and a block of "hard" (low moisture) mozzarella, a basil plant in the kitchen window, and a few Italian sweet peppers. As I was thinking about going to the store, but I decided instead to just make some meatball pizzas and play with these simple ingredients.
With a slight cool crispness in the air, I got the fire going in my Primavera oven. The rest, as they say, is history….
The pizzas:
– Classic Neopolitan Dough. 
– Left over sauce from making spaghetti and meatballs.
– Fresh Mozzarella
– Hard Mozzarella (aka low moisture mozzarella, aka "pizza cheese")
– Fresh Basil
– Italian Sweet Peppers
– Extra Virgin Olive Oil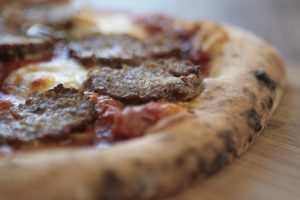 *Dough Notes:
I didn't have enough Caputo 00 flour, so I used about a third of King Arthur Unbleached All Purpose Flour to blend in. The dough sat in the fridge for 3 days.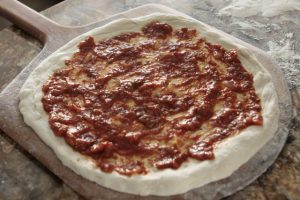 **Sauce Notes:
I usually use uncooked canned tomatoes; a good quality tomato like my favorite, Bianco-Dinapoli, or quality San Marzano, produce a bright and delicious sauce that quickly cooks quickly in the hot oven. It's been a while since I used a prepared sauce on my pizza. The sauce for this pizza was born as a basic tomato sauce that I threw together, and then added meatballs to it for our spaghetti dinner. The leftover sauce itself ended up with some bits and pieces of meatballs in it. It worked really well with this pizza concept. I did drizzle the sauce with a good amount of olive oil to thin it out a bit on the pizza.
This was the first pizza. This is the one I envisioned when I thought about my ingredients. I pulled it out of the oven and landed it on the table as my kids came home from school. Nicely done! For kids who get a lot of homemade wood-fired pizza and have been known to even (I'm embarrassed to say it) say, "Not pizza again!" they came home, looked at the pizza, and jumped all over it with smiles.
As my kids came through the door, I was laying this one out on the cutting board. Nice after school snack if I don't say so myself! This first one was the one I had in my mind's eye. This was all about the concept of what one of those heart warming meals is supposed to be. I didn't want to add anything that wasn't pure and simple and to the point. This was about good bread, with good sauce, great home-made meatballs, and nice creamy milky mozzarella with an herbal hint of basil to finish it off. It was about balance. It was about the sound of biting into the warm crusty bread and the nice simple meatballs and creamy milky mozz. It was about the kids and our family taking part in a great late afternoon snack, or early dinner as it turned out. It was about the moments that we were able to slow down and enjoy good food together.When they were done, they disappeared back into the electronic jungle! I'm glad we visited for a bite and a smile.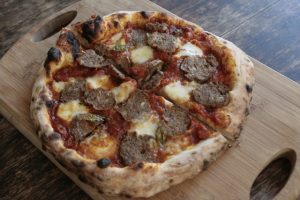 Enjoy!
Wait, I'm not done. There's more.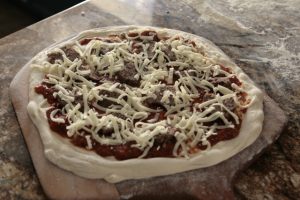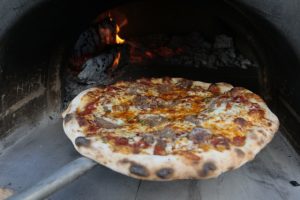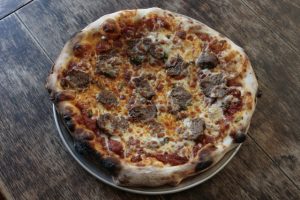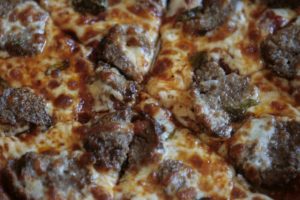 *Love the color on this one!  Sauce first, followed by the meatballs and then the cheese.  Huge hit with the kids!  
My daughter loves "regular pizza cheese" so I made a few more pizzas. Let's face it, regular pizza cheese rocks too! The next two pizzas were basically the same, but on one of them, I added sliced up Italian Sweet Peppers. That pizza was for my wife, son and I. Our daughter is all about simple — Cheese and Meat — nothing green! I did slip in the basil in all of the pizzas and she was ok with that. We're moving forward!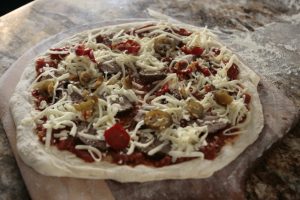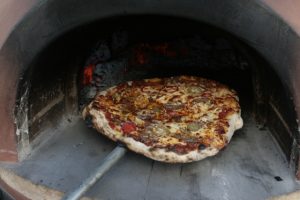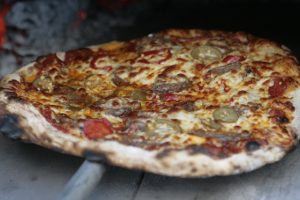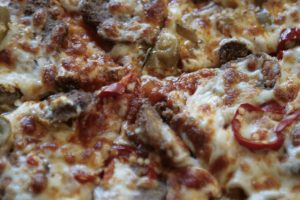 *This one was for the big kids which includes my son and wife.  The Italian Sweet Peppers were a nice addition, giving this a little kick, not from spicy heat but more from a bright ping from the sweet vinegar in these pickled peppers.  
I then ran out of sauce, but had one more dough left. Simple, I'll use the cherry tomatoes. The fire was dying down and I thought I'd just make a calzone instead of throwing another log on the fire for a final pizza. This was just a left-over-ingredients calzone and it's main destination was to be a saved left-over. I threw in some meatballs, grated mozzarella, basil, sweet peppers, chopped cherry tomatoes, some fresh mozzarella and a good drizzle of olive oil. Closed it up and into the oven it went.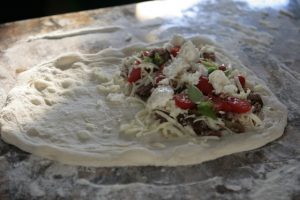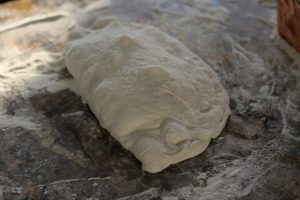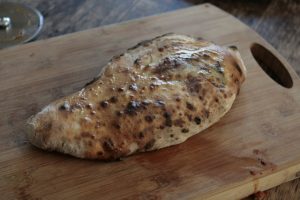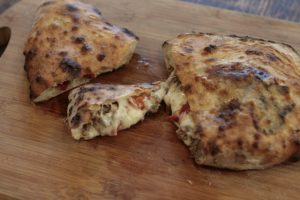 *Delicioso!  Really nice.  I made this for leftovers, but had to break into it because it looked so good!  
Amazing!  Left-overs? Not. We got into it right away…
Enjoy…again!
Comments
Pizza Quest Info
Resources
Vision Statement
Pizza Quest is a site dedicated to the exploration of artisanship in all forms, wherever we find it, but especially through the literal and metaphorical image of pizza. As we share our own quest for the perfect pizza we invite all of you to join us and share your journeys too. We have discovered that you never know what engaging roads and side paths will reveal themselves on this quest, but we do know that there are many kindred spirits out there, passionate artisans, doing all sorts of amazing things. These are the stories we want to discover, and we invite you to jump on the proverbial bus and join us on this, our never ending pizza quest.
Peter's Books
...and other books by Peter Reinhart, available on Amazon.com