Forno Bravo carries a wide range of home pizza making tools, including our authentic pizza stone that is perfect for making delicious, authentic wood fired pizza.
What is a Pizza Stone?
A pizza stone is commonly referred to as a baking stone and it is a flat cooking surface used in a variety of baking purposes. The main use of a pizza stone is to distribute the heat evenly so that all surfaces are cooked properly, without having to alter or flip whatever you're cooking. The other purpose is to extract the right amount of moisture so that your pizza is crispy and delicious every time.
For the pizza stone to work correctly, it has to be preheated in the middle of the oven for about 30 minutes to an hour, or until it reaches the perfect temperature. This means that your oven will have to preheat for quite a while and you could see a bit of a spike in your electricity bill if you don't have an outdoor pizza oven. It needs to be preheated so that it will absorb heat evenly and retain its temperature; this will ensure the entire surface will cook the underside of the dough evenly and thoroughly. It is also important to place the stone in a cold pizza oven, allowing it to warm as the oven warms. This will prevent potential cracking while using the pizza stone.
History of the Pizza Stone
The pizza stone or baking stone has witnessed a revival in the modern kitchen as of late but it has been an essential part of cooking for thousands of years. It may even be one of the oldest cooking techniques used and its history can be traced back as far as the Early Paleolithic Age (between 11,000 to 47,000 years ago). Recent discoveries have shown that the Stone Age man used stones to bake food in a fire pit.
Today, pizza stones are primarily used for making perfect pizzas, but its first use was for making flat breads that were a staple before the discovery of yeast used for baking.
Did you know that flat breads slowly turned into the modern pizza? Interesting but true! Our ancestors would cover flat breads with delicious toppings such as corn, tomatoes, root vegetables, fish, game or other meat. As time went on, it evolved into the modern pizza that has traditional ingredients such as zesty tomato sauce, mozzarella cheese, tomatoes and fresh basil. And we have the pizza stone to thank for all of this!
Pizza Stone Uses
Using a pizza stone will help turn a regular pizza into an amazing one! Often times a pizza will cook unevenly in a traditional stove or oven because it is difficult to have a consistent temperature throughout. There will be sections of the dough that will remain soggy and others areas of the dough that may be too crispy or even burnt. A pizza stone maintains its temperature throughout the cooking process and helps to evenly cook the dough. It will also give your pizza the authentic stone oven taste that we all love.
You can also use a pizza stone for a number of other baking purposes such as making calzones, flat breads, focaccia, tortillas, dinner rolls, loaf breads and even nachos! Furthermore, you can have fun cooking delicious hors d'oeuvres, appetizers and tasty finger foods that are perfect for any occasion, with the pizza stone! The options are endless.
Pizza Stone Types
There are many different varieties of pizza oven stones for ovens that can be used every day. Your best pizza stone is one that is made from natural materials with absorbent properties.
We recommend that you be wary of oven-to-table models, a pizza stone that is highly glazed, or ones that are "dishwasher safe". We also recommend using single piece pizza stones rather than baking tiles because there is less chance it will move or shift while you are cooking.
Another type of pizza stone you should avoid using is one that is thin because it is more likely to crack with extended use. We recommend that the stone is 3/4″ thick. The thicker the pizza stone, the more durable it will be and the more consistent your baking results will be.
At Forno Bravo, we only offer the highest quality pizza stone for your baking needs.
Where Can I Buy a Pizza Stone?
Forno Bravo carries a fantastic selection of pizza stones for all of your cooking needs.
Start Shopping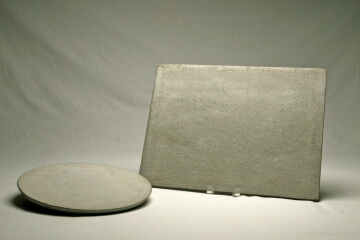 Want to learn more? Take a minute and download our free Pizza Stone Pizza eBook; it's the definitive work on making Vera Pizza Napoletana at home.
Read more about Pizza Stone Pizza.
Read more about Pizza Stone Bread: Background.
Read more about Pizza Stone Bread.
About Commercial Grade Pizza Stones.
Start Shopping