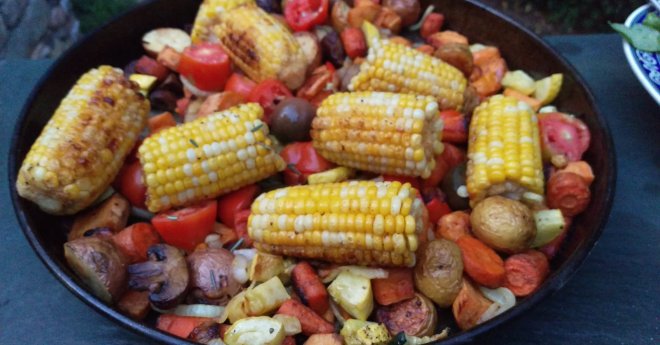 Wood Fired Roasted Vegetables
Sep 17, 2019
Posted by guestchef
Print
This yummy fall recipe is from our Forno Bravo dealer/installer friends at The ARCH Architectural Finishes, Flooring and More.
"The cooler evenings are perfect for roasting, grilling, baking, and watching the glow! Enjoy this Sunday-night side dish of roasted vegetables made in our Forno Bravo Casa2G90 wood fired oven."
*Chef's Note: Timing is everything with this recipe. You will be cooking similar items together in a progression, so that everything comes out done at the same time. This is a free-hand recipe where you can use any type of vegetable that you have on hand to make a custom side dish your family will enjoy.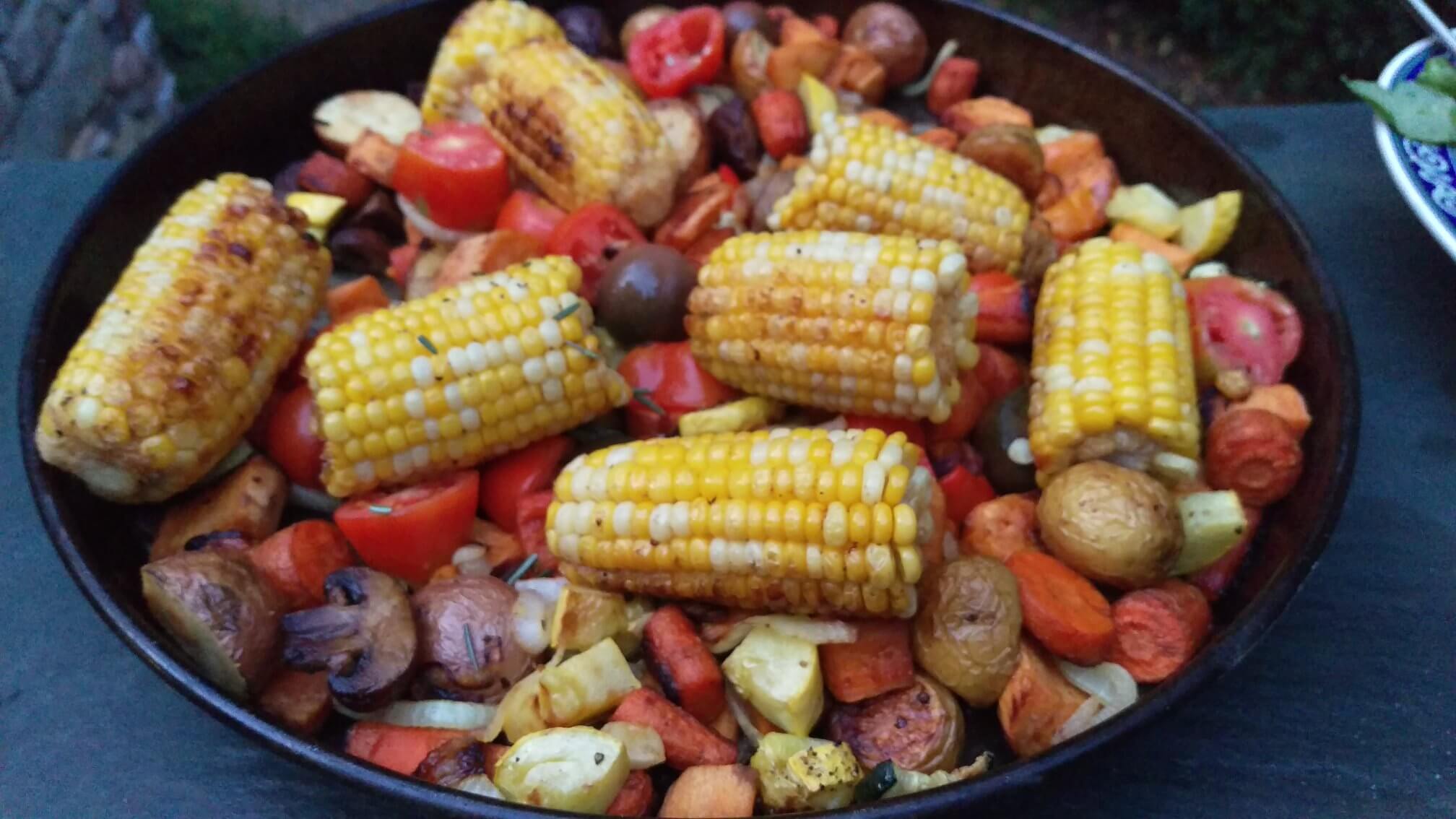 Wood Fired Roasted Vegetables
This seasonal recipe can be used with any assortment of vegetables in any proportion you prefer. It is a versatile and simple side dish to accent your evening meal.
Ingredients
2-4 Tbsp olive oil
1 Cup carrots Peeled & sliced 1/2" thick (apx.)
1 Cup Small Potatoes Fingerling or gold (wash; skins can be left on) - cut as needed
1 Cup sweet potatoes Peeled and chopped into 1/2" to 1" pieces
1 small - medium onion Sliced or course chopped, as preferred
1/2 Cup squash Course chopped
1/2 Cup mushrooms Sliced into thick sections
3/4 Cup peppers Remove seeds and course chop or cut into slices
3 Corn on the Cob Shucked and cut in half or thirds
2-3 cloves garlic minced or diced
handful cherry tomatoes Cut in half
1 tsp rosemary
Salt and cracked pepper to taste
Other Seasonings as desired
Instructions
General instruction: Prepare your vegetables, toss them in olive oil and season with salt and pepper. Roast ingredients in your hot oven (450°F - 600°F) in a terracotta pan or cast iron skillet set away from the direct flame. Gently stir the ingredients and turn your pan occasionally to keep the vegetables from sticking.

First, roast carrots, small potatoes, and sweet potatoes. (Cut all of the hardest vegetables to approximately same size so that they roast in about the same amount of time.) These will take longer to cook than the soft vegetables.

Next, add squashes, onions, mushrooms, and peppers (your softer vegetables.) These will need less time to cook.

Meanwhile, roast seasoned corn in a separate skillet for a bit (until slightly pre-cooked.) Add to the top of the mix.

Add garlic, a handful of garden cherry tomatoes, rosemary, and seasonings to taste. Cook until fragrant.
Notes
Optional: Drizzle with a balsamic vinegar glaze before serving for a bit of zing! Chopping and preparing all of your ingredients up front (the French call this "Mise en place" or "putting in place / everything in its place") makes assembly of the dish super easy. You can focus on your main course, and just give the veggies a toss or stir as they cook, and when the first layer has softened, pop in the subsequent layers to finish it up. Cook times will vary based on your combination of vegetables and oven temperature. Plan for 20 - 40 min on average. (Longer if you use more root vegetables, shorter is you use soft vegetables.)