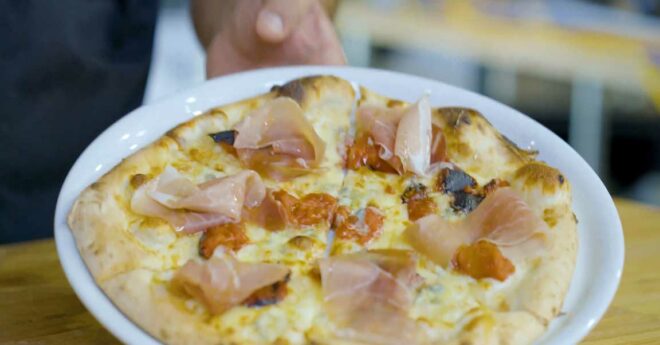 Wood Fired Pizza with Prosciutto, Oven-Roasted Plum Tomatoes, Gorgonzola, and Hot Honey
Oct 29, 2021
Posted by cecebeauchamp
Print
Follow along with Chef Anthony Ianonne from the North American Pizza and Culinary Academy as he makes a delicious pie in the Pizza Classica style. This example of a sauceless pizza is topped with a winning combination of prosciutto, oven-roasted plum tomatoes, mozzarella, gorgonzola, and Mike's Hot Honey. In his video, you will also learn how to tend your fire, stretch your dough, prepare the ingredients, and more in this helpful introduction to pizza making. This is a perfect starter pizza that is sure to impress!
*If you need a good dough recipe, check this one out by clicking here!
Wood Fired Pizza with Prosciutto, Oven-Roasted Plum Tomatoes, Gorgonzola, and Hot Honey
This sauceless pizza hits all the right notes with 2 kids of cheese, salty prosciutto, the deep flavors of the roasted tomatoes, and a little sweet heat from the honey.
Ingredients
1 Dough Ball
2 oz Prosciutto - Sliced thin and then sliced again into strips
4 Oven-Roasted Plum Tomatoes - Chopped or Pulled Part (Tomatoes can originally be canned or fresh)
2 oz Gorgonzola - Crumbled
4 oz Mozzarella - Shredded
Drizzle Hot Honey
Sea Salt
Pepper
Instructions
Oven-Roasted Plum Tomatoes
Prepare your baking tray with a layer of foil topped by a gridded cooling rack. Spray the tray with cooking oil to keep the tomatoes from sticking.

If using fresh tomatoes, wash, then slice them in half long ways and remove some of the seeds. If using quality canned tomatoes, remove from them can and reserve the juice for another purpose. Slice or pull apart the tomatoes and lay them flat on rack. Add salt and pepper.

Pre-heat wood or gas fired oven to apx. 600 - 700 degreesF. Place tray in hot oven away from the flames and roast. (If you put the tray closer to the fire, keep a close eye on them so they don't burn.) When done, remove and set aside.
Pizza
Bring your dough to room temperature and stretch your pizza dough to 11 inches.

Top with shredded mozzarella, then add crumbled gorgonzola and roasted tomatoes (chopped or broken into smaller pieces.)

Cook to desired doneness. Note: At this oven temperature, your pizza should take about 2-3 minutes to bake. Rotate the pie partway through the cooking time. Be sure to place it back on the same spot on the floor to avoid burning. When the bottom of the crust is done, you can "dome" the pizza by lifting it up on the peel to the top of the dome for 10-15 seconds to finish melting the cheese and give it a little more color, if desired.

After the pizza is cooked, cut into 8 slices

Lay about a 1/2 of a piece of prosciutto onto each slice and drizzle the whole pie with hot honey. Enjoy!
Notes
Mike's Hot Honey is newer condiment that combines the heat of chilies with the sweatness of quality honey. Launched in Brooklyn, NY (via Brazil,) it can now be found online, and in many local grocery stores as well. It is growing in popularity and is a fun ingredient to introduce to your friends!