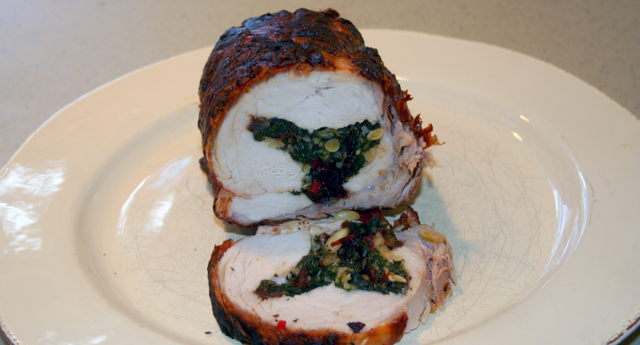 Wood Fired Kale-Stuffed Pork Loin with Cranberries and Pine Nuts
Mar 01, 2016
Posted by Chef Lea
Print
I invited some friends to dinner who love anything that comes from the wood fired oven. We recently came through over a week of below-zero temperatures so I thought standing in front of the wood fired oven sounded cozy and comforting. I found a pork loin in the market and made a plan to stuff, roll and tie the pork and nestle it into a 450-500 degree oven.
The weather forecasters promised me sun but they lied. Darting between snow flakes and rain drops, I was hurrying to get my food in the oven before the weather got worse. Of course, if you've read any of my recipes, there's usually something in there about mindfulness, taking your time, appreciating the process…
Not listening to my own advice. I didn't let my Toscana wood fired oven cool sufficiently to arrive at a sweet and calm roasting temperature. Oh no! I was wet and cold and slid my pretty pork loin in the oven was still 650-700 degrees, which was also completely counter-productive because it meant running out into the gloomy cold every 15 minutes to check on the piggy's progress. It was a muddy, slippery slide to the oven, too.
Here's what happens if you're too impatient to wait for the oven and your baking dish has a barely discernible crack: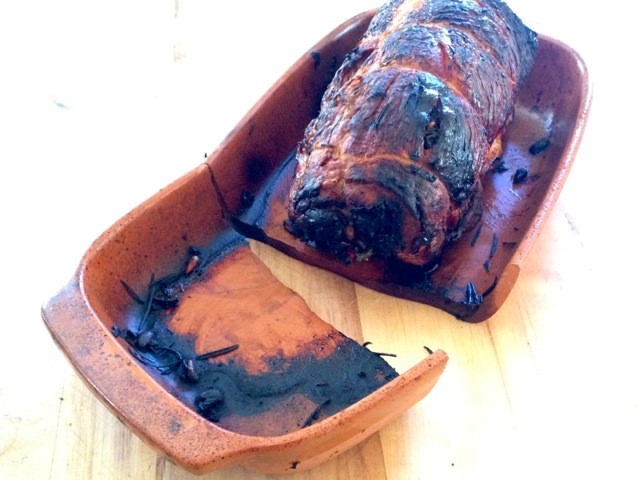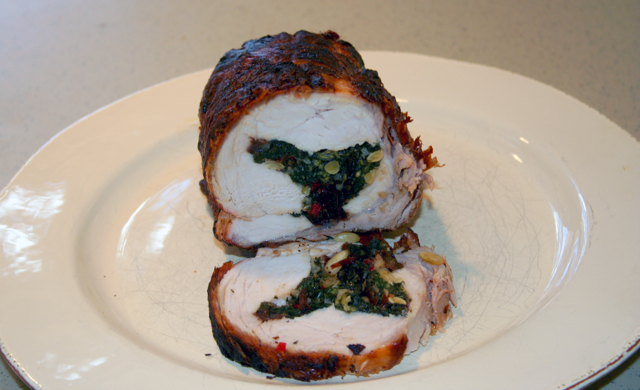 Wood Fired Kale-Stuffed Pork Loin with Cranberries and Pine Nuts
Ingredients
2-3 lb. pork loin
Kosher Salt
1 bunch kale
1 Tblsp olive oil
1 Shallot minced (about 1/2 cup)
1/3 cup minced red peppers
1/3 cup pine nuts, lightly toasted
1/3 cup dried cranberries, softened if necessary
1 Tblsp Lemon juice
Instructions
Untie the pork loin. Make one vertical slice down the middle, but don't slice all the way through. Spread it open and in the middle of each side, make an additional vertical cut (not all the way through). The loin should now be spread completely open. Place a piece of plastic wrap or parchment paper over the loin and pound it flat. Remove the film, sprinkle with salt, wrap and refrigerate overnight.

Wash kale and cut away center spines. Bring abundant, salted water to a boil. Blanch the kale until it is tender. Drain and run under cold water to stop the cooking. Drain again and chop medium-fine. You should have about 1 1/2 cups of cooked, drained and chopped kale.

In a sauté pan, heat the olive oil and add the shallots and red peppers. Cook until they are softened.

Combine the kale, shallots, peppers and pine nuts. Season to taste, adding a little lemon juice, for balance. There should be about 2 cups of stuffing.

Lay out the pork loin and spread the stuffing across the length of the loin.

Tightly roll up the pork loin and tie with kitchen twine.

Roast in a 450-500 degree oven. Really—don't cheat like I did!

Remove from the oven when an instant-read thermometer registers 160 degrees. It will continue to cook once you take it out of the oven. Allow the meat to rest for about 10-15 minutes before slicing it.
Notes
Despite my impatience and the cracked baking pan, the roast had a lovely balance of sweet and savory—molto italiano. Buon appetito e ci sentiamo presto! Chef Lea