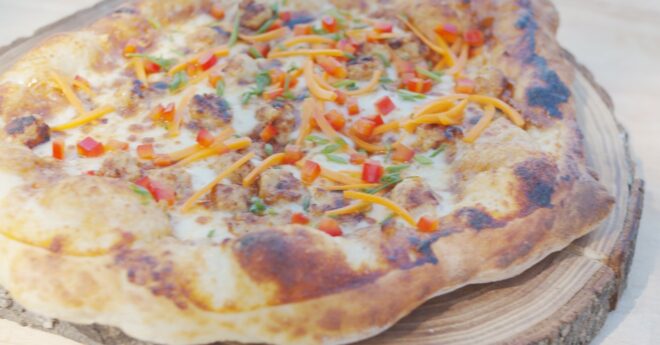 Thai Chicken Pizza
Dec 15, 2022
Posted by cecebeauchamp
Print
A little sweet, a little heat, and a whole lot of spicy, peanutty goodness are all part of the flavor profile for this Thai Chicken Pizza from Chef Cortney Smith at Gather Food Studio and Spice Shop. If you are interested in stepping away from the Italian cookbook to try something different and delicious in your wood fired oven, this pizza combination will be a new favorite for sure!
Here is an overview of Chef Cortney preparing this recipe in a Bella Steel Pizza Oven. Check it out!
Thai Chicken Pizza
Sweet, heat, and peanut goodness come together for this fresh pizza topping combination.
Ingredients
Pizza Dough Ball - recipe of your choice or store-bought
Peanut Pizza Sauce
½ Cup Peanut Butter - chunky
½ Cup Hoisan Sauce
2 Tbsp Coconut Milk
1 Tbsp Fish Sauce
1 Tbsp Chili Sambal (or Sriracha)
2 tsp Rice Vinegar
1 tsp Ginger - grated
1 Tbsp Honey
Cheese
6-8 Slices Provolone Cheese - thin, round slices
Pre-Cooked Chicken Meatballs
½ Lbs Ground Chicken
2 tsp Coriander Seed
1 Tbsp Fennel Seed
1 Tbsp Dried Dill
2 tsp Black Peppercorns
1 Star Anise
½ tsp Mace
1 piece Cinnamon
1 Tbsp Chili Flake
2 Tbsp Oil
Garnish
½ Carrot - julienned
½ Red Bell Pepper - julienned
Chives - chopped
Mint Leaves - cut or torn
Instructions
For the Chicken Meatballs -- Combine all seasonings in a spice grinder and grind. Mix desired amount into the chicken, combine well, and form into pizza-sized meatballs (bite-sized/small.)

Heat a cast iron skillet (medium heat or slightly back from the fire.) Swirl a tablespoon or two of oil in the pan, add meatballs, and cook until browned. Stir frequently. Note: chicken does not need to be cooked all the way through (or it will overcook in the oven later.) Set aside to cool.

For the peanut sauce -- Combine all ingredients in a bowl and mix well. Set aside. (It will be thick.)

Press and stretch your pizza dough out into a 10" pie.

To assemble -- Spread a thin layer of the sauce on the dough (like pizza sauce.) Top with a single layer of cheese slices to cover the sauce. Scatter the meatballs around the pizza.

Bake in the pre-heated, wood-fired oven for 2-3 minutes at 600-650 degF+. (If baking in a home oven, bake at 500 degF on a pizza stone or pizza steel for about 6 minutes, or until the crust is crispy.)

Remove the pizza from the oven, and top it with the carrots, peppers, and chives for color and crunch. Sprinkle mint leaves over the top as a garnish. Slice and enjoy!