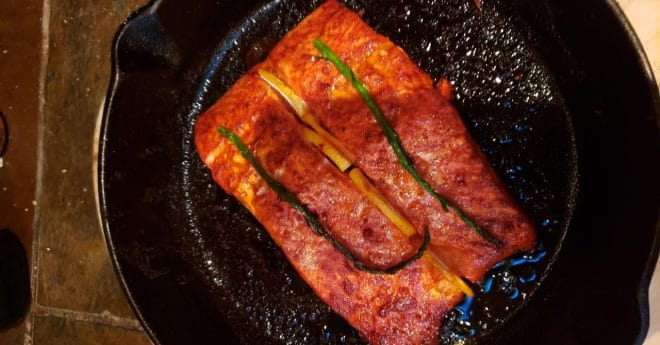 Tandoori Salmon in a Cast Iron Skillet
Nov 23, 2020
Posted by guestchef
Print
Congratulations to Jon Mills, the winner of our 2020 Fall Recipe Contest! His lively Tandoori Salmon recipe makes both a beautiful appetizer course or the main star on your menu. Prepared with a make-ahead marinade, the fish cooks extremely quickly in a wood fired oven, retaining both its moisture and flavor.
Note: This recipe is written very generally because the ingredient amounts will vary significantly based on the number of portions you are preparing, and whether you opt for Tandoori powder or paste as your marinade and spice profile. Both styles of seasonings can be found at most grocery stores, purchased online, or mixed yourself from scratch.
Enjoy your dinner!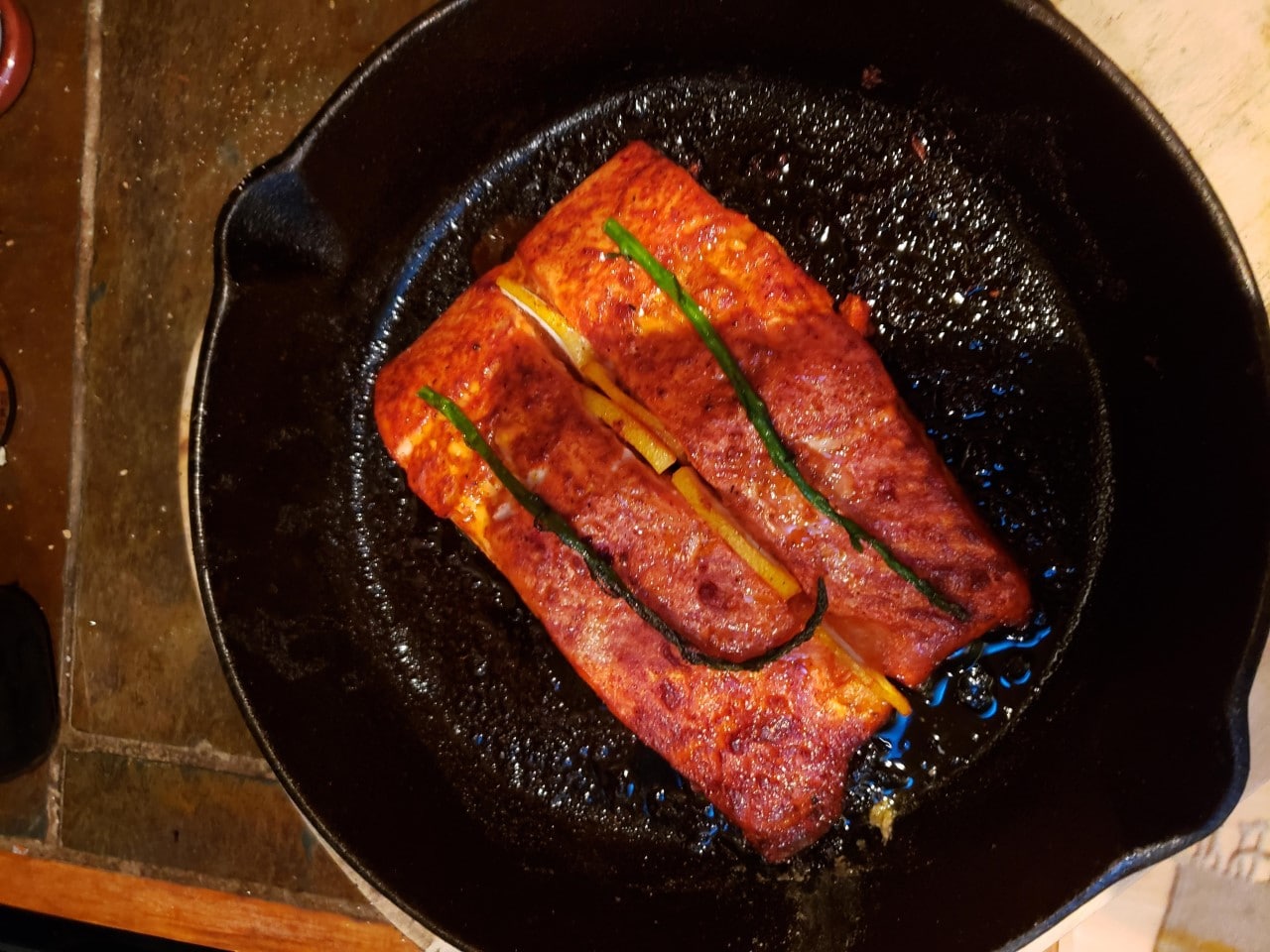 Tandoori Salmon in a Cast Iron Skillet
Flakey, moist fillet of salmon with a touch of heat and the rich, complex flavors of India is a high point of any meal.
Ingredients
Nice fillet of salmon - Size optional, based on number of people being served
Good quality tandoori power or paste - I prefer to mix a few brands
extra virgin olive oil
fresh lemon juice
Thin lemon slices
Citrus salt and ground pepper - To taste
Asparagus garnish - Thin stalks are best
Instructions
In a cast iron skillet, mix your tandoori paste in olive oil and lemon juice.

You may slice your salmon into serving sizes, but do not cut all the way through the fillet. Stop short of the skin.

Marinade the salmon in the tandoori mixture for a few hours if possible or overnight in the fridge. (Use a lot of marinade, as it does not penetrate the meat very deeply.)

Bring the fish back up to room temperature, and add lemon slices between the cut serving sizes. While the fish is resting, preheat your wood fired oven to a medium temperature (apx. 450° - 500°F.)

Cook in the oven to the desired texture. The fish stays moist with the skin down. The high heat will sear in the juices. Notes: The cooking time may vary dramatically based on the thickness of the fish and the temperature of your oven. Skinless fillets dry out faster, so check on the cooking frequently.

Throw an asparagus sprig on top of each portion about midway through cooking. Add salt (I like citrus) and fresh cracked pepper to taste.

Plate the fish and add a garnish of fresh lemon wedge on the side.
Notes
Chef's Notes:
This recipe can be made with chicken instead of salmon if preferred.
If you like more of a spicy tandoori paste, you can add additional cayenne. Tandoori spice mixture is primarily known for its intensely red color – often brought on by cayenne, chiles, and tomato powder. Depending on the blend, it can carry quite a punch! The mix can include many other spices as well, like ginger, cumin, coriander, garlic, turmeric, cloves, saffron, cardamom, and salt.
You can always throw asparagus in the pan and fingerling potatoes to make a complete one-dish meal, or simply serve the fish with other main courses if you are entertaining.