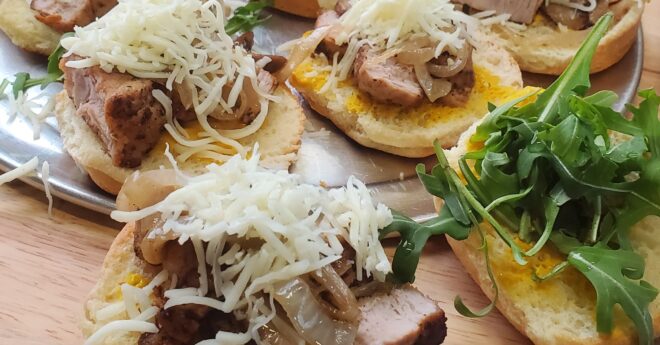 Seared Pork Tenderloin Slider
Aug 31, 2022
Posted by cecebeauchamp
Print
Pork loin is a very flavorful, lean meat that cooks cleanly and quickly. In this recipe, we use the wood fired oven two ways. First, to saute and reduce the accent onions and mushrooms in a cast iron pan, and then second, we use a Tuscan Grill to sear the pork loin medallions over hot coals. Spice, sear, slice, garnish, and this simple, but amazing lunch or appetizer tray is ready to serve!
Note: All ingredient amounts and spices and garnishes in this recipe are suggestions and can easily be adjusted to fit your taste and the number of people you are serving.
CLICK HERE TO SEE A VIDEO SUMMARY OF THIS DISH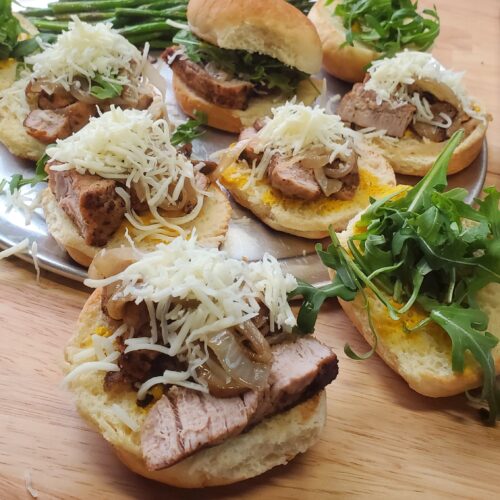 Slices of grilled pork loin on little toasted slider buns with all of the fixings.
Ingredients
4 Mushrooms
1 Small Yellow Onion
2-3 Tbsp Butter
1-2 lbs Pork Loin
1-2 Tbsp olive or grapeseed oil
2 cups arugula - washed and dried
1 med Lemon
1/2 - 1 cup Italian Cheese Blend - Shredded
Mustard - Spicy or plain
1 Package Slider Buns
Spice Combinations Suggestions
1 tsp toasted onion powder
1 tsp paprika
1 tsp garlic powder
1/2 tsp dried basil
Kosher Salt
Fresh Ground Pepper
Instructions
Prep Garnish
Wash mushrooms and slice. Thinly slice the onion. Set aside or cook right away.

Pre-heat a cast iron pan in your wood fired oven (Oven should be approx 400 deg F). Add butter and melt it to sizzling. Add mushrooms, onions, and part of the salt to the pan. Stir periodically until softened and reduced. Remove from heat.
Meat Prep
Remove the pork loin from the refrigerator and allow it to come to room temperature. Remove the packaging and rinse the meat. Pat it dry with paper towels.

Remove any fat or the silver muscle strip and slice the pork loin across the grain into generally evenly sized pieces for consistent cooking times.

Place in a bowl and toss with oil. (Olive oil has a nice flavor, but a lower smoke point than grapeseed oil, which is preferred by many chefs for this application.)

Add spices and toss to coat. (Toasted onion and garlic powder, paprika, basil, salt, and pepper, or a combination of your choice.)

Return to your oven, and make a bed of coals in the center/front area of the oven. Place the Tuscan grill on top and allow it to pre-heat. Place the meat on the grill using tongs. Cook 2-3 minutes before turning to get a good sear. Flip and repeat. *The total cook time will vary based on the size and thickness of your medallions and the oven temperature. Be sure to cook the pork thoroughly for safety.

Set the pork aside and cover with foil. Allow it to rest for at least 5 minutes for the juices to redistribute and then slice into strips.

While the meat is resting, wrap the buns in foil and place in the oven away from the coals/flame to warm, or lay them on the grill to toast. Note -- Don't burn them! Depending on your oven temp, they can heat quickly.
Assembly
Gather all of your elements. Lay out the buns in a row and garnish them with mustard or butter. Place 2-3 meat slices on half of the buns (bottoms). Add some of the onion/mushroom garnish. Top with shredded Italian cheese blend.

Place a bit of arugula on the other half of the buns (tops). Cut the lemon in half, and drizzle juice across the arugula. Watch for seeds and remove any that fall. (Alternatively, the arugula can be drizzled with lemon and tossed with a little bit of olive in advance in a bowl and then applied to the sliders.) Close and serve.
Video
Notes
Do not overload the buns. These are intended to be sliders, not "burgers." Too much stuff on them just makes a mess! Always cook your pork through to at least 145 deg F for safety. Do check with a meat thermometer to be sure you have reached that temperature.