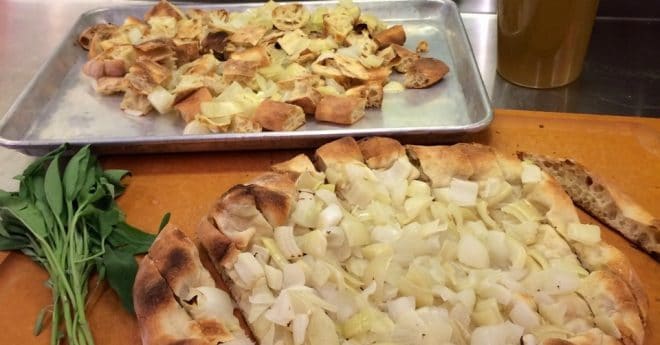 Pizza Crust Stuffing
Nov 23, 2020
Posted by guestchef
Print
If you love pizza, and you love Thanksgiving, here is a fun way to combine the two! Mark and Jenny Bello of Pizza School NYC have concocted a delicious recipe that puts a new twist on a classic stuffing combination. By first baking pizza dough with onions for the bread element, you get a perfect flavor infusion built into the base of this stuffing mix that really takes it up a notch. Add in sausage, sage, and a broth of your choice, and you are in for a moist stuffing side dish that will accent any meal!
WATCH THE VIDEO HERE for a step by step demonstration, or find the written instructions below: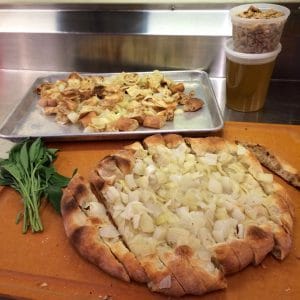 Pizza Crust Stuffing
With roasted onions, sausage, and sage, this Pizza Crust Stuffing from the team at PIzza School NYC is an out of the box way to celebrate the Thanksgiving holiday (or any special meal!)
Ingredients
2 16 oz Pizza Doughs
2 Med yellow onions
1 lb Cooked Sausage
2 Dozen Fresh Sage Leaves
1 Quart Broth - (Chicken, turkey, or vegetable)
Instructions
Preheat your kitchen oven as hot as it goes on BAKE (Typically 500° to 550°F/260° to 290°C) or fire your wood fired oven and let the temperature come down to between 500° and 600°F

Chop onions

Scatter onions on doughs stretched on a pan/screen/or peel

Bake 8 to 15 minutes 'til golden brown

Cut pizza into a grid and transfer to a baking sheet

Add sausage

All goes back in the oven 'til roasty/toasty brown

Snip on sage with a pair of kitchen shears

Transfer all to a dutch oven or another covered baking vessel

Add broth, stir to moisten mix

Cover & bake for about 20 minutes

Stir and serve!
Notes
Pizza School NYC currently offers in-person and virtual pizza making classes for home chefs and groups. Since opening, they have instructed over 50,000 students and would love to work with you! You can learn more about their classes and register on their website:  www.pizzaschool.com.
You can also watch their 2020 extended interview on Pizza Talk with host, Peter Reinhart by CLICKING HERE.