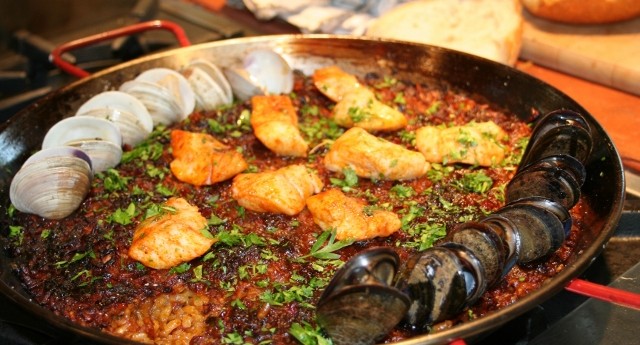 Paella Mixta
Mar 31, 2016
Posted by Chef Lea
Print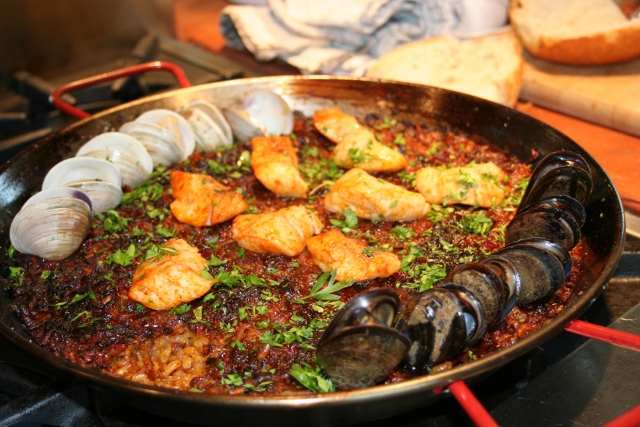 Paella originated in Valencia, Spain. It is a perfect dish to prepare in the wood fired oven, since one of paella's most basic and traditional features is that it must be cooked over live fire. And as you have probably experienced while using your wfo, the best results require timing, patience, and a bit of joie de vivre. So don't feel compelled to follow the recipe like a soldier. The sequence of steps is important, but whether you use mussels, clams and fish or shrimp, lobster, and scallops (or any other combination of fish, meats, or vegetables) is totally up to your taste, your pantry, and your own whims.
(Editor's note: This recipe uses Chorizo as an ingredient, which adds a wonderful flavor and is a common choice. However, it is not considered an authentic ingredient by Paella purists, who feel it can overwhelm the delicate flavor of the saffron in the rice.)
The only absolute is that one must use rice as a base. In Spain, the type of rice used is known as bomba.  It is a short-grained white rice that can absorb a larger amount of liquid than other types of white rice without breaking down into mush, using a ratio of 1 part rice: 3 parts liquid versus many other types.
Arborio, the Italian rice used to make risotto, is however easier to find in the U.S. and costs less than bomba, so that's the one you'll find in this recipe. The ratio for arborio is 2 parts liquid:1 part rice.
And now that I've insisted on rice, I must reveal that there is another Catalan dish called Fideuà, which is similar to paella, but is made with toasted noodles instead. More about that another time.
I use a traditional carbon steel paella pan–the type you often see in kitchenware stores–shallow, sloped sides and two red handles in my Toscana wood fired oven. Regardless of what size pan one uses, the shallow depth will remain the same. Only that diameter will increase, even up to five feet or more. The reason for the shallow depth is to allow a socarrat to form. The socarrat is a much-loved layer of toasted rice on the bottom of the finished paella. Think of it as the crusty top of your favorite mac 'n cheese, only upside down.
Buen provecho!
Chef's note: Be sure to check the size of your oven's mouth before purchasing your Paella Pan. The pan needs to be able to go in and out several times without having to tip it.  For 8 guests, look for a 15″ – 18″ pan, for 16 guests, 21″ – 24″ pan. You will need a smaller pan if serving this dish as tapas, larger for the main course.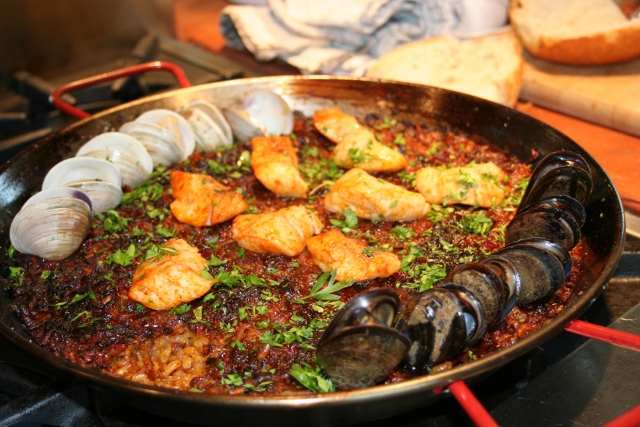 Paella Mixta
Ingredients
olive oil
1 small onion diced
1/4 cup red pepper, diced
1 red pepper, roasted and cut into thick strips
1 clove garlic, minced
2 packets saffron, dissolved in broth
1 Tbsp pimenton agridulce or any other bittersweet, smoked paprika
8-12 oz Spanish chorizo, chunks if fresh, or sliced
2 oz tomatoes, chopped
Italian parsley, finely chopped
8 oz Manila clams
8 oz mussels, scrubbed
8 oz white fish cut into 4-6 pieces cod, rock fish, halibut
2 cups Arborio rice
4 cups chicken or fish broth
Lemon wedges
salt to taste
Instructions
Ingredient Prep
Heat the paellera (pan) in a 400-500 degree wood-fired oven. Add 1 T olive oil. When it's hot, add the clams. Remove them from the pan as soon as they open. Hold them aside. Add the mussels. Remove them as soon as they open. Hold them aside. Do the same for the fish pieces, cooking them until they are just done.

Roast the pepper slices on a pizza pan and remove them when their skin is seared and wrinkled.
Bringing the Dish Together
Make a sofrito by gently sautéeing onion, diced red peppers, and garlic in olive oil for about 10-15 minutes, being careful not to brown it. Add chorizo and pimentón. Sauté until sausage is cooked and lightly colored. Add tomatoes, parsley, and saffron.

When heated through, add the rice and cook for about 5 minutes, until the rice has changed color. Then add the broth and cook, without stirring, for about 12 minutes.

Once the rice is nearly cooked, add the fish, as well as the clams and mussels, hinge-side down in the hot rice.

Without disturbing the rice too much, check the bottom layer of rice to ensure that the crispy, toasted socarrat has formed. If it hasn't, pull some of the hot coals forward and place the paella directly on the coals for a couple of minutes. Be attentive that the bottom doesn't burn.

Embellish the paella with the roasted red pepper strips and Italian parsley. Allow the paella to rest for a couple of minutes before serving, garnishing with lemon wedges. Allow it to rest for a bit (5-15 minutes,) and serve while still warm

Spanish tradition has this dish served straight from the pan on a round table family style. It is usually eaten right out of the pan using a spoon, and not on plates. This way, you don't disturb the structure of the rice too much by agitation. Guests start at the perimeter of the Paella, all eating the triangle in front of them, and work toward the center of the pan.
Notes
If using muscles, clams, or cockles, be sure to clean them first to remove grit by following these steps from RealSimple.com:
Step 1: Rinse
Rinse shellfish under running water to remove loose sediment, discarding any with broken or open shells. (Healthy shellfish close their shells when firmly tapped.)
Step 2: Transfer
Transfer shellfish to a large pot of cold salted water (like their natural environment) and then refrigerate, stirring occasionally, for 30 minutes.
Step 3: Lift
Just before cooking, carefully lift the shellfish out of the water by hand without disturbing any sediment remaining at the bottom of the pot. Mussels sometimes have small, fibrous "beards," which you should pinch off.