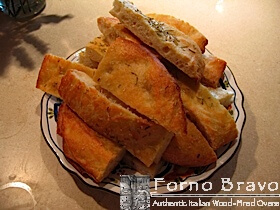 Schiacciata, with a Little Sourdough: Tuscan Flatbread
Dec 30, 2011
Posted by Forno Bravo
Print
This is a traditional Schiaciatta all'olio (flatbread from Tuscany), with a sourdough boost. Schiacciata literally means "squashed."
If Focaccia is halfway between pizza and bread, then Schiaciatta is halfway between Focaccia and Pizza. It is flat and infused with olive oil. You should bake it pretty hot — around 500°F.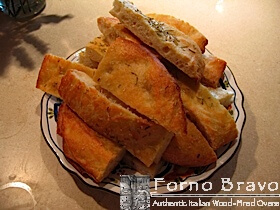 Schiacciata, with a Little Sourdough: Tuscan Flatbread
A simple, Italian-style flatbread with a little flavor twist.
Ingredients
4 cups Combination of all-purpose flour plus bread flour (Tipo 00 flour is an option as well)
1 1/2 cups water
2 tsp salt
2 tbs olive oil
2 tsp yeast
1/2 cup sourdough starter (which you will add to the yeast)
2-4 tbsp olive oil reserve this additional olive oil for treating your dough and finished bread
Instructions
Mix the flour and water for 2 minutes (or until fully blended), then let the dough rest for 30 minutes. That gives the flour time to fully absorb the water. Then add the salt, olive oil, and yeast, and starter and mix on low for another 8 minutes.

Cover and let the dough rise and fall and rise back to double, then cut it into two pieces, which you shape into pizza balls and let rest for an hour. Then stretch the dough into a circle and place it is a round metal pan covered with olive oil. Pour 2 TBS oil on the dough, and let it rise for 30-60 minutes (covered). It should be about 1/2″ high.

Right before you put the bread in the oven, make impressions with your fingers — like a Focaccia.

Oven Firing: Fire your oven until it reaches 700°F, and the carbon burns off the oven dome. Then allow the temperature to fall to about 500°F as the fire burns down (about a three Mississippi oven -- Visit www.fornobravo.com/tech-resources/controlling-oven-temperature/ for an explanation of this method of gaging temperatures.)

Cooking: Bake for 15-20 minutes, until golden. Pour another 1-2 TBS of oil on the hot baked bread and let it rest for a minute.
Notes
The sourdough helps with the crunchy texture of the bread and with a little flavor. I'd been making it for 18 months before I started adding the sour, and it really adds something! We use it as bread with a meal, for lunch, and with appetizers.