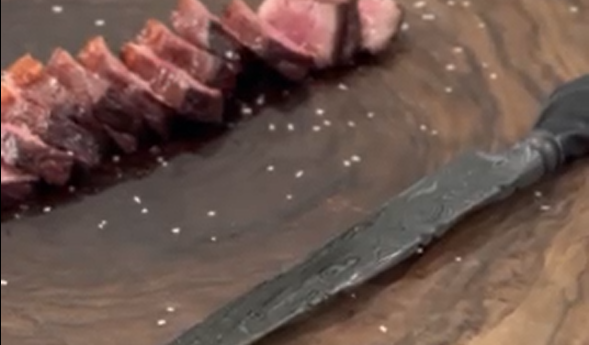 Grilled Picanha Steak (Coulotte)
Jan 26, 2023
Posted by guestchef
Print
Chef Alex Mazieri uses a steel Tuscan Grill inside of his Napolino oven to create a wonderful, Brazilian-style, wood fired steak. The Picanha cut (pronounced "pee-kahn-yah"), also called a Coulotte, is a very popular cut of meat in Brazil that is gaining in popularity in the US. It offers great value and an intensely beefy flavor.
This is a triangular cut surrounded by a thick layer of fat that comes from the top of the rump cap muscle. Generally, smaller cuts are best (approximately 2.2 – 3.3 lbs max) to ensure you are not getting the tougher, outer-thigh region that runs below the rump as well. The fat cap should typically be at least 1.5 cm.
Note: The closest cut common in the United States is a Top Sirloin Cap with the fat cap left on. You can request this cut from a local butcher, ranch direct sources, and many online meat suppliers. This steak pairs well with a Chimichurri sauce as a finishing touch, for a real Brazilian flair.
Watch the video below for a quick overview and demonstration of the recipe, starting after the initial sear, and after the meat has been cut into steaks.
You can find other photos and M.A.C. (My Authentic Cuisine) recipes by Chef Alex on his Instagram page at https://www.instagram.com/chef_alexmazieri
A simple, tender, delicious steak grilled in a wood fired oven for a taste of Brazilian cooking.
Equipment
Tuscan Grill

Wood Fired oven
Ingredients
2 lbs Prime Picanha Steak
Parrillera Salt
Instructions
Heat wood fired oven to 750 deg F/399 deg C. Create a bed of coals in the center of the oven. Place the steel Tuscan Grill over the coals and preheat it before adding the meat in order to get a good sear.

Bring the meat to room temperature and pat it dry with a paper towel before cooking. Place the whole Picanha with the fat down on the Tuscan Grill in the pizza oven at 759F/399C. Cook for about 3 minutes, or until the fat is golden brown.

Flip to the other side and grill for another 3 minutes. Note: Always use long, heat-resistant gloves and tongs when working with your Tuscan Grill.

Remove meat from oven and let it rest for 15 minutes, then cut the meat into approx. 1" thick steaks. (Cut WITH the grain.)

Put it back into the oven for 1 minute on each side for medium rare (130 deg F/ 54 deg C.) 

Let it rest for 2 minutes, and slice again into smaller pieces. (Cut AGAINST the grain for this step for maximum tenderness.) Season it with Parrillera salt and serve.
Notes
Note: Parrillera Salt (Sal Parrillera) is a grilling/BBQ salt imported from Argentina. It is a medium to coarse-grained rock salt which is sprinkled on the meat immediately before or after grilling. It can be found online or in specialty spice shops.