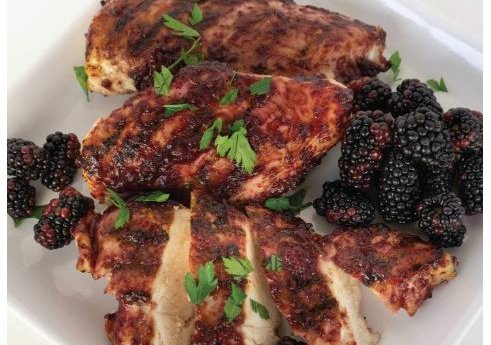 Blackberry BBQ Chicken
Jan 10, 2020
Posted by guestchef
Print
Wendy O'Neal is a mother, blogger, author of multiple cookbooks, and proud owner of a Casa110 wood fired oven. Live Fire BBQ and Beyond is her latest cookbook. It was released in 2019. You can find her Casa oven featured in several of the recipes and photographs in the book. All of Wendy's dishes are rigorously taste tested by her family and fans, so you know they are good!
One of our favorite dishes in this cookbook is Wendy's Blackberry BBQ Chicken. It can be made on a grill or in a brick oven. Check out the recipe below (consider it a sweet sampler.) Then go order the whole cookbook — You won't be disappointed!
Wendy explains that, "Every summer, we drive an hour and a half north of Phoenix to our secret place where wild blackberries grow. We pick as many as we can, and this is the first meal I make when we get home. So, when blackberries are in season or on sale at the grocery store, this barbecue chicken is a must."
FB Editor's note: Since blackberries are now available in most grocery stores year round, this dish will bring a taste of summer to your table any time you want! It makes a nice change from pizza on "Wood Fired Oven Night" with your family. Thank you Wendy for sharing this recipe with our community! To learn more about her website, Around My Family Table, or see a video of her oven installation, CLICK HERE.
* Recipe and photo are copyrighted material used with author's permission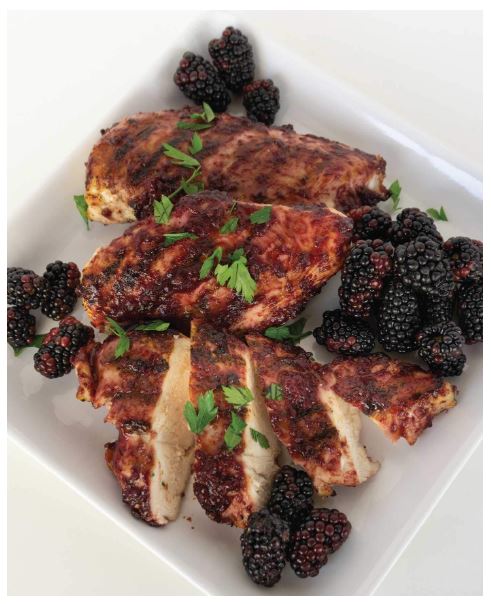 Blackberry BBQ Chicken
Grilled chicken breast with a homemade, rich, blackberry BBQ sauce, perfect for afternoon picnics or evening dinners any time of year.
Ingredients
Grilled Chicken
2 tsp course Kosher salt
1/2 tsp Ground black pepper
1 tsp garlic powder
1 1/2 - 2 lbs boneless, skinless chicken breasts
Blackberry BBQ Sauce (see below)
Blackberry BBQ Sauce
6 oz blackberries (1 to 1 1/4 cups)
1/4 cup ketchup
1/4 cup sugar
1/8 cup or more apple cider vinegar
2 Tbsp light brown sugar packed
2 tsp hot sauce
2 cloves garlic finely minced
1 tsp ground dry mustard
1 tsp fresh grated ginger
1/2 tsp Ground black pepper
1/2 tsp course Kosher salt
Instructions
Making Your Blackberry Sauce
Combine all the ingredients in a medium sauce pan over medium-high heat for 10 minutes, stirring occasionally. Taste and adjust seasoning with additional sugar and/or salt and pepper. Blackberry BBQ Sauce will be very thick.

Pour into a glass jar, cover, and use immediately or refrigerate for up to 1 week.
Grilling the Chicken
Prepare and light a grill, kamado, or fire pit with a cooking grate for direct cooking over high heat. (*See note below for using a Tuscan Grill in your wood fired oven for grilling.)

Combine salt, pepper, and garlic powder in a small bowl, Season chicken breasts on both sides with garlic-salt mixture.

Place on hot grill directly over the fire for 3 minutes. Flip chicken and baste with Blackberry BBQ Sauce. Cook for 3 more minutes.

Flip chicken breast again and baste other side with barbecue sauce. Let cook 3 minutes. flip one more time and cook for about 1 minute or until chicken is fully cooked, 10-20 minutes total.
Notes
FB Editor's Notes: This sauce turns out pretty spicy! If you prefer a milder heat, you can reduce the amount of hot sauce by a teaspoon, or increase the vinegar/ketchup proportions a bit to mellow it out.
The Blackberry Sauce can be prepared in the wood fired oven as well. Choose a sauce pan with a heavy bottom, and place the sauce just inside the mouth of the oven or even on the hearth for simmering. Keep it back from your main heat source and stir frequently!
Tips for using a Tuscan Grill or steel grill in a wood -fired oven: Heat your oven dome to full temperature, and then let your wood burn down to embers. Rake them forward to form a bed of coals near the mouth of the oven for easy access, and place the Tuscan Grill over the top. Let it heat up before placing the chicken on it for the best sear marks. The coals will help protect the oven's fire brick floor from drips.
Be aware that wood embers tend to cool more quickly than charcoal, and will need to be replaced/refreshed about every 20-30 minutes. (Do not use charcoal briquettes in a wood fired oven.)