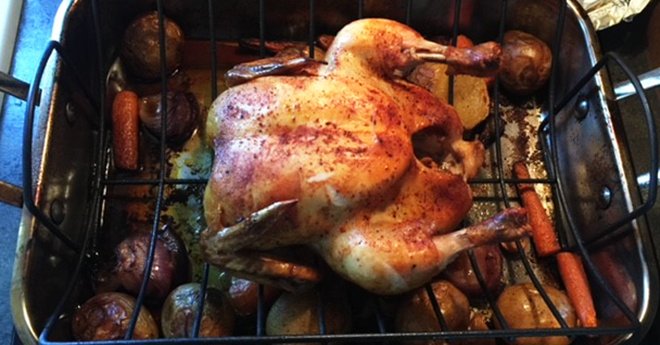 Bella Roasted Chicken
Aug 02, 2018
Posted by guestchef
Print
When roasting food in a wood fired oven, the Forno Bravo Refractory Pizza Ovens and the Bella Stainless Steel Pizza Ovens tend to behave a little differently. The Bella cooks predominately with reflective heat, while the brick ovens rely more on refractive heat (utilizing the oven's thermal mass.) As a result, some recipes will need to be tailored slightly for the Bella, and your fire management and cooking techniques will need to be a bit more active. (While Bellas use less of a "set and forget" style of cooking, the ovens are still easy and satisfying to use.)
Home chef, Carrie Nalley, has adapted the "Stella's Sunday Chicken" recipe by Chef Vito Romani, originally designed for a Forno Bravo brick oven, to perform beautifully in a Bella wood fired steel oven. We invite you to enjoy her variation!
Tools Needed:
Roasting pan with rack
Aluminum foil
Oven rake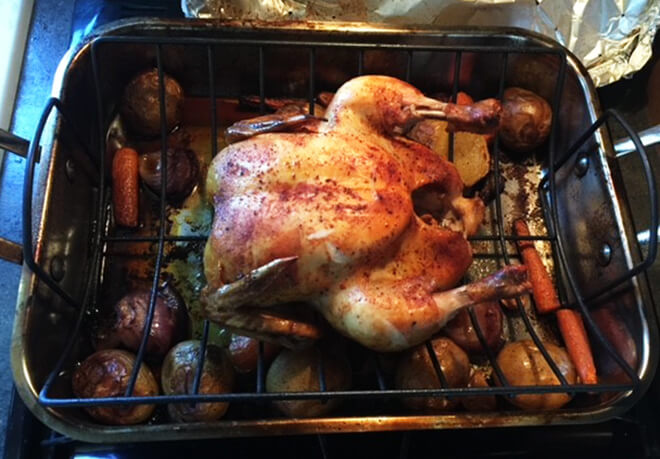 Bella Roasted Chicken
A simple, basic guide for roasting in a Wood Fired Bella Oven, where moist, roasted chicken and tender, flavorful vegetables come together for a delicious evening meal.
Ingredients
1 whole chicken
Small, yellow potatoes (also called petite or new potatoes,) left whole, washed, and dried
1 red onion Quartered
Several whole garlic cloves
carrots Peeled and halved, or left whole
Salt and pepper
paprika
Grapeseed oil (It has a high smoking point and mild flavor; I use it in pizza dough too)
Instructions
Remove the chicken from refrigeration and packaging an hour before placing it in the oven.

Build and start your fire, using enough wood to take it to 750 degrees. (At which point, you will let it burn down to coals with the door completely closed and the vent flue mostly closed to retain heat.) ~Meanwhile~

In a large bowl, toss the vegetables in grapeseed oil, salt, and pepper, then arrange them in the pan around the rack.

Wash and dry your chicken. Combine salt, pepper, and paprika and rub it on the chicken; place chicken on the rack. Cover the whole pan and rack with a foil tent, and poke a dozen or so small holes in it for steam venting. (Otherwise, you're steaming the chicken rather than roasting it.)

When your oven cools to 550-600 degrees F, rake the coals to one side and place the pan in the oven parallel to the banked coals. Replace the door. Let it bake for 10-12 minutes.

Turn the pan 180 degrees and let bake for 25-30 minutes. Turn the pan 180 degrees again and let bake for a final 10-15 minutes. (Mine was done after 50 minutes.)

Remove the pan from oven and let it rest with the foil in place for 5 minutes. Remove the foil and let it rest another 5-10 minutes. At this point, I checked the temperature at a thigh joint-- Goal is 165 - 180 degrees F. Enjoy!
Notes
Note: Covering the bird with a ventilated foil tent is critical for preventing the outside of the chicken from burning, before the inside is fully cooked.