(Makes 4 medium loaves)*
Now that we've looked at some straightforward recipes, it's time to get a bit more serious. Ciabatta is a wonderful rustic Italian bread, but making the dough can be daunting, if not scary because it is so wet. Don't despair. It will be fine; finer yet from wood fired baking. In some ways, this formula is one step above No-Knead Bread.
This is also a two-day bread, but the first day requires little labor.
Day One, Biga
This is a somewhat different formula from that used in our Biga Whole Wheat Bread, and it makes about 1 lb, 5 oz. of starter.
¼ tsp. active dry yeast (ADY)
2 oz. filtered, bottled (no salt added) or spring water at 90 to 100ºF
6 5/8 oz. water at room temperature
11 5/8 oz. unbleached all-purpose flour
In a large bowl, stir the yeast into the 2 oz. of warm water and let stand about 10 minutes until creamy. Then stir in the rest of the water and the flour, a scoop at a time. Mix with a wooden spoon for 4 minutes. Oil another large bowl and transfer the Biga to it. Tightly cover the bowl with plastic wrap, and let it rise at cool room temperature (70°F) for 6 to 24 hours. When it's ready, it will have tripled in volume and be very sticky and wet. Cover and refrigerate until ready to use. This recipe makes more than enough for the dough on day two. Oil a freezer bag and freeze the remainder until next time.
Day Two, Dough
1 tsp. active dry yeast (ADY)
2 ¼ oz. whole milk at 90-100ºF
9 ¼ oz. filtered, bottled (no salt added) or spring water at room temperature
1 Tbsp. olive oil
9 oz. Biga made at least 12 hours previously (if it has been refrigerated, take it out of the fridge and let it warm up for 1 hour before using)
1 lb, 1 5/8 oz. unbleached all-purpose flour
1 Tbsp. sea salt
Add the milk to the bowl of the mixer, and then stir in the active dry yeast. Let stand for 10 minutes until creamy. Add the oil, water and 9 ounces of Biga. Mix with the paddle until blended. Add the flour and mix for 2 or 3 minutes. Switch to the dough hook. Add the salt and knead for 2 minutes on low speed, the 2 more minutes on medium speed. Flour the counter well. Turn out the dough and knead by hand (no slamming is necessary here,) but be careful to add as little flour as possible. Knead until the dough is very springy, moist, and supple.
Oil a large bowl, place the dough in it, but do not turn it to coat. Instead, lightly mist the top of the dough with spray oil. Tightly cover the bowl with plastic wrap. Let rise until doubled; about 1 ¼ hours. The dough should be very sticky, elastic and full of air bubbles.
Forming
Very gently turn the dough out onto a well-floured surface, helping it along with a plastic bowl scraper dipped in cool water. Divide into four equal pieces with a dough cutter dipped in water. Cut the pieces by eye; the dough is too wet to use a scale. Roll each piece into a cylinder, but don't try to pinch the seams. Stretch each piece into a 10 x 4-inch rectangle. Each piece will require its own baking sheet, lined with oiled parchment paper, generously dusted with flour. Place one loaf on each sheet. Vigorously dimple the doughs all over with your fingertips, pressing almost to the bottom of the loaves. At this point, they will look dreadful. Don't despair.
Cover with dampened towels and proof for 1 ½ to 2 hours, or until puffy but not doubled.
Baking
Steam the oven for 10 seconds, 10 minutes before baking. The hearth temperature should be 500-550ºF. Generously sprinkle your pizza peel with brown rice flour using a fine sieve. If your brick oven is large enough, load all four loaves at the same time, leaving enough room between them for oven spring. Steam again for 10 seconds and seal the door. Bake for 10 minutes, and then crack the door to let the steam escape for another 2 minutes. The internal temperature of the baked loaves should be 205° F after approximately 12 minutes of total bake time.
Rather than crowd the loaves, if your oven is a smaller version, simply load two loaves and let the other two rest while you bake the first batch. Remember to steam again when the second batch goes in. Cool completely before cutting!
Next, we will bake a Boule au Levain, a sourdough bread.
Back
Forward
*This recipe has been adapted for wood fired baking from the recipe given in Carol Field's The Italian Baker.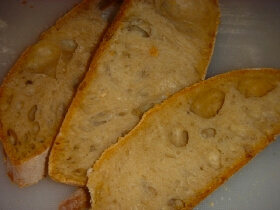 Large holes and a relatively light and flat loaf are the hallmarks of an Italian Ciabatta Bread.
Instructional Video