Peter's Blog, 1/31/2012 — Emeril's e2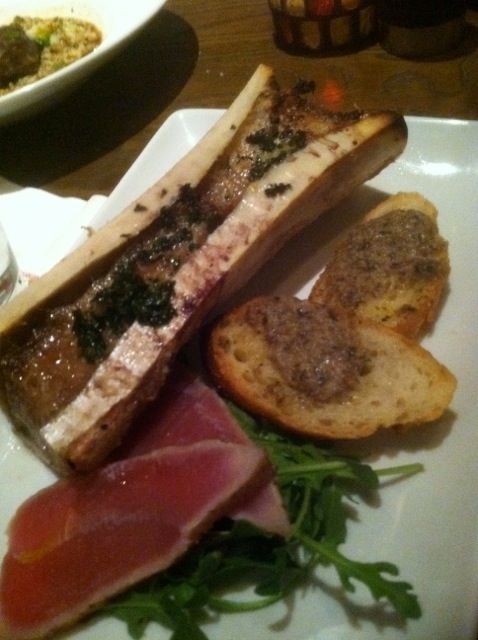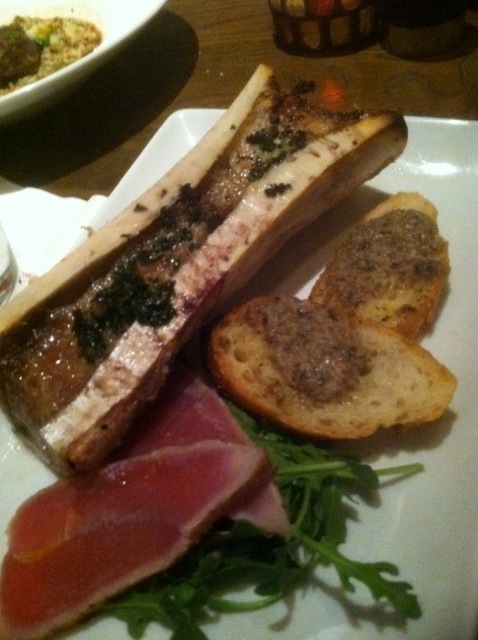 I had lots of things to blog about this week but something happened a few days ago in Charlotte that knocked all the other news into next week. Emeril Lagasse opened a new restaurant right here in Charlotte, called e2. This city, which is hosting the Democratic National Convention in September and has, for the past fifteen years been carrying out a dynamic strategic plan to turn Charlotte into America's next great city, has been yearning for a celebrity or major superstar chef to open a restaurant here. We thought it might happen a few years ago, and a few big names did scout us out and some even made brief, but really uninvolved forays into the local scene. We already have a number of terrific home town chefs doing some excellent work but the public rarely appreciates what they have till they're gone (or so says Jonie Mitchell). But now, at last, validation and opportunity converged as e2 opened last week and, due to the generosity of Emeril and his team, especially Jeff Hinson, I got invited to dinner and a chance to try many of the menu items (the name, by the way, refers to a number of personal associations for Emeril, including the twenty-plus years since he opened his first restaurant, with this new one representing a next generation and manifestation of that original "essence and energy").  I'll address some of the dishes a little later but, first, a few more comments on the significance of this opening and how it relates to Pizza Quest.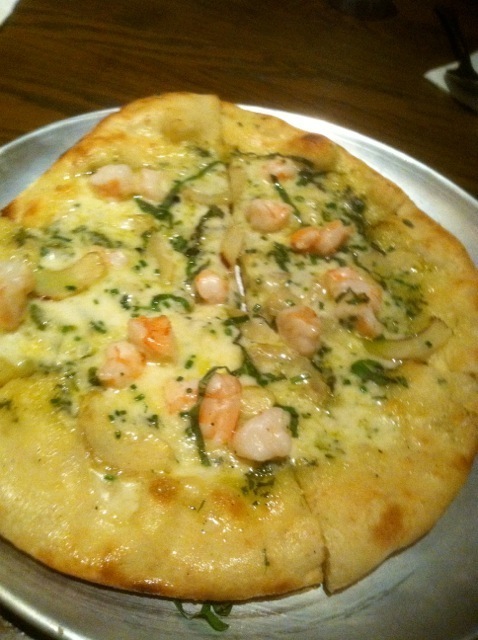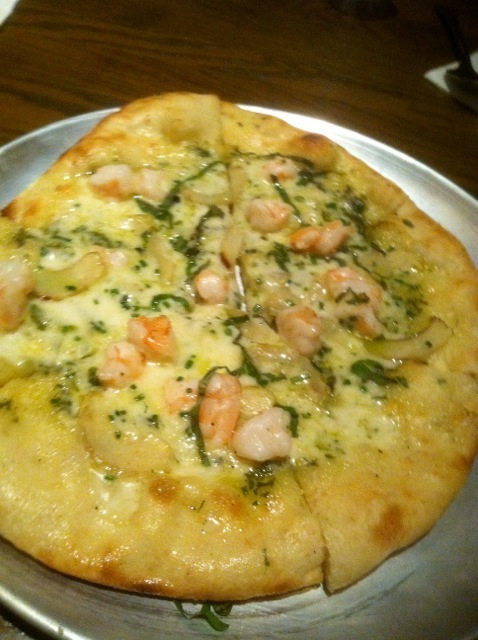 As our regular followers know, Pizza Quest isn't just about pizza — pizza is our guiding metaphor in a journey that celebrates artisans and artisanship of all types. We are really searching in this quest for excellence and, bottom line, we are searching for people who have a fire in their bellies to create that excellence no matter how hard it may be to do so. Pizza is a living symbol and signifier in that regard because it means so many things to so many people and, at the symbolic level, means a lot more than just tomatoes, cheese, and crust. The ancient Greeks had a word for what their philosophers thought was the purpose of life: eudaimonia. It is untranslatable into English in its totality but the closest anyone has come to a translation is "to flourish, or to thrive."  I thought a lot about this word and concept and the deeper purpose of Pizza Quest as I enjoyed my dinner at e2.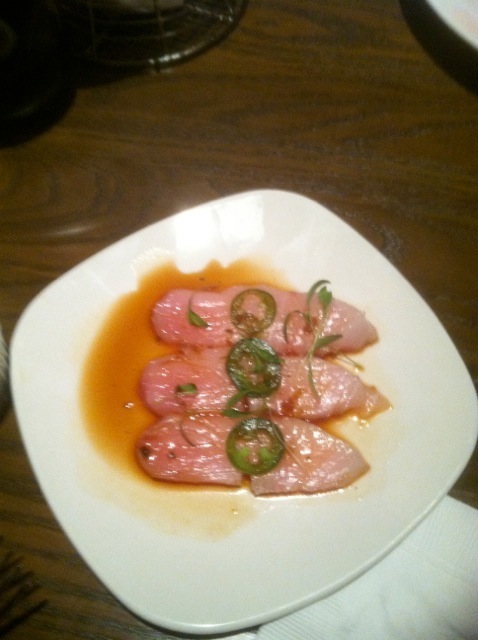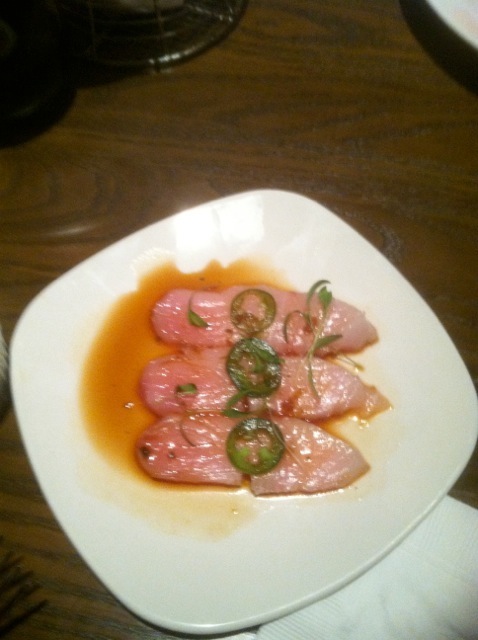 Cities like New York, Chicago, Los Angeles, Portland, Seattle, Philadelphia, New Orleans, Charleston, Dallas, and many others already have so-called superstar chefs in abundance and folks from there may think this excitement is a bit naive, but I remember a time when many of those cited above didn't have great restaurant reputations. But, eventually they drew a number of local and national chefs who helped them establish a cultural food identity and now they all have flourishing, thriving food scenes (see how I worked those eudaimonic words into this?). Charlotte, to date, does not have such a reputation but it aspires to. I remember when Yountville had one restaurant that was pretty good called The French Laundry, but it wasn't owned by Thomas Keller and it was basically a one restaurant town. Then Chef Keller took over and changed everything and now, as anyone who has gone to Yountville knows, this two block town now has more great restaurants per square foot than any place in America. It's only been a few years, less than twenty, so things can happen that fast. But it has to start with someone. Chris Bianco did the same for pizza in Phoenix and we've seen other places where one breakthrough restaurant spawned a thriving, growing food savvy community. I grew up in Philadelphia and, despite our hoagies and cheese steaks, the food scene was pretty dull until Steven Starr and other bright restaurateurs, and some talented chefs like (Iron Chefs) Morimoto and Jose Garces, and even chefs who beat the Iron Chefs, like Marc Vetri, and a number of others, changed the game completely and turned Philly into a great food town. It can happen. And I think this is what Charlotte aspires to. Will it happen here? I think so. Will it take twenty years? Maybe, but maybe even faster. A lot depends on a spark and the best spark we've had is that Emeril has chosen to make a statement here and, if it strikes fire, I expect to see not only other well known chefs open here but also for great local chefs to emerge as they have in Charleston (which is probably the hottest restaurant city in America at the moment because of the emergence of three or four amazing, local chefs like Sean Brock and others). They don't need celebrity chefs in Charleston because their own chefs have redefined their cultural culinary identity. Larger cities, like New York (and Paris and London are even more perfect examples), are more like synthesis locales, giant salad bowls, that require both local and outside talent to converge until critical mass is attained. Charlotte will probably be more like those cities and it will take, in my estimation, about six to ten years for critical mass to occur (things happen faster in these digital times). Is e2 the greatest restaurant since Per Se? No, it doesn't aspire to be — it's a fun restaurant that merges creative menu items (both familiar and inventive), reasonable prices, and the imprimatur of one of our most beloved culinary icons. This restaurant means more to Charlotte than it may even mean to Emeril, or it may be a harmonic convergence that leads to some sort of culinary big bang. Time will tell, but I'm betting on it and will continue to report on things here, not just because I live here, but because now Charlotte has joined the metaphorical lexicon, like pizza, of the quest that never seems to end.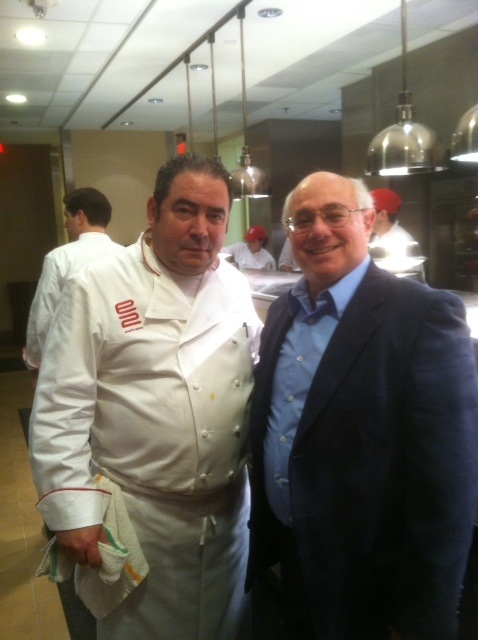 In the photos you'll see some of my favorite moments from my night at e2: a wood oven roasted marrow bone with mushroom toast points served with tender slices of seared yellowfin (a little marrow spread on the toast, topped with the butter-tender fish created an explosively satisfying bite); a shrimp pizza with artichoke, fontina val d'aosta, white cheddar, and herb pesto (at first look I didn't think it would compete with some of the pizzas we've featured here from Mozza, Tony's, or Pizzeria Delfina but I was delighted by how much snap the dough had — followed by a soft,creamy crumb, and a nicely charred underskirt ( took a photo of it but it didn't turn out — sorry). And I have to say, the cheese combination coupled with the shrimp and artichoke slices was totally delightful; three slices of hamachi tuna crudo in tangerine oil with jalapeño slices and micro cilantro in a ponzu sauce — these were just some of the starters and this high standard was maintained throughout the night. I'm not a restaurant critic and so will not pretend that this is a critical review, but just to give you an example of some of the other dishes we sampled: citrus tea lacquered "five-day" duck served with Anson Mills farro (Anson Mills is one of the places I hope to film for Pizza Quest one of these days — a rock star brand in the artisan grain world); a tile fish special of the night (caught off the Outer Banks of North Carolina); Dry Aged Creekstone Farms Natural Angus Strip Steak, and Emeril's unique take on shrimp and grits. And, of course, there's Emeril himself (yes, that's me with him, just after the dinner rush ended), having directed and expedited his team through the entire service. The whole menu, which changes frequently, can be found at: http://e2emerils.com/ 

Like I said, this isn't a restaurant review website — we just like to celebrate people and places that we like and, as a faculty member at Johnson & Wales I'm, of course, extremely proud of our most well known graduate, but I'm even more thankful that he's now in Charlotte for the initiation of what promises to be a new culinary era here. I'll keep you posted.
Comments
Pizza Quest Info
Resources
Vision Statement
Pizza Quest is a site dedicated to the exploration of artisanship in all forms, wherever we find it, but especially through the literal and metaphorical image of pizza. As we share our own quest for the perfect pizza we invite all of you to join us and share your journeys too. We have discovered that you never know what engaging roads and side paths will reveal themselves on this quest, but we do know that there are many kindred spirits out there, passionate artisans, doing all sorts of amazing things. These are the stories we want to discover, and we invite you to jump on the proverbial bus and join us on this, our never ending pizza quest.
Peter's Books
...and other books by Peter Reinhart, available on Amazon.com