Peter's Blog: An Interesting Pizza Memory and a Request
Note from Peter: I received this e-mail from pizza fanatic Bret Isbell on Sunday and couldn't resist asking him for permission to share it with all of you. He agreed, so here it is.  If anyone has any personal memories of either "Z's Pizza" in Garland, TX, or "Pizza Villa" in Richardson, TX, please feel free to chime in, as these kind of places are a dying breed. And, if anyone has any suggestions for Bret for how to replicate the "Pizza Villa" dough, we can't wait to hear from you.  You can share your memories below, via the "Comments" section, but if you have a recipe suggestion for the dough please e-mail it to me at peter@pizzaquest.com so that I can copy and paste it into a future post.  
I'm sure many of you have similar pizzeria memories, regardless of where you live; "Pizza Villa" isn't the only place that developed a unique, unconventional way to make their pizzas, or developed a fanatical following because of the quirkiness of the owner.  So, again, if you'd like to join Bret in sharing such memories I'll be happy to give you some space right here on Pizza Quest if you write to me at Peter@pizzaquest.com  But, for now, enjoy Bret's story….
(Final note: I sent Bret some suggestions for the dough but will wait a few weeks before I share them here, as I'd like to see whether they work for him. Also, I'm curious to see what the rest of you come up with. Look for a follow-up post in the near future.
From Bret:
…I am writing you with a question about a pizza dough on which I am hoping you might be able to shed some light.  But, before I get to the question, please allow me a bit of background.
I am an amateur cook with a passion for good food and a love for really good pizza.  In my travels over the years I have enjoyed many good pizzas from around the country and I have been able to make some very good pizzas at home (my current setup is to use a baking steel which I believe you are familiar with).  But, in my home town area of Dallas there was a long standing pizza restaurant that was always my go-to and the one that I still get hungry for on a regular basis (despite their being closed for 4 years now) called Pizza Villa.  Pizza Villa had been in Richardson (suburb of Dallas) since the 1950's and had a very loyal following.  To back up a bit, my original go-to was a place named Z's Pizza which was in Garland.  I had been going to Z's since the mid 1970's and, man, did I love their pizza.  The owner of Z's, when looking to retire, was unable to find a buyer for his restaurant and so Z's closed.  This was a sad time for me and I missed Z's for a couple of years after it's passing…  As it turns out though, the owner of Z's had originally worked for Pizza Villa and learned there how to make the pizza that he offered at Z's (with a few tweaks, but essentially the same product).  The owner of Pizza Villa had actually helped him to get started with his own restaurant.  So, needless to say, when a couple years later I found Pizza Villa (this was in the mid 1980's roughly 30 years ago now) I was delighted to have back my go-to pies and I was a regular ever since.  At least up until their closing at the end of 2013.  It is somewhat of a long and sad story as to why they closed.  There was even a rumor that the restaurant might reopen at some point, but fours later and still no such event, so at this point I am not really expecting that it will…
So, this leads me to my question about how to possibly recreate a dough with similar characteristics to what Pizza Villa offered.  I realize it will be difficult without ever having tried the pizza to offer a definitive recommendation about how to make a dough that would provide similar results, but I am hopeful that you might take this as an interesting challenge and be able to offer something to get me close.  I can describe a few of the things about how the dough was made that may also provide some clues.  The owner was very friendly person and I would often talk with him while waiting on my pizza and over the years he made a few comments that might prove useful.  I kick myself for not just asking him for the recipe as I believe he would have shared it, but I guess I just always figured there would be time for that later…
He made several mentions of "time," that was to allow for the development of flavor, and he also mentioned "air."  I know the crusts were made using a commercial dough roller.  The dough balls were roughly scaled and passed through the roller until the desired thickness was achieved, at which point the rough shape was cut to an exact size (they had 8″, 10″, 12″, 14″ and 16″ pies).  The remnants of dough were set aside and when enough were collected, these would be then formed into a dough ball too and be processed through the roller. The dough was then placed on a foil sheet and subsequent dough was stacked (not sure how many ended up in a stack and not sure that it was a fixed count).  The stack of crusts would then be allowed to proof a bit I think (not sure here) and eventually would be placed into refrigeration and held over night.  Stacks of dough were pulled from the refrigerator, as needed, for making pizzas. This is where the reference to "time" would come in.  I know they would make the dough and crusts in the early part of the day and I suppose that if they ran short in the evening, they might use dough made that morning, but I believe the normal practice was to make dough "today for tomorrow."  I am not sure if they used cold dough to make the pizza or if the dough was allowed to come to room temperature before use and not sure if, in this case, that distinction would matter. 
The dough being layered in foil would allow for an interesting development of an intricate lattice work of holes and pockets in the dough.  This is where the "air" mentioned earlier would come into play.  Once baked, the underside of the crust would have this lattice work of pockets where the CO2 from the yeast would form pockets between the dough and the foil.  The pizza was constructed with the dough still on the foil and the entire assembly was put into the oven.  Once done, the pizza was pulled and the foil removed before slicing.  The bake time was somewhere around 20 minutes and the ovens were the old style large wide deep pizza oven with I believe 3 tiers.  They would move pizzas around and sometimes even from tier to tier to get the perfect bake (which could be varied a bit by request, but I preferred a nicely browned under-crust and rim).  If you looked at a side profile of a slice, you could see the small intricate network of holes in the crust from the slow proof of the dough.  Overall thickness of the finished product was probably around an 1/8th of an inch to possibly 3/16ths.  So, it would be considered a thin crust (but, in no way to be confused with a cracker crust).  Of note, is that there was never any indication of oven spring in the finished product.  No large bubbles etc…  If you google Pizza Villa you can find their Facebook page and there see a few pictures of the pizza.  There was very little rim on the finished pizza as they put sauce and toppings out to the very edge of the pie with only a very small bit of exposed crust (which would get delightfully browned and was a treat to eat, for me anyway).  When first pulled from the oven and sliced, each slice could stand rigid when picked up despite their copious toppings.  Of course, eating the pizza there while it was fresh from the oven was the very best way to experience it, but often I was getting take-out.  In which case I always had to eat a couple of slices on the way home…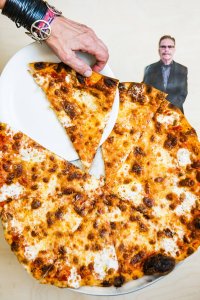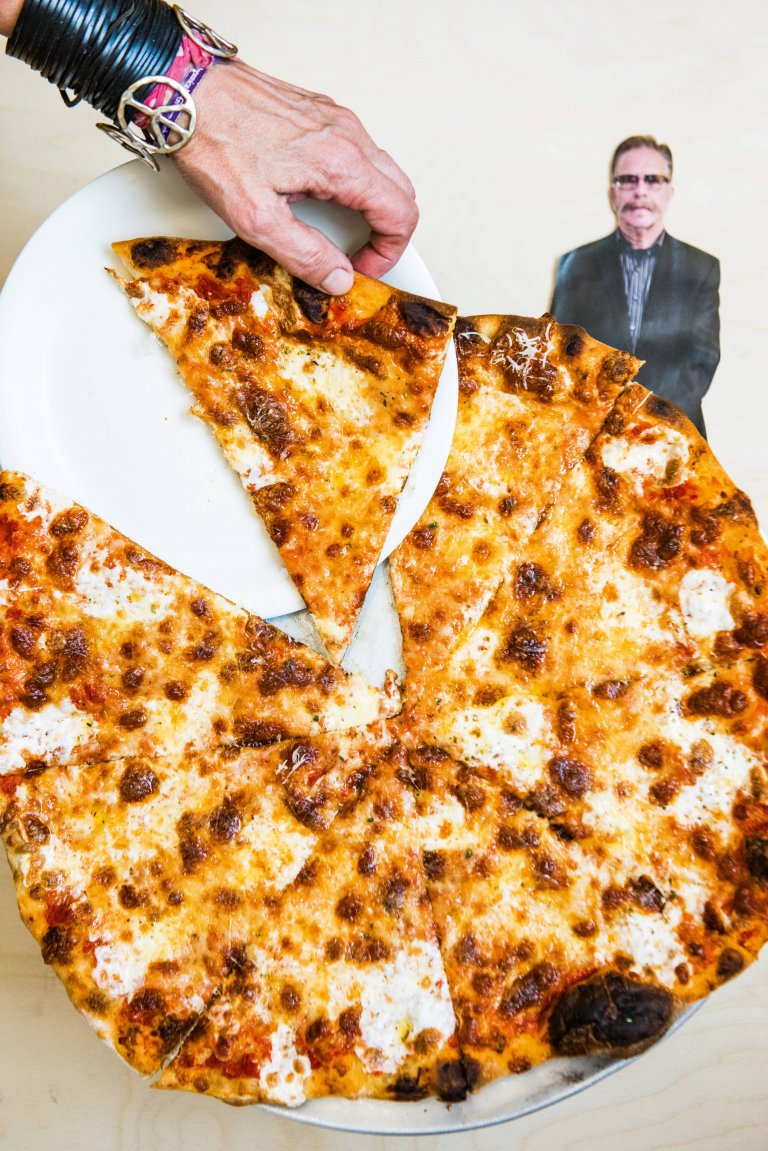 I apologize for this rather long winded text, but did I mention I have a passion for food? 🙂
Any thoughts you might share would be greatly appreciated.
Cheers,
Bret Isbell
Readers: It's your turn. Anyone know of this place?
       Peter
Pizza Quest Info
Resources
Vision Statement
Pizza Quest is a site dedicated to the exploration of artisanship in all forms, wherever we find it, but especially through the literal and metaphorical image of pizza. As we share our own quest for the perfect pizza we invite all of you to join us and share your journeys too. We have discovered that you never know what engaging roads and side paths will reveal themselves on this quest, but we do know that there are many kindred spirits out there, passionate artisans, doing all sorts of amazing things. These are the stories we want to discover, and we invite you to jump on the proverbial bus and join us on this, our never ending pizza quest.
Peter's Books
...and other books by Peter Reinhart, available on Amazon.com