Interview with Jonathan Goldsmith
Note from Peter: Jonathan Goldsmith, is the founder/owner (aka Padrone), along with his wife, artist Ginny Sykes, of Chicago's most well-known and honored Neapolitan pizzeria, Spacca Napoli. Many of you have been fortunate enough to have eaten there, or have met Jonathan at various pizza events such as the Northeast Pizza & Pasta Show, Pizza Expo, and other gatherings. Many of you have also sought him out for advice and mentoring, as his genuine passion for authenticity and perfecting the craft of pizza making is inspiring (not to mention his love for music and opera). But, for those who haven't yet met him, here's a short conversation he and I had following last year's Pizza & Pasta Show (make note, the next one is coming October 3rd and 4th in Atlantic City). It's just a slight glimpse into the heart and soul of this very complex, thoughtful pizza icon. Enjoy!!
PQ (Peter): Jonathan, thanks so much for spending some time with me and our readers. It's been a number of years since I first met you and experienced Spacca Napoli, which seemed at the time to be the first authentic wood-fired Neapolitan pizzeria in Chicago. Many of our followers have been to Spacca but many have not. Would you mind giving us a short recap of your journey from your pre-Spacca life to the current moment, where you are now revered as one of the leaders of the wood-fired Neapolitan pizza revival?
Jonathan: I grew up in NY, not far from New York City. My high school years were in the city. College in St. Louis led to graduate school in Chicago with a Masters in clinical social work. After a number of years in the profession, I left for a life in Italy with my wife and child. My wife painted, I was a house-husband. I was a janitor at my wife's school, in lieu of tuition. Summers were in Puglia, on the beach in Rodi Garganico, a small fishing village with a long history. Our life was magical. There, I was a bagnino; setting up the umbrellas and making sure all was in order. We returned home after three and a half years. I did some real estate and began working as a volunteer with the Inspiration Café; an organization in Uptown Chicago, serving the homeless. That was twenty-six years ago. Now, I make pizza.
PQ: Quite the journey; I would have loved seeing you setting up those umbrellas in Rodi Garganico. But now you are a major player and role model for the American Neapolian pizza community. Why do you think Neapolitan pizza like yours is finally catching on here, and why did it take so long?
Jonathan: Actually, I do not think of Neapolitan pizza here in America as finally catching on but, rather, I see it as having evolved over a number of years with individuals in many cities practicing the craft and tradition in various forms: Anthony Mangieri at Una Pizza Napoletana, the guys at Tutte Bella and Via Tribunale in Seattle, the folks at the many Settebello locations, Tony Gemignani — these are just a few of the influencers.. You also have icons, such as Chris Bianco in Phoenix and Jim Lahey of Sullivan Street Bakery and at his restaurant Co; all of them making their artisanal pies over all these years and greatly contributing to this new phase of pizza making in America. The desire for good and healthy food products is strong; we can do that with pizza.
At Spacca Napoli We offer tradition and authenticity, and we offer a place to be. This is not a new concept; pizza is one of many ways that people come together. It is fun to see how Neapolitan pizza has spread around the world. Not only are people of many countries going to Italy to train, but many of the masters from Naples are now traveling abroad to train, do events and enter into partnerships. We weren't sure what to expect when we first opened, I guess I never thought about it; maybe, that was a good thing — we just jumped in and did it. I'm going to have to ask ask <cookbook author on the foods of Naples> Arthur Schwartz what he thinks since he's given it a lot more thought than I have.
PQ: Among the true Neapolitan pizzerias here in the States there are a few that stand out. Yours, obviously, but what are some of the other places you feel that our readers should know about to best experience this style of Naples pizza? And, what do you think separates them from the pack?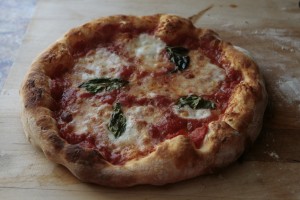 Jonathan (JG): Passion drives the business not the reverse. I immediately think of Roberto Caporuscio, of his Keste locations and his Don Antonio; he is one, for sure. On the same playing field, as I mentioned earlier, Anthony Mangieri, of Una Pizza Napoletana and also Tony Gemignani, who has so many great pizzerias. You also have Via Tribunale, SetteBello and Tutta Bella. There are many others I am now aware of, yet have not had the opportunities to visit. I trust a number of them are good and will only get better with years of experience and further training.  But, passion and dedication stand out as fundamentals for any great place; you can just feel it when its there.
PQ: What other styles of pizza do like, and who are some of your other pizza heroes?
JG: As a kid, of course, a NY slice. Albanese Pizzeria in Eastchester, NY. With the dough ever so soft, you had to fold the tip of the slice toward you so that the oil would not drip down your chin. I can still taste it. In Puglia, focaccia ripieno with lampiscione, acchiughe e uvetta; a stuffed focaccia with wild leeks, anchovies and raisins. I would have to sneak by my regular paneficio so as not to be seen going into the other bakery. You had to be there precisely at five when it was expected ready for sale. I was always too early or too late. I even made a trip there one winter to document the making of the pie. Pizza in palla, that was my favorite when judging at the campionato in Parma and, without a doubt, Gabrielle Bonci's taglia <pan pizza> selections in Rome.
Who stands out, my pizza heroes?  Chris Bianco, Tony Gemigniani, Nancy Silverton, Gabrielle Bonci, Franco Pepe, Francuccio of the Med Farine Club, John Gutenkanst, Ciro Oliva, Ciro Salvo, Attitlio Bachetti, Roberto Caporuscio, Antonio Starita. And there are so many others.
 PQ: Do you have any advice for anyone thinking of getting into the pizza game or who already has a restaurant? What are the most useful (even painful) lessons you've learned along the way?
JG: Be prepared to spend 100 hours a week. Continue to be a student. Every day you can improve your craft. Take care of your staff and vendors. Share knowledge. Be part of the community. Delegate as time passes so you can think of the bigger picture. Trust your gut. DO NOT FORGET YOUR FAMILY AND YOUR HEALTH! Experiment, but in small batches. Do not read yelp before you go to bed!
PQ: Can you share a few stories about good or surprising interactions you've had with customers, or with some of your mentors?
JG: What stands out is the day to day. I am happy in the pizzeria, with our simple routines of making dough, getting the oven ready, prepping ingredients, making pies, and making people happy. Normal conversations are special, seeing someone smile is special, memories are special. Watching the children and families grow, being part of their lives, catering to those working in the neighborhood. We are a "third place" experience; this moves us from a business to being something more personal. Years ago one of our cheese vendors, a true Napolitano, was so moved after trying one of our margheritas for the first time, he cried. It brought him back home, to memories of his neighborhood, family and friends. That's what special.
PQ: Jonathan, where do you see yourself in 5 or even 10 years, and what would you like your legacy to be when all is said and done?
JG:: Still in the dough room, and more time in Italy. My legacy? That I was a good pizza guy.
PQ: Thank you so much, Jonathan, for raising the bar for all of us. I think it's safe to say that you are now, and will always be, a "good pizza guy!"
Readers: You can reach Jonathan via his website, https://www.spaccanapolipizzeria.com/ or by writing to him at jonathan@spaccanapolipizzeria.com
Please let him know you read his interview here.
Pizza Quest Info
Resources
Vision Statement
Pizza Quest is a site dedicated to the exploration of artisanship in all forms, wherever we find it, but especially through the literal and metaphorical image of pizza. As we share our own quest for the perfect pizza we invite all of you to join us and share your journeys too. We have discovered that you never know what engaging roads and side paths will reveal themselves on this quest, but we do know that there are many kindred spirits out there, passionate artisans, doing all sorts of amazing things. These are the stories we want to discover, and we invite you to jump on the proverbial bus and join us on this, our never ending pizza quest.
Peter's Books
...and other books by Peter Reinhart, available on Amazon.com