Forno Bravo Commercial Oven Kits provide everything you need to install your oven. The interlocking dome design makes it easy for two people to carry each piece up stairs or through a standard doorway. Ideal for pizzerias with limited access to install a pre-assembled oven.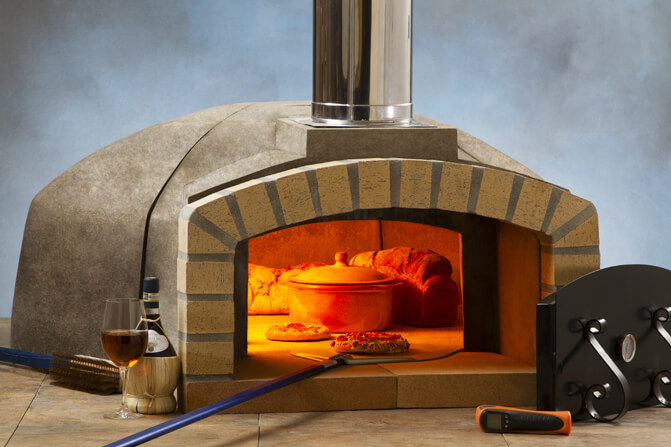 Professionale
The Professionale commercial pizza oven kits offer quick heat up time with sufficient thermal mass to recover quickly. Competitively priced the Professionale is available in 44" and 48" cooking surfaces.
Ideal for restaurants that want an affordable commercial pizza oven but have limited space or budget. Also very popular for mobile pizza oven's as they are lighter weight but can still make over 100 pizza's an hour.
Two sizes start at $5950
Up to 7 Pizzas; Up To 140/ hour
Cooking Surface 48" x 59" max
Wood Fired, Gas, or Combination
3" Refractory Dome
Learn More about Our Professionale Kits
Professionale Sizes >>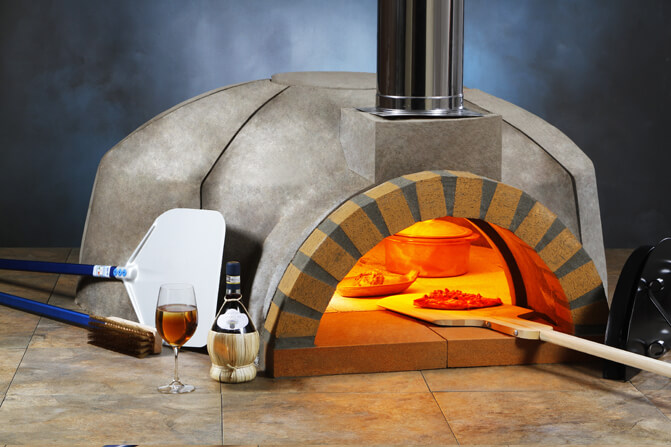 Modena
The Modena commercial pizza oven kits provide enough thermal mass for the highest throughput pizzerias. These ovens come in 48" up to 56"x76" cooking surfaces and can serve over 200 pizzas per hour.
Retained heat can exceed 500 degrees the next day so oven recovery times are very fast. Ideal for large pizzerias, large delivery business or unusually high rush hour spikes.
Four sizes start at $6950
Up 14 Pizzas; Up to 280/ hour
Cooking Surface 56" x 76″ max
Wood Fired, Gas, or Combination
4" Refractory Dome
Not Sure Which Pizza Oven Is Perfect For Your Business?
If a Forno Bravo pizza oven kit seems too big a project, you can always buy a fully assembled commercial pizza oven from us.  We also have full tech support, drawings, manuals and videos available to assist you.
One advantage to our fully assembled pizza ovens is we can pre-cure and customize the oven to suit your restaurant or pizzeria's decor.
Another possibility is some of our assembled commercial pizza oven have the option to ship as a Knock Down Kit, allowing you to disassemble and re-assemble on site.
Feel free to contact us directly to discuss options.
Browse Our Factory Assembled Commercial Pizza Ovens
Learn More About Our Modular Oven Kits